Shortly after this blog started James submitted a review of a place in Corona called Miguel's Jr. I wondered then if a Miguel's Jr. would ever open up in Orange County. A little over five years later that time came. Miguel's Jr. opened up in the Newport Mesa area in November 2011. James and his wife made it to the opening night. I made it a few months later for several visits (including one with them) and took numerous pictures. Here are some of them and if you click on any of them it will take you to the complete flickr photo album. Everything is made fresh at Miguel's, so fresh in fact that they don't even have a freezer on the premises.
---
And here is James' prior review (from March 12, 2006) of the Miguel's Jr. in Corona: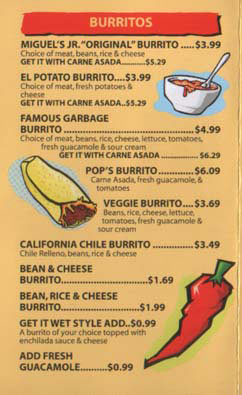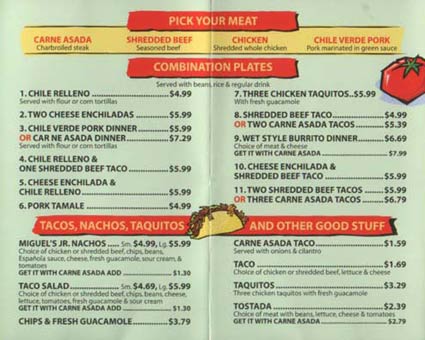 Miguel's Jr. Menu
On Friday, March 10, 2006 at 8:45pm I went to the Miguel's Jr. on Compton Ave. in Corona, CA. Of course this is NOT in Orange County, however since many OC dwellers pass through Corona, and since Miguel's Jr. is not in Orange County yet, I thought it would be a good place to review.

I usually get the "Famous Garbage Burrito" when I go to Miguel's Jr. -bad name for a good burrito. This time I got the combination plate #10 (Enchilada & Taco) I got chicken instead of beef in the taco. The taco came separately from the plate and was one of the best tacos I've had. It was not too crunchy, but not too soft either, and the chicken was great.




I like the salsas at Miguel Jr. -both the famous salsa (red and medium spicy) and the chile de arbol (yellow and milder). They are both unique and tasty. Since the drive thru at the Compton Ave. location is open til midnight on Friday and Saturday now, and is next to the 15 freeway, you can stop on your way back from (or to) the desert or river or whatever and get food.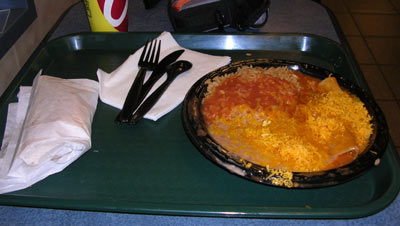 Thanks, James.