I've added some more Taco Tuesday info in recently. If you know of any place that should be added please leave a comment or
e-mail me
. I will work legitimate information given back into the main entry. We try to keep the information up to date but can't make any guarantees.
More Info) 3 - 11pm
Rubio's
$1.25 tacos
El Torito
Dollar tacos from 4-10 in the cantina
Fred's Mexican Cafe (Huntington Beach and Laguna Niguel)
$2 Tacos + Big Beer and Margarita specials; starts at 4pm
District Lounge (Orange)
$5 for all you can eat tacos, with chips salsa and condiment bar
Taco Factory (Tustin)
$1.29 Tacos every Tuesday. Choice of any meat
Baja Fresh (Mainplace Mall location only)
99 cent chicken tacos
Beachfront (Huntington Beach)
$6 all-you-can-eat tacos and more after 6pm
Fish House Market & Grill (Orange)
$2 specialty tacos
Tlaquepaque (Placentia)
99¢ tacos all day
Don Carlos (Fullerton)
99¢ tacos (beef and chicken crispy tacos and soft tacos of carnitas, shredded beef, chicken and al pastor)
Taqueria Guerrero Style (Westminster)
50¢ asada or pastor tacos w/ drink purchase; all day
Yucatan Grill (Seal Beach)
Several specials ranging from $1.95 to $2.95
Amorelia Mexican Cafe (Costa Mesa)
$1.50 tacos (seven types including potato tacos)
Las Brasas Grill (Costa Mesa)
$1.50 tacos
Taco Grill (Westminster)
99¢ soft tacos
California Fish Grill
$1.29 fish tacos
Taco Boy (Anaheim)
We have 85¢ tacos all day on Tuesdays!
Great Mex (Newport Beach)
$1 tacos
The Slidebar (Fullerton)
2 Tacos for $1
Casa Rangel (Anaheim Hills)
Good selection of $1 tacos every Tuesday.
Mi Casa (Costa Mesa and Rancho Santa Margarita)
$1 Street Tacos Carne Asada, Pollo Asado, and Al Pastor DRINK SPECIALS $3 Beers · $4 Margaritas · $4 Wells (4:00 – 9PM, Bar & Patio Only)
La Terraza (Santa Ana)
$1 tacos; Chicken, steak or veggie
Sage Restaurant (Newport Beach)
$2.00 Gourmet Tacos All Night at the Bar
Cafe Rio Lake Forest/Costa Mesa
"Every Tuesday we are selling $1.50 tacos all day."
Cha Cha's Tacos & Tequila (Brea)
Half Off Tacos & Tequila All Night
Sandy's Beach Grill (Huntington Beach Pier)
$3 Shrimp Tacos | $2.50 Carnitas Tacos | $2 Fish Tacos
Milo's Cafe (Lake Forest)
$2 Chicken, Veggie, Tofu or Salmon Tacos
RAYA at the Ritz-Carlton Laguna Niguel (Dana Point)
$4 gourmet tacos (seasonal, check w/ restaurant before going)
Quiet Woman (Corona del Mar)
Click for PDF Taco Tuesday Menu
Flamingos Mexican Grill (Laguna Hills)
$1.50 chicken or beef tacos
El Matador (Costa Mesa)
Chicken, shredded beef or ground beef tacos, 2 for $3 all day
J. King Neptune's (Sunset Beach)
$1 tacos and $2.50 Margaritas 6-10
Olamendi's (Dana Point)
$3 Tacos PLUS $5 House & $7 Premium Margaritas
Bear Flag Fish Co. (Newport Beach)
$2 fish tacos
The Chippy (Irvine)
$6.99 for two taco platter plus chips and salsa (this place is generally open only during lunch hours)
Aloha Grill (Huntington Beach)
Mahi Mahi and Calamari Tacos are $1.50 from 4-7 pm Mon-Fri.
El Adobe de Capistrano (San Juan Capistrano)
$1 Street Tacos; $2 Crispy Tacos
Hapa J's (San Clemente)
Ahi Poki, Coconut shrimp, Kalbi short rib tacos • Check out their impressive Taco Tuesday menu
Los Cabos Cantina (Lake Forest)
$1 Tacos
El Conejito (Lake Forest)
4-8 PM; $1 tacos on soft corn tortillas only. Choice of ground beef, chicken, shredded beef, carnitas or carne asada
Posch Restaurant (Irvine)
$5 All you can eat Taco Tuesdays
Carlos Mexican Restaurant (Dana Point)
Crispy Beef or Chicken Tacos $1.25, soft Shrimp Tacos $2.25
Las Barcas (Huntington Beach)
"$1.25 Baja Style Tacos for Chicken, Carnitas or Shredded Beef or $.50 more for Steak; Also all beers are $1.99!"
Big Shots Billiards Bar & Grill (Lake Forest)
"$1 tacos, $2.00 Coronas, $3 well margaritas, D. J. and dancing 9 P.M. all ages welcome."
Jerry's Grille (Garden Grove)
99 cent tacos: chicken, al pastor, asada, carnitas
Slapfish (Huntington Beach)
$1 tacos plus other possible special tacos that can change from week to week
Azteca's (Fountain Valley)
99¢ tacos
St. Regis Monarch Beach (Dana Point)
$23 for an awesome flight of four tacos; Fresh Mahi with an achiote marinade, served on a corn tortilla, with cabbage, roasted jalapeno sour cream and mango pico de gallo. Paired with a Bikini Margarita.
The Seafood Zone (Huntington Beach)
$1 Baja-style fish tacos, $2 asada/chicken tacos, $2 Tecate, $3 Corona, Pacifico, & House Wine from 11am-8pm.
Tacos de Ojo (Huntington Beach)
$2.50 Street Tacos and Bean & Cheese Burritos
Pee Wee's Famous (Huntington Beach)
Chicken tacos (street vendor-style); $4.95 for 3 + chips & salsa and soda
Rubalcava's (Placentia)
75¢ tacos (same deal on Wednesdays)
Little Onion (Santa Ana)
$5 All-you-can-eat street tacos plus other specials
Super Turtle Tortas (La Habra)
$1 tacos all day
Holé Molé (Tustin)
$1 tacos all day
Pancho's (Orange)
$1 tacos
Taco de Ojo (Huntington Beach)
$2.50 Street Tacos
Ricardo's Place (San Juan Capistrano)
2 Tacos $1.95 with Drink purchase. 2 Tacos $2.75 without drink purchase. Beef, Chicken, Carnitas, and or Potatoes. 2PM -9PM
Carlito's Diner (Huntington Beach)
99¢ tacos
Wild Goose Tavern (Huntington Beach)
$2 tacos (fresh, made-to-order)

El Corazon de Costa Mesa
$2.50 tacos
Rock'n Fish (Laguna Beach)
3 tacos for $5
Don Jacinto Pollo Grill (Santa Ana)
99¢ tacos; but you have to buy at least three (or four?) to get that price; carnitas, birria, al pastor, pollo
Dos Toros (Downtown Huntington Beach)
$2 tacos from 2 - 9pm
Taco Factory (2 locations in Irvine)
99 Cent Tacos *Carnitas *Chicken *Pastor *Chile Verde
Ranch Enchilada (Yorba Linda
$1.50 - Crispy shredded beef, ground beef and shredded chicken tacos; $2.00 - Steak, Chicken, Fish and Carnitas Baja Tacos
Taco Boy (Anaheim)
85¢ tacos
---
Hurricanes Bar & Grill 200 Main Street Huntington Beach, CA 714-374-0500
www.hurricanesbargrill.com
Taco Tuezdaze
$1.00 Chicken or Beef Tacos $1.50 Shrimp Tacos $3 Margaritas $3 Coronas Bandito Package Get 6 Tacos and Pitcher of Margaritas or Pacifico Just $12.00 Ultimate Happy Hour Available On Main Menu 25% Off Entire Bill as Well 4-9pm Live Entertainment & Dancing 9:00pm to 1:30am No Cover! Drink specials are all day; Taco specials run from 4 - 10pm
---
Photo courtesy of Jon S.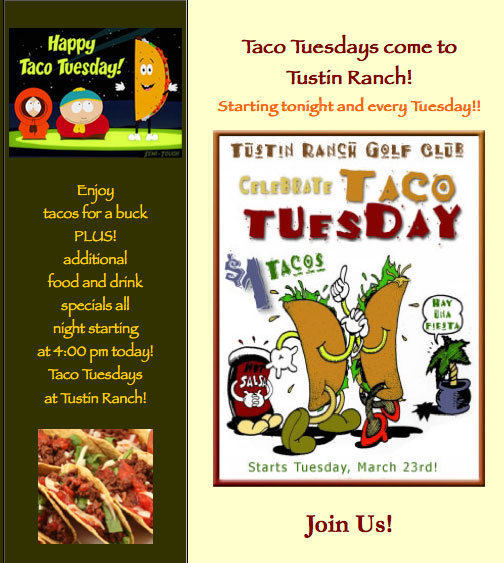 ---
Here's pictures of the Taco Tuesday at the Beachfront Bar and Grill:
It's supposed to be $6 even for all-you-can-eat. Make sure they don't try to charge you more than that.
Okay, so I didn't get much on my first plate: