Date of Visit:
May 31, 2007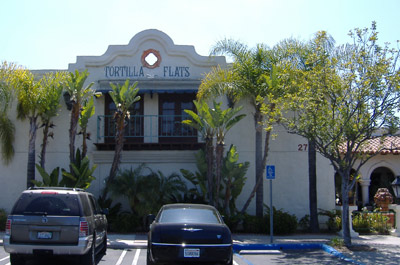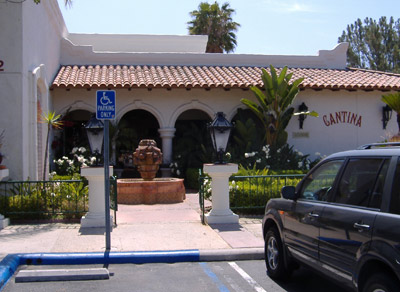 (UPDATE: Tortilla Flats has closed. It apparently has been taken over by a restaurant called "Lagos.")
On the shore of man-made Lake Mission Viejo sits an enormous Spanish hacienda known as the Mexican restaurant Tortilla Flats, the restaurant which claims to have invented Taco Tuesday (do we have any contenders?) in 1976. Their official site gives not only the history of Taco Tuesday but of tacos themselves. A lazy Thursday afternoon allowed me recently to head down south and finally give this place a try (they are frequently featured in OC Menus, a supplement to OC Metro). With such a picturesque setting you are going to want to sit outside to take it all in and watch the boats go by as you eat. I even saw somebody fishing while I was eating.
(For some reason there's been a rash of people searching for "tortilla flats laguna beach" recently. Tortilla Flats is in Mission Viejo, not Laguna Beach.)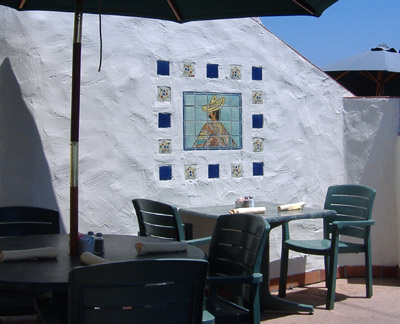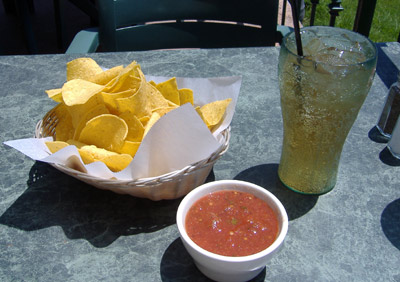 From their extensive seafood selections I ordered the
Camarones Azteca
, "Sweet shrimp sauteed with yellow and red bell peppers, garlic, capers, parsley, butter, lemon and white wine. Garnished with quesadilla wedges and mole sauce. Served with sautéed vegetables and arroz." The plump, firm shrimp interacted well with the variety of vegetables and the mole-topped quesadillas really satisfied the taste buds. A
minor
complaint is that there was a too much drippage on the plate from some of the ingredients which made the quesadilla wedges a little soggy.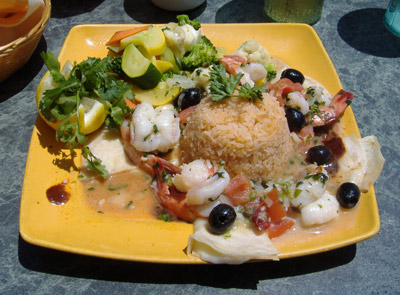 Camarones Azteca
I topped the lunch of with some of their flan, which was pretty light. Good for when you already nearing a full stomach: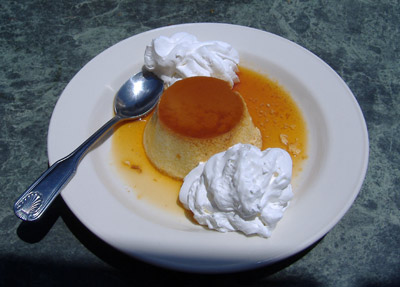 Tortilla Flats earns a four Speedy Gonzales rating:
UPDATE:
One of the Tortilla Flats managers has written in with some clarifications for this piece (which is great because we always want accurate information here):
As far as facts go, we absolutely did invent Taco Tuesday, we have a trademark on it! As far as inventing the taco, the story merely states that tacos were "born" in the US at the Arizona Zerape Café (owned by our founders Aunt and Uncle). This refers to the first recognizable menu which served tacos in the early days of the Wild West. Although the Mexican-American community always ate tacos, this style of taco was introduced by the original family members of the founders of Tortilla Flats. The Delahantry's legacy in Arizona was famous in the Tucson community especially for providing the Mexican singers and dancers of the time with authentic Sonoran style cuisine (including our special deep-fried taco style) which was readily gobbled up by the locals at the time yearning for the "real stuff." Later they moved to California and their nephew (I believe) Eduardo Hernandez founded the Original Tortilla Flats in Laguna Beach in 1947 (our logo says "Established 1949" - because this is when Eduardo became an official American citizen).
Here's some extra photos of the premises: