Date of Visit:
June 8, 2007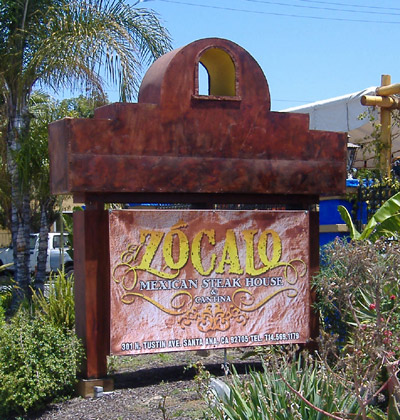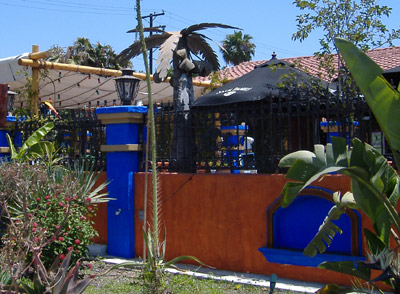 A little over a year ago, back in the
Roundup #4
entry, I mentioned that a waiter at Black Sheep Bistro in Tustin said that one of his favorite Mexican restaurants was El Zocalo Mexican Steak House in Santa Ana. The mere fact that I made that mention means that anybody searching on "zocalo" is likely to find my blog in their search results, but then come here and not actually find any information on it . . . until now. This should show anybody that's ever made a recommendation to me that I follow up on all recommendations I get . . . even if it takes a year or more.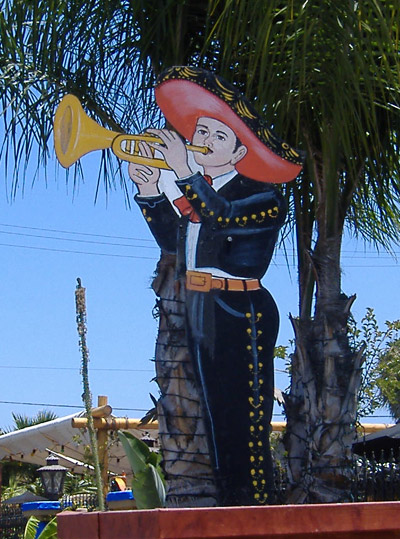 You can hear this trumpeter for miles around
In a location that used to be the Ancient Mariner restaurant in the 70's and several other restaurants since then, El Zocalo looks a lot like the Chili Pepper in Orange with more earth tones, less primary colors, and lots more jungly overgrowth. The tiki torches in their courtyard don't exactly further the Mexican theme but I'm not complaining.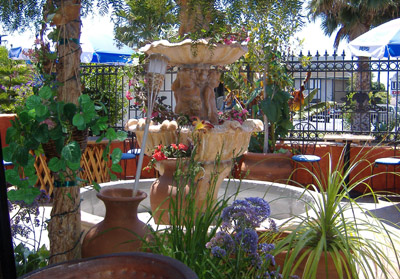 Meeting up with friends Matt and Rhett who arrived before I did, we perused the menu and I made an offhanded remark that somebody should order a steak since we were technically at a "steak house." Matt, with very little prodding, ordered the top sirloin steak (medium rare), which was served with steamed vegetables, corn on the cob, and french fries: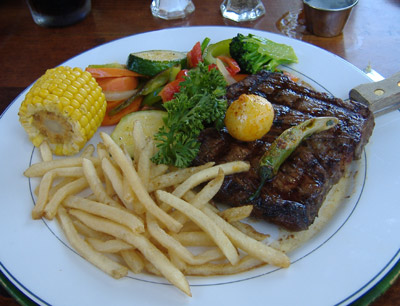 Top Sirloin Steak
Rhett ordered a
carne asada
platter which was served with Spanish rice, salsa and guacamole on a leaf of lettuce, and beans in a little tostada-style bowl: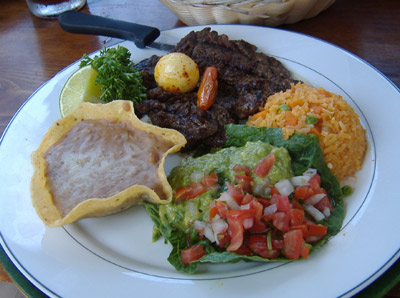 Carne Asada Platter
I went for the chicken enchiladas in mole (pronounced "mow-lay") sauce, served with rice and beans and a little bit of salad fixin's that I probably should've asked for some dressing for. This was quite likely the hottest mole sauce I've yet experienced. Bitter, hot, and chocolatey: from reading it it might not sound so good but when you taste it your taste buds will counteract your mental reasoning on the matter.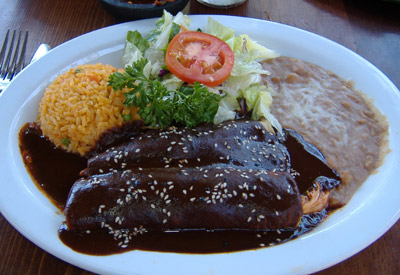 Enchiladas de Mole
Matt and Rhett, my Zen masters and spiritual guides: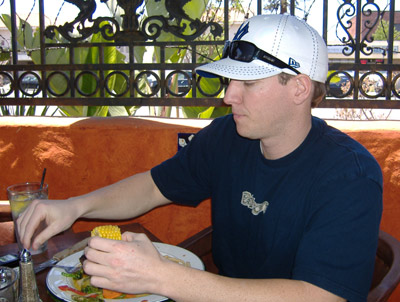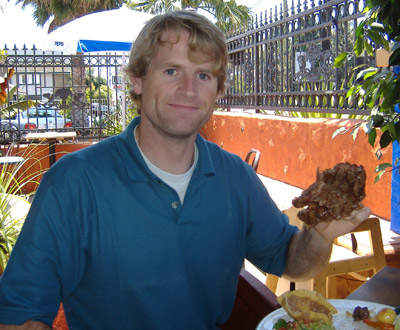 Seeing as how Rhett and Matt actually have things called "jobs" that they had to get back to I was the only one left to enjoy dessert, the
bunuelos
with ice cream which ended up being a lot like the deep-fried ice cream that Azteca's in Huntington Beach serves but without the ice cream being deep-fried, if that makes any sense. These were six fried, sweetened tortilla wedges all pointing at two scoops of ice cream, everything drizzled with strawberry sauce with a mint leaf, whipped cream, and a cherry on top.
I'm going to give El Zocalo a three and three quarters Speedy Gonzales rating, leaning towards possibly rounding it up to four, and if Matt and Rhett chime in with their assessment then I can average out our ratings: