VERY IMPORTANT NOTE:
This review (Tortilla Jo's - Review #2) is only of their takeout window. We also have reviews of their sitdown service.
CLICK HERE
for our complete Tortilla Jo's coverage.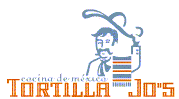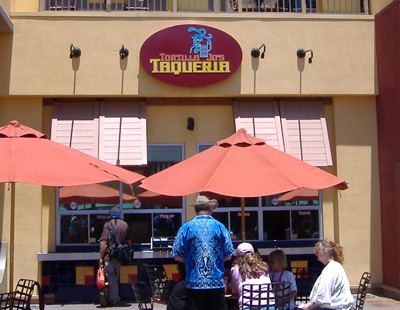 A lot of the complaints I've seen about Tortilla Jo's at Downtown Disney center on the typically long wait (although I have had good luck a couple times there). If you get there and you find there's going to be a long wait you might want to consider going to the take-out window around the side of the building. It has an abbreviated version of the sit-down restaurant's menu but also has a few items that the sit-down section doesn't have. Case in point: the "Mexicone" I got yesterday served in a crisp corn tortilla shell that has been twisted into an ice cream cone shape. It comes stuffed with beans, rice, onions, cilantro, and cheese, and your choice of meat (or no meat, if you prefer). I chose the shredded pork which tasted a lot like the crispy carnitas from El Farolito Jr. I don't know if you're supposed to walk around enjoying your Mexicone in the heat of the summer day since it's in supposedly transportable form. It might've been my ineptitude but I had to sit down and eat it while it crumbled all over the place. That doesn't mean it didn't taste good.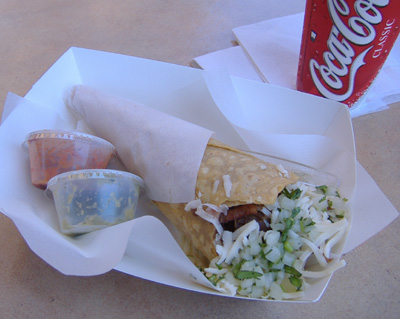 Surprisingly enough they also sell horchata, tamarindo, and jamaica
aguas frescas
, but, unfortunately, they are steeply expensive at $3.75 a glass. My guess is that this precludes many visitors from even trying it out and opting instead for a standard soda, which, of course, is still too expensive when you are at Disneyland, but at least cheaper than the
aguas frescas
.
The takeout window doesn't validate your parking ticket but you can go into the entrance of the sitdown section and show them your takeout receipt and they will validate your Downtown Disney parking ticket.
Since I had seen an ad before that showed that Tortilla Jo's Taqueria sold frozen fresh fruit popsicles I asked during this visit if they had those and the girl at the window said they used to but don't anymore but she wished that they still had them. They do sell flan, churros, and brownies for dessert though.
Tortilla Jo's at Downtown Disney earns a three "Panchito" and half Speedy Gonzales rating (whatever that means):



UPDATE (June 30, 2009):
Here's some carnitas tacos I got as a takeout item recently: