Date of Visit:
September 12, 2007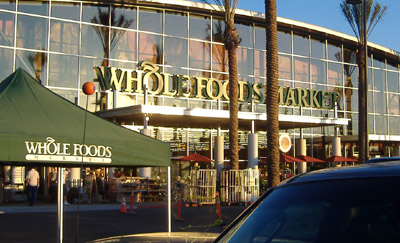 If you live anywhere in or near Tustin or Irvine you must know about the new mega shopping center called The District at Tustin Legacy (which is actually in Irvine) which is nearly a clone of the Tustin Marketplace, which itself is in Tustin
and
Irvine (confused yet?). Before its grand opening on August 17 I'd made a few trips there to eat at Chick-Fil-A (a habit I picked up when I lived briefly in Florida), watch movies at the theater (before the general public knew it was actually open), and sample food at the enormous Costco.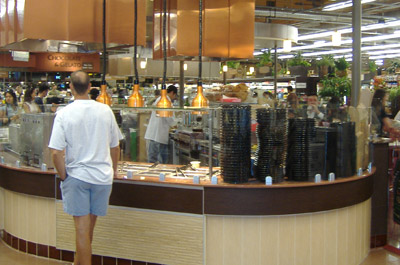 Having read Nancy Luna's
preliminary report
on the coming Whole Foods Market I was interested in getting there as soon as I could. Due to a misunderstanding on the opening date I actually ended up there the day before it opened at which time I took the first picture shown above. It wasn't until about two weeks later that I made it back for real.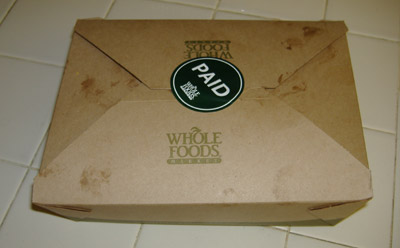 When I walked in the first thing that came to my mind was, "This is like a food version of Disneyland." Unsurprisingly I read in the OC Weekly later that night that the Weekly's food columnist, Edwin Goei (aka ElmoMonster), had referred to it as a "Disneyland for foodies," in an article entitled, fittingly enough, "
Disneyland for Foodies
" (and if I may be allowed to go off on another tangent I should add that when I lived in Hawaii I got my groceries at a supermarket called "Foodland" . . . and I'm writing this entry immediately after getting back from a Friday night trip to the real Disneyland). Somewhere in the back-quarters of this gustatory amusement park sits a churrascaria that doubles as a taqueria ready to serve up Mexican food for those who can't wait to get home and eat. So I ordered the "Tres Tacos," one with each kind of meat they offer: carne asada, chicken, and carnitas. They also have a vegetarian variety.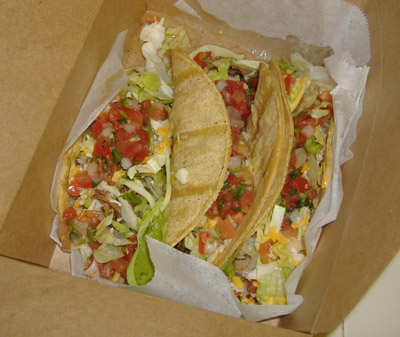 Heavy on the seasoning, made with very uniform machine-made corn tortillas, shredded lettuce, and lots of
pico de gallo
salsa and some shredded cheese this is Mexican food that cuts the mustard if it's the most convenient thing for you at the time. One thing I should add is that these tacos do not travel well. When I got back to my place to eat them they were dripping wet from all the excess
pico de gallo
water. If you order the tacos I'd suggest that you eat them there. Next time I get Mexican takeout food there it'll be a torta or a burrito.
UPDATE (April 13, 2009):
Here's a picture from when I went back a couple days ago and got three tacos and blueberry aguas frescas:
UPDATE (June 5, 2010):
Here's pictures from when I went yesterday and picked up one of their pre-made quesadillas: