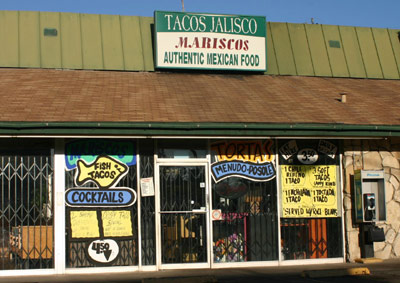 (THIS PHOTO TAKEN IN THE MORNING BEFORE THEY OPENED. You can see the assortment of specials)
Johnny Automatic, Reviewer #2 here at the blog, fills us in here on Tacos Jalisco back in his hometown of Orange. I've heard good things about this place before and now here's some more good things about it:
Following up on a couple of suggestions, I tried a new place twice this week. Tacos Jalisco has been around since 1989 and is a real locals favorite. It sits behind a Taco Bell, which is kind of like a decoy to divert those who don't appreciate real Mexican food. At lunch they do a brisk take-out business with a lot of tacos, tortas and burritos going out the door. A good salsa bar is clearly divided between the mild and hot salsas. On my first visit I was in a hurry so I got 3 tacos to go. I tried carnitas, al pastor and lengua. All three were very good soft tacos with distinct flavors for each meat. The lengua was a real stand-out. It was melt-in-the-mouth with that deep beefy flavor. Most of the tacos are a dollar but lengua will set you back $1.25. If you have time to eat in for lunch they have many $3.50 specials.

I went back later in the week with my wife. This time we dined in. The place is kind of odd - it's part sit down restaurant, part local's diner and part taqueria. The patrons are a pretty even mix of Hispanics and gringos. Contemporary Mariachi music was going full blast. The basic combo plates start at only $3.50 but you can get specialty plates up to $13. So they really cover the range from $1 tacos up to full seafood platters and fresh oysters. Chips are served with a nice fresh red salsa that I'd like to see chunkier. I saw one customer solve that problem himself by getting some pico de gallo from the salsa bar and adding it in.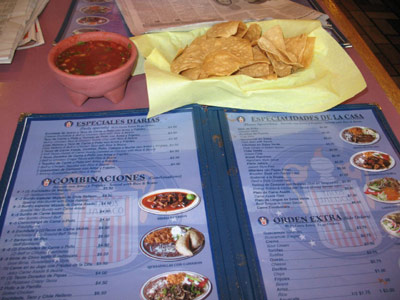 My wife went with her usual litmus test for a new place and took advantage of one of those bargain combos. She picked the cheese enchilada and hard shell beef taco combo. The red sauce had a distinct hint of cinnamon that we enjoyed but might not be to everyone's taste. For her the portions were just right for a good meal. She gave thumbs up to both the enchilada and the taco.
Because I enjoyed the lengua so much I tried the full dinner. Lengua en salsa verde runs $7.50 (one of the more expensive items) and like most plates came with rice, beans and tortillas. The beef tongue was just as tender as before and very good in the green sauce. The rice was pretty average but the beans were better than usual. I suspect some serious pork fat helped the flavor.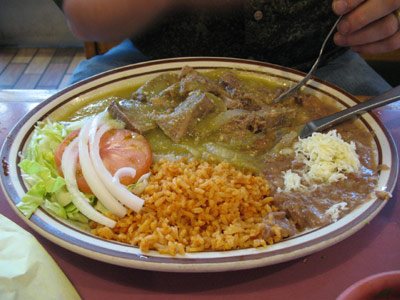 They serve a lot of shrimp dishes that looked very tempting including quesadilla de camarones. They also feature an assorted seafood platter for $13 a person, but you need a minimum of 3 people for an order.

In addition to the food, they offer 3 aguas frescas: horchata, jamaica and tamarindo (commercially made I suspect) for $1 (big styrofoam cup) as well as beer and all the standard sodas, etc. Tacos Jalisco is a comfortable local eatery with some nice values. The prices, assortment and quality plus that great lengua give it a solid 4 Speedys: