Venturing from the calm surroundings of his natural habitat of the city of Orange with its illustrious traffic circle and myriad antique stores to the rough and tumble suburban jungle of Costa Mesa with its infamous traffic triangle and myriad tattoo parlors, frequent guest reviewer Johnny Automatic reports on his recent visit to Mi Casa, the Mexican restaurant that qualifies for barnacle status yet keeps its generations of customers constantly coming back for more. I think I've had my cheese allotment for the year just by reading in this review about all the
queso
Mi Casa serves:
Eight of us went to Mi Casa on a busy Saturday night. There was a wait so we passed some time in the bar watching Angels baseball, drinking margaritas and nibbling on chips and salsa. They have 3 salsas available. One is a mild red salsa which is pretty much tomato sauce. They also have a dense pureed green salsa with a pretty good kick and a thin hotter red salsa. The green salsa was the standout for us.

It has been over 20 years since I've been to Mi Casa. It has been around for more than 30 years, and when I lived in Costa Mesa I went several times. I am old enough to remember that it used to be a steak house (a Sizzler I think) and to this day they still have the old steak house tables. You'll see the steer heads and brands pattern in my photos. That kind of sums up Mi Casa. It is a local's favorite, the kind of Mexican food place that was pretty standard 30 years ago. Think Don Jose's. It exists in its own world, pleasing its long time customers with no regard for time and changing trends. I think Mi Casa hasn't changed as much as I have changed and now there is so much more in Mexican food.

Volume, volume, volume is the story here. Oh, and the cheese. I think if I sat there too long they'd melt cheese over me. You get a ton of food for your money and no one has any right to go away hungry. You can see the special burrito is a full plate of food by itself, filled with the kitchen sink and topped with sauce, cheese, sour cream and guacamole.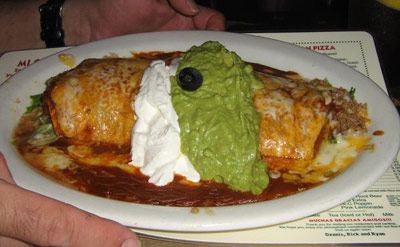 They make a tostada that looks more like a big taco salad. Supersize me!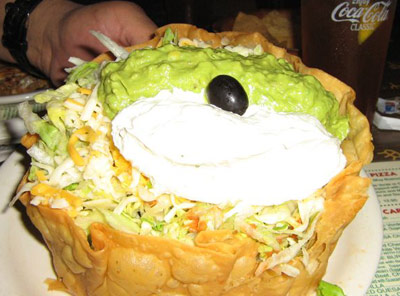 Three of us ordered the Chile Verde. A whole shoulder worth of pork on the plate but very little chile or verde. I found mine to be sort of bland and a bit dry. It certainly was the least saucy version of Chile Verde I've ever had. One could have mistaken it for carnitas. Their beans are pretty standard and so is the rice, although many of us enjoyed it because it had a crunchiness like Chinese fried rice while still retaining some moisture.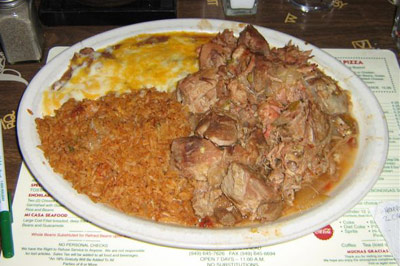 Our friend Debbie ordered the cheese quesadilla, which she thought was ok.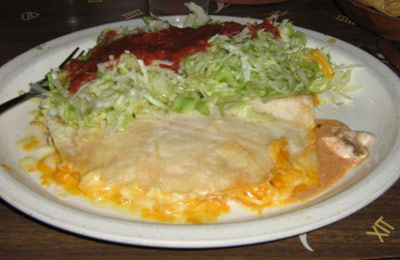 My wife Thea ordered the taco and enchilada combo. She proudly displayed the huge taco they make. She was happy with her meal and especially liked the giant taco.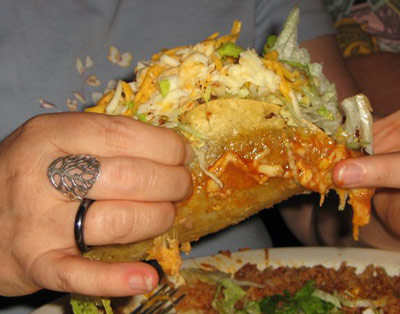 Our friend Cheryl ordered the Huevos Rancheros which is one of several traditional Mexican breakfast items you can get for dinner here. She just found it ok. A number of us really wanted more spice, kick or flavor out of the food. A lot of it was more focused on quantity than quality. But that sure seems to please a lot of people here.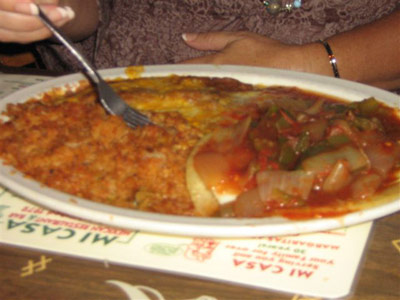 If you like an Americanized style of Mexican food and want good value for your money then you will probably be very happy here. If you worry about Mexican food being too spicy then this place will satisfy. You have to add your own spice to most of the food here. In fact they offer several non-Mexican items as well - from steak sandwiches to hamburgers and french fries (to my mind another throwback to an era when you had to appease the people in your group who couldn't handle Mexican food because it was too spicy or foreign). So I can see that this would be a popular place for families trying to please a variety of tastes. There is nothing wrong with any of the food here, but none of it was terribly memorable either except maybe the green salsa. Oh, and the margaritas were pretty strong. Makes me want to break out my old Eagles records - "Just another tequila sunrise..."

3 Speedy Gonzaleses:
Thanks, Johnny! I'm starting to wonder if I should keep referring to you as a "guest" reviewer.
Click here
to be taken to the complete flickr photo album (27 photos so far).