4250 Barranca Pkwy
Irvine, CA 92604-4753
Listing on Yahoo! Local
Listing on Ask.com's Citysearch
Official Site
Entree
: Seafood Combo
Drink
: Guava Jarritos w/ lime
Okay, I thought it was bad last weekend when I was backed up with three entries to write but now I have five entries to post. They may come hot and heavy or they may come slow and steady.
Las Fajitas is a place I tried once in 2002 then again in 2004 and the food just never sat well with me. This time there seemed to be a little bit of improvement. At their cash register they have a computer monitor that's flashing pictures. Every time I see it I get the urge to check my e-mail but it's really just flashing pictures of some of their food. It might sound silly but it works great for somebody like me who has to
see
what they are getting beforehand. And it influenced my decision today because as soon as I saw the Seafood Combo I ordered it. It came with some salmon, mahi, and shrimps on a skewer with loads of tasty barbecued veggies. I forgot to bring my darn coupn with me so I might go again soon and try out their breakfast (which they only have on Saturdays and Sundays).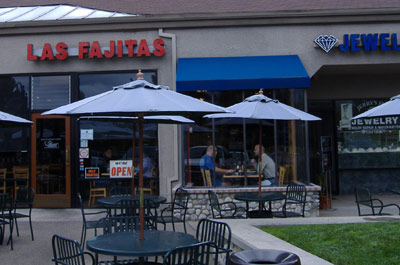 Las Fajitas has much better food than the jewelry store next door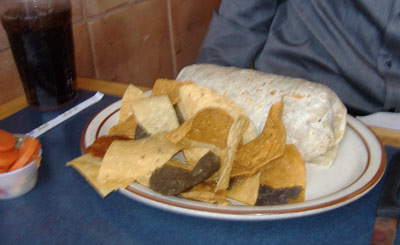 My co-worker is so mysterious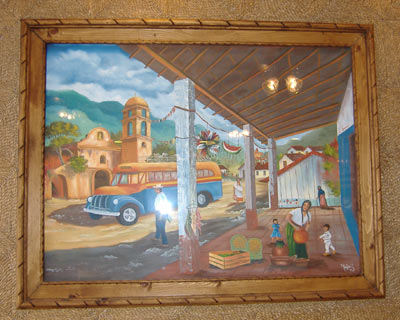 Artist's conception of the original Las Fajitas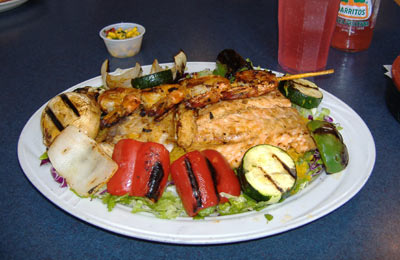 Mmm . . . corn salsa
Las Fajitas gets a three Speedy Gonzales rating: