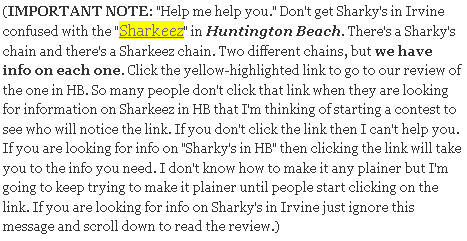 6725 Quail Hill Pkwy
Irvine, CA 92603
Listing on Yahoo! Local
Official Site
I broke my rule of only going to three Mexican places a week by going to four or five in the last week. Now I'm backed up with three restaurants to write about and I've never been that backed up before, so these next three reviews may be short on words. But pictures are worth a thousand words, aren't they?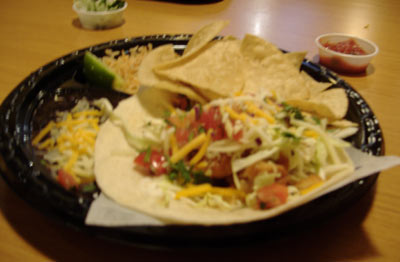 Sharky's tempura-battered shrimp taco plate
Sharky's is hard to review because it's just like so many other places such as Rubio's, Baja Fresh, and La Salsa. They do have woodfired pizzas there (which I will try sometime) and tempura-battered shrimp tacos (which I did try on this visit) so they get at least an extra half Speedy Gonzales for that. They have some yuppie-ish but not too yuppie-ish, attractive decor and they are good about keeping the place clean (although I wish other customers would learn how to not be so sloppy when they are at the salsa bar - any salsa bar at any Mexican restaurant for that matter).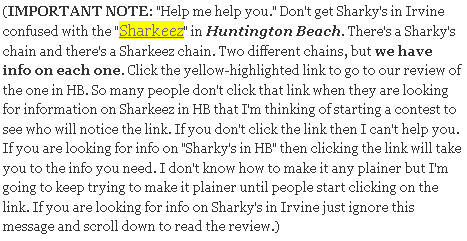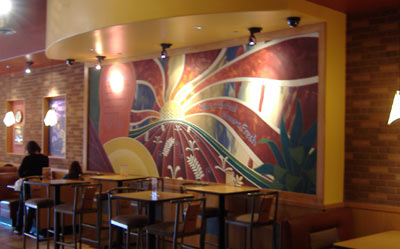 Sharky's Interior - No palm trees in the way this time
I really want to give them a three and a quarter Speedy Gonzales rating but I'm feeling extra nice today so I'll round Sharky's up to a three and a half Speedy Gonzales rating: