IMPORTANT UPDATE (February 11, 2008):
Javier's in Laguna has closed down. The Irvine location is still open and the Crystal Cove location has just opened.
→
CLICK HERE
←
to read all our extensive Javier's Cantina coverage including information on their location that is still open, their location that has just opened, and their location at a Mexican resort (includes a couple dozen photos).
Javier's Cantina & Grill
480 S Coast Hwy
Laguna Beach, CA 92651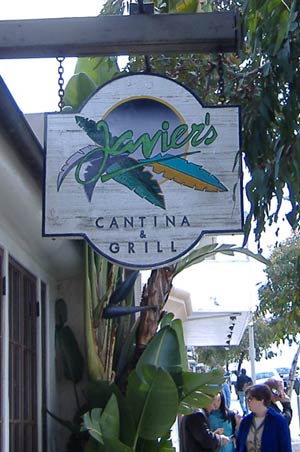 The parking situation here was almost enough to make me drive away and never come back. One of my pet peeves is places with insufficient parking, or tight parking, or expensive parking. Javier's shares with other nearby shops a two-story parking garage where you have to purchase a parking voucher from a machine. The machine doesn't take bills so you have to go to a change machine in another part of the structure then go back to the machine that gives you a parking pass then go back to your car to put the pass on your dash. I don't know who the Einsteins are that came up with that arrangement. The machine says that parking is $1.50 per hour but you really get ten minutes for every quarter you put in so if you think you might be just over an hour just put in $1.75 or $2.00. I was thinking at first that it would only take amounts in increments of $1.50 but that's not the case. So, that is one good point. You can also try your luck parking in a residential area then walking back to the restaurant. If you go to their other location at the Irvine Spectrum (which, oddly enough, their official site doesn't even acknowledge) you'll have different types of parking-related headaches to deal with.
It is also hard to see Javier's from out front. All the store fronts on this strip are jammed closely together so that nothing stands out. If you've never been before you'll have to pay attention to the numbers on the shops when locating Javier's for the first time.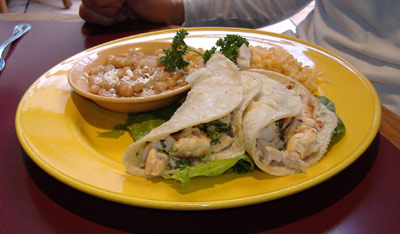 Javier's Chicken Taco Plate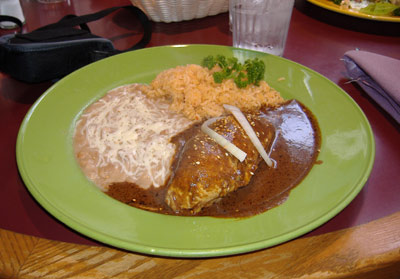 Javier's Mole Poblano
My friend Sherry tells me that Javier's started when Javier worked at another Mexican restaurant nearby and was mistreated by his employer. He put up with it for a while, then finally got tired of it, quit and started his own restaurant which did so well it put his former employer out of business. If that is all true then I say more power to Javier and down with mean people. If you're a mean person stop being mean.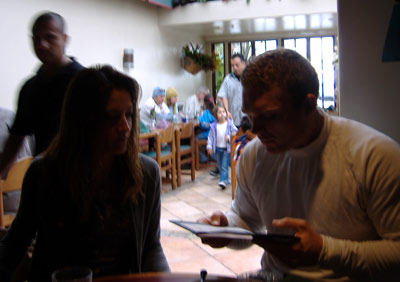 After ordering our food arrived very quickly, maybe in three or four minutes. But it didn't seem to have been prepared in a rush. Sherry and Zach each ordered the chicken taco plate and I ordered the
mole poblano
. I might even say it's the best mole sauce I've ever had; everything about it seemed to be perfectly balanced and complementary to the perfectly cooked chicken it smothered. One thing I'd prefer, and I'll readily admit this is my own idiosyncracy, is that I always wish they'd sprinkle even more sesame seeds on top of the mole. And I mean lots and lots of sesame seeds. But that's just me. And maybe next time I should just ask for it.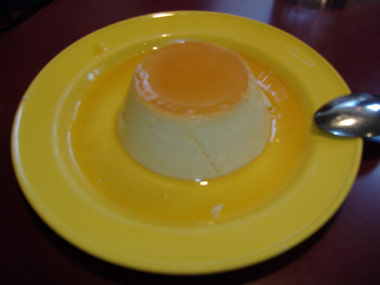 Javier's Flan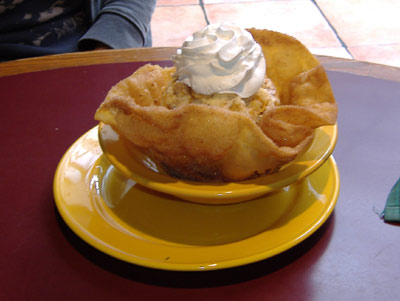 Javier's Deep-fried Ice Cream
I couldn't order their deep-fried ice cream because it has walnuts in it but Sherry and Zach ordered it and shared it. I ordered the flan for dessert and it was very well made but presented in an incredibly plain manner: the plate, the flan, and nothing else. I think I've been spoiled by Taco Rosa where they turn every serving of flan into its own artistic creation. And one time about a year ago when family was in town and I had too much time on my hands I made even artsier-looking flan and may try it again soon and post pictures here.
Overall, Javier's Cantina and Grill earns a very solid four Speedy Gonzales rating:




Other Javier's Reviews: