Here's two pictures of flan I made last night and attempted to make it look like they were a dessert being served in a four star restaurant:
Attempt #1
Attempt #2
The recipe for the flan (which itself comes from the Better Home and Gardens New Cook Book) can be found on my
personal site
. For presentation attempt number one I placed one flan in the center of a 9-inch square white plate then put some frozen raspberries sprinkled with sugar in one corner (prepare raspberries by rinsing off, sprinkling with sugar, then placing in freezer for 10-15 minutes before serving the flan; they don't need to be frozen solid), a Pepperidge Farm Seville cookie in another corner, and a pile of my roasted seed mixture in a third corner and left the fourth corner empty. The seed mixture is a combination of sunflower seeds, pumpkin seeds, and pistachios roasted in extra virgin olive oil.
For presentation attempt number two I placed the flan in the center of the plate again but this time I drizzled some extra caramel sauce from the flan around the perimeter of the plate then sprinkled the seed mixture around in the "drizzlings" then placed some of the frozen, sugared raspberries around the edge as well. The mixture of the creamy, silky flan (at refrigerator temperature), with the tart, juicy raspberries (at freezer temperature), and the salty, nutty seed combo (that has just been heated up) creates an unparalleled flavor explosion.
I wanted to use a different color plate, maybe a goldenrod, but when I went hunting all that was available was white. I think the experiment (including my photography) turned out pretty close to what I had imagined and I suppose I'll hone my technique with each subsequent attempt. UPDATE: One person has e-mailed and said that the photographs wouldn't have worked as well with plates any color other than white. I will take their word for it.
UPDATE: September 25, 2006:
Two nights ago I made two autumn-oriented flan presentations: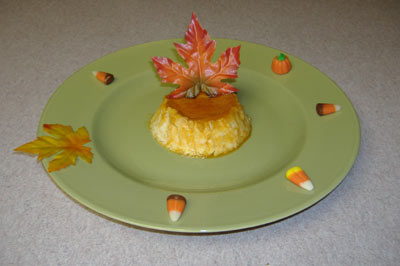 Attempt #3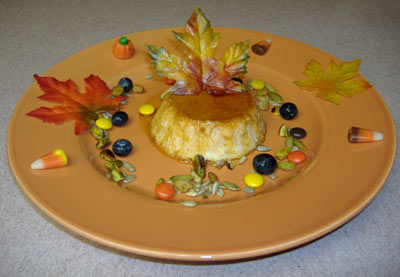 Attempt #4