Date of Visits:
April 12, 14, and 18, 2006
3309 Michelson Dr
Irvine, CA 92612
Listing on Yahoo! Local
Listing on Ask.com's Citysearch
Official Site
---
We are pleased to offer a coupon in conjunction with Taleo Mexican Grill in Irvine good for a complimentary appetizer or dessert item of your choice.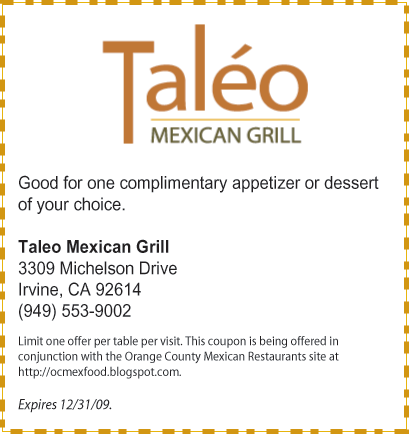 Click Here for Printable Image
---
Now this is how I'd like to always do a review: making at least three different visits, with different people each time, and always ordering something different. I guess it helps to live almost within walking distance.
Taléo is part of the Park Place center at Jamboree and Michelson in Irvine. When you turn on to Carlson to enter the center (does "enter the center" make me a poet?) it will be the very first place on your right. For a place called Park Place the parking here can be a serious pain. It tends to be very crowded at lunch and dinner but be aware that there is a parking structure with visitor's spots you can use. Also, there are some areas that look like they are for valet parking only but I have never seen valets there. And keep an eye on the signs that tell you how long you can park in specific spots. Some say "90 Minute Limit 7am to 5pm" while some just say "90 Minute Limit." Despite all this I have parked in numerous types of parking spots there and have never had my car towed or ticketed but the pecularities of parking at Park Place should still be pointed out.
Visit #1
The first visit occurred last Wednesday evening when I met up with Joy (who has contributed reviews on Taco Rosa and Ricardo's Don Jose) and her partner Carter, a friend of mine named Amy who brought her friend Sarah along. Our party of five ordered a number of items from the menu
a la carte
and passed the plates around sampling as much as we could. We tried the chile relleno, the tamales, a couple different kinds of enchiladas, a
taco al carbon
with shredded jicama, carrots, and mango on the side, the very excellent carnitas (loved by all), the queso fundido (loved especially by Amy who was very vocal about her appreciation of it), the nopalitos, cilantro lime rice, epazote-flavored black beans, and frijoles charros.
At the end of the meal we ordered one of each dessert and shared all around. Their signature dessert, the flan, made fresh every day, is the creamiest I've ever experienced. The chocolate cake is more like a souffle, light and moist, and served with a scoop of vanilla Haagen-Dazs ice cream and strawberry slices. With the
tres leches
there were some varying opinions but I gobbled up whatever others didn't eat. My first experience with
tres leches
was at an El Torito where the server told me I might not like it because usually only Mexicans like it, so I guess it is one of those things where you are born to like it or you are not.
To round out the report on the first visit I turn now to Joy, whose words alone paint a thousand pictures:
Last week, Christian and I went to Taleo Mexican Grill, with my partner Carter and friends Amy and Sarah. In the interests of full disclosure: this was the first time either of us has done a review of a restaurant when the restaurant staff knew ahead of time that we were reviewing it. This means I can't really comment on the service (which was great), and we were probably given options for ordering that wouldn't normally be available. However, Carter and I have eaten at Taleo many times before, and the quality of the food was excellent then as well. The main difference this time was having a good excuse to order a wide array of foods at one time.

My overall impression of Taleo is that this is a fine culinary restaurant firmly based in Mexican cuisine, rather than a standard Mexican restaurant with a fancy coat of paint. Yes, the presentation of the dishes is pretty, but thankfully, this is not one of those restaurants where the food looks better than it tastes. On the contrary, the modern decor and decorative plating are just icing on the cake: the food is the real draw, and it's excellent. If the complex, subtle flavor profiles of most dishes are any indication, head chef Nic Villarreal must have an obsession about culinary details.

The atmosphere at Taleo is more upscale than most Mexican restaurants, with a mixture of dark woods and modern decor. There's a bar area on one end of the restaurant with couches, and although the bar seems to fill up on weekend nights, I've never noticed the dining room becoming too noisy.

This night, we started with two appetizers, the queso fundido and guacamole, both served with tortilla chips. The chips are house-made, but they were no longer warm by the time we got them. Still, the toppings made up for that. The guacamole had big chunks of avocado, held together with a creamy base, and just enough red onions and chile pepper to add a little sting: very good. The queso fundido was a huge hit, especially with Amy, who repeatedly asked me to emphasize in this review how much she LOVED it. (There you go, Amy.) The texture of the cheese sauce was creamy without being too thick or heavy, with some spicy top notes from bits of chorizo and roasted poblano peppers. Carter and I argued over an elusive secret ingredient that added an extra dimension to the dish, but couldn't identify it.

Two salsas were served with the chips, referred to as "regular" and "spicy" by our server. The regular salsa was somewhat chunkier, although the pieces of tomato were still very small. The flavor was pleasingly complex and rounded, with a touch of sweetness perfectly balancing the heat, deep undertones, and just enough cilantro to brighten it. The second salsa was especially smoky, which I liked, and although it was hotter, nobody found it to be too hot for their tastes. This salsa was more one-dimensional, relying almost completely on the smokiness and bitterness of the chile. Still, it was good, and suffered only in being compared to Taleo's more nuanced treatment of other sauces.

For our entrees, they let us order a number of items à la carte, and then we each tried a few bites of every dish. All together, we ordered: chicken enchilada, carnitas, beef enchilada, tacos al carbon, tamales, and chile relleno, with sides of black beans, frijoles charros, nopalitos, and cilantro lime rice.

The overall lesson I took away is that you won't go wrong ordering any of the Mexican dishes involving meat or sauce at Taleo.

The carnitas was excellent: very tender but still toothy. When forced to choose, Christian picked this as his favorite entree, and I might have also (except that I selfishly did not force myself to choose). Nic served it with a yellow mole that was amazing: light and smooth, but rich with undertones of peppers and tomatoes. The red mole served with the chicken enchilada was no less excellent: full-flavored with a touch of sweetness but nowhere near cloying. The beef enchilada was served with a delicious "mild guajillo" sauce. I tend to be suspicious of dishes labeled "mild", as it is too often a synonym for "bland." This is not the case at Taleo: while most dishes are mild enough that they won't offend more sensitive palates, the spicing is still interesting, with the lighter touch of chile balanced with and backed up by other flavors. The fillings for the chicken and beef enchiladas stood up to the great sauces, complementing them nicely.

The sauces, and especially the moles, were Carter's favorite part of the meal, which is saying a lot, as he is notoriously particular about sauces. I always thought I disliked moles, as my past experiences have involved bitter, pasty substances. Now I am a zealous convert, and must return for more. Nic told us that they serve a green mole on special occasions, and I'm hoping to find out when those occasions are.

The tamale was filled with more of that delicious carnitas, with a light saucing of the mild guajillo sauce. I'm rather picky about my tamales and often find them to be too dense and dry, and I liked Taleo's version: it was lighter than most and had a higher ratio of filling to masa, but the corn flavor of the masa still came through. The moistness of the filling kept the dish from being too dry. My fellow diners appeared to like it too, as it disappeared before I could go back for another taste.

The tacos al carbon received more mixed reviews. I found the filet mignon to be seared to a perfect medium-rare, toothsome and juicy, and blending well with the other ingredients, and both Amy and Sarah listed this as their favorite entree. Carter did not like it as well as the other meat dishes, finding the flavor of the meat somewhat flat, and disagreeing with me that the dish held together. More sauce might have helped here, and I also believe the dish suffered more than some of the others from cooling off while we sampled other dishes.

The chile relleno served here is made the traditional way, with the filled poblano dipped in an eggy batter and deep-fried. The resulting coating was tasty, but didn't overpower the quiet flavor of the poblano, which is my favorite part. This is one of many dishes that are typically smothered in melted cheese and indiscriminate red sauce at most Mexican restaurants. A more subdued approach is seen here: the chile relleno has only a light saucing of tangy white cheese and sauce, just enough to add flavor, without drowning the dish. The chile is stuffed with different fillings on different days. I forgot to write down what was in the filling and remember only that it included mushrooms and that I liked it.

Among the side dishes, my clear favorite is the frijoles charros. I fell in love with this dish the first time I had it at Taleo, and now insist on having it at each visit. The texture is just right: a thick sauce coating well-cooked beans which give just the slightest resistance to the tooth. But the big draw is the incredibly smooth, smoky flavor that suffuses the beans. The black beans, by contrast, came across as plain, especially in contrast to the other offerings on the table.

I appreciate any restaurant that serves nopalitos (which is described as sautéed baby cactus on the menu, but is more specifically the pads of prickly pear). Taleo gets the texture just about right, although it's a touch too soft for my taste. The other vegetables and spices blend well with the main ingredient, though, and make for a fine and slightly spicy side.

We ordered one of each of the four desserts, which differed greatly in how they were received. We had heard great press about the pastel de tres leches, which is a traditional Mexican dessert, if rarely seen at traditional Mexican restaurants. Unfortunately, few in our group liked this take on it. The milk-soaked cake was judged as far too soft and, ironically, too "milky." Instead of leaning toward being creamy, the flavor was light and insubstantial, leaving the squishy texture to fend for itself. Even the whipped cream was too light, without much flavor. On the other end of the spectrum, the flan was so creamy that it was strongly reminiscent of cheesecake, both in terms of texture and taste. Although it was a surprising departure from the more traditional flan we were expecting, we liked this version just as well. The chocolate cake was my favorite: it was also very creamy and rich, almost mousse-like, and came with a delicious caramel sauce. The overachieving underdog of the desserts, however, was the mango sorbet, which Sarah and Amy raved about and liked so much that they had finished it before I had a chance to taste it!

There were a large number of dishes we have left to try, including all the soups and many of the entrees. Some, we've had on prior visits and enjoyed. The only entree I remember ordering on a prior visit that I would not recommend is the smoked apple chipotle chicken. The chicken was a bit dry, and the sauce was not sufficient to make up for it. That may have been just an off-night for the kitchen, but the dish doesn't seem to tap into the strengths of this restaurant. Besides, if I have to narrow my dinner choice to a single entree, I'm glad to have at least one item to mark off the list of options.

Overall, a good time and a great meal was had by all. Over multiple visits, Taleo has consistently produced food of excellent quality. As much as I enjoy more typical, casual Mexican restaurants, Taleo is in a different class altogether. Nic and his team have taken a cuisine with a long history and delved deep to find delicate, multi-layered flavor combinations. The food is the closest I've seen yet to fine dining based in Mexico's rich culinary heritage. At the same time, the atmosphere is welcoming and laid-back, and the prices are low enough that you don't have to save it for a special occasion. My advice is to go there now, before they realize that they could charge much more for food this good.
Queso Fundido
Guacamole and chips
Beef enchilada
Chile relleno
taco al carbon
Chicken enchilada
Beef tamale
nopalitos
Chocolate Cake with Cajeta
Pastel de Tres Leches
Mango Sorbet
Flan
Four happy diners enjoying good food and good company
Visit #2
The second visit was instigated when I stopped by mother's house after the first visit and showed her my pictures. When she saw the carnitas she wanted to try it as soon as possible. We went two days later and met up with my friends Chris and Kristanna, husband/wife team from Garden Grove and the ones who told me about Anita's in Fullerton.
My mother and Chris each ordered the carnitas plate while Kristanna ordered the chicken fajitas and I ordered the chicken tortilla soup and the special Hawaiian Ono plate (not pictured) which was smothered in Taléo's yellow mole, which is made with peppers, squash, and tomatoes (all of the yellow variety) and a hint of vanilla. No dessert this time, but with the delicious caramelized outer layer of the carnitas, which we all sampled, all our gustatory needs for dinner that day had been satiated. UPDATE: Just remembered we actually did have dessert. All four of us shared the flan and the chocolate cake.
Chicken Tortilla Soup
Carnitas plate
Chicken Fajitas
Visit #3
On the third visit I went with my roommate Greg and our friend Diana. We shared some chips and guacamole and an Ensalada Taléo, comprised of, "Mixed greens, spinach, red onions, radishes and jicama in a roasted garlic-herb dressing with grilled salmon." You can also order it with chicken in place of the salmon or add steak or shrimp for $2 more. Greg is from Alaska where you can pretty much walk down to any stream and grab a salmon out with your hands so he knows his salmon well and has higher expectations than those of us who weren't raised near God's salmon farm. He said the salmon on our salad was decent, run-of-the-mill salmon. Diana and I didn't have any problem with it but thought it was perfectly fine.
For main entrees, Greg ordered a rib-eye steak, Diana ordered the
Camarones al Mojo de Ajo
, and I ordered the Smoked Apple Chipotle Chicken. When our entrees arrived we realized that none of us had ordered anything very ostensibly Mexican. It almost looked more like we were eating at the Sizzler. So what, we still enjoyed it. Greg declared his steak was much better than he was expecting, Diana said her shrimp dish earned its very own four-out-of-five Speedy Gonzales rating, while my chicken tantalized my taste buds with its smoky, tangy chipotle-based barbecue sauce. We finished light by sharing the refreshing mango sorbet for dessert.
Ensalada Taléo
Rib-eye Steak
Being the Seinfeld nut that he is, Greg wanted to be a hand model like Jason Alexander's character George Costanza while I took a couple of the pictures. Eat your heart out, Vanna White!
Camarones al Mojo de Ajo
Taléo's Smoked Apple Chipotle Chicken
Greg and Diana
In the interest of full disclosure the second visit was entirely covert and the service was still great, with even servers who weren't specifically assigned to our table offering gracious assistance. On the third visit I tried to be covert but bumped into the owner immediately upon entering (don't worry, he's alright) but after saying hi to each other everything else was incognito from that point on. The service on this particular visit could have been a little more attentive but there was nothing overt to complain about.
For serving up a fine of meal of authentic Mexican cuisine in an upscale yet relaxed atmosphere, especially for those who like to experiment with delectable meats and savory sauces, Taléo Mexican Grill earns a four and a half Speedy Gonzales rating: