Date of Visit:
March 4, 2006
21032 Beach Blvd
Huntington Beach, CA 92648
Listing on Yahoo! Local
Official Site
We now have our second reader review. This one was sent in by my friend James and he included a couple pictures as well. I believe James is the one that told me about Las Barcas about a decade ago.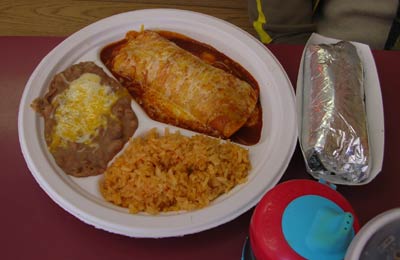 Baby drinking glass not included with meal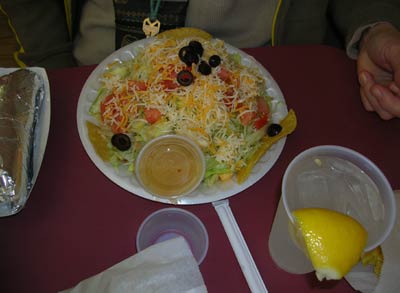 The lemon's trying to escape
I went to Las Barcas restaurant on Saturday afternoon at 2:30pm. I ordered a taco & enchilada comination plate, my wife got the machaca burrito, and my mother got the chicken tostada. All three were very good! I used to live about a block away from Las Barcas and I would phone in orders and walk down and pick them up (usually the chicken tostada, which back then was less than $4.00). I love the chips and salsa there too -- the salsa is probably the best I've tasted. This time I tried to figure out if their salsa has vinegar or Mexican oregano in it, and thought I detected the latter. The food leaves little to be desired, unlike many run-of-the-mill combo plate Mexican places. I think they deserve an extra "Speedy" for the salsa & chips too.

I'd give them four Speedys:




Thanks for the review, James. We've still gotta hit Mexi-casa and Miguel Jr. sometime . . . and Blue Agave again. And some other places.