25342 Mcintyre St
Laguna Hills, CA 92653
Listing on Yahoo! Local
Listing on Ask.com's Citysearch
No known official website.
Appetizer
: Chips and Salsa
Soup
: Albondigas
Entree
: Enchiladas Vallarta
Drink
: agua
Dessert
:
Deep-fried Ice Cream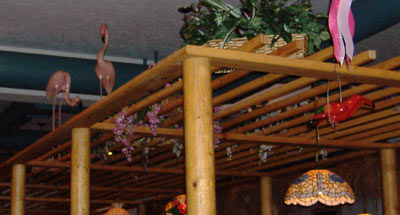 Some of Flamingo's many flamingos
So last night I went to Flamingo's, or, as I like to refer to it, "Flaming Moe's" (if you like The Simpsons you'll know what Flaming Moe's is). I thought "Flamingo's" was maybe just a name, but, no, they actually have flamingos all over the place inside. Stuffed toy ones, plastic ones, weird spinning-from-the-ceiling origami ones, mirrors shaped like flamingos, etc. And even though it's not called "Parrots" they also have a few fake parrots hanging from the ceiling, which, along with the all the bamboo and the tiki masks, makes you think you are in Disneyland's Enchanted Tiki Room.
Started out with chips and salsa, then a cup of Albondigas soup which was right on except the meatballs were a tad underdone (but just
barely
done enough to keep me from complaining about them). As an entree I ordered the
Enchiladas Vallarta
, chicken enchiladas covered with cheese and some sort of lime-jalapeño sauce. They were serviceable but I have yet to encounter a chicken enchilada where the ingredients blend as they should. That's not Flamingo's fault. It's just the nature of the beast.
And this is weird but this is the second place where I was all ready to order deep-fried ice cream but instead was brought the bill without ever being asked if I wanted dessert. Maybe they are just watching out for my health again. Otherwise the service was good.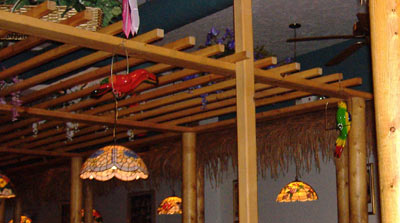 The Tiki Room?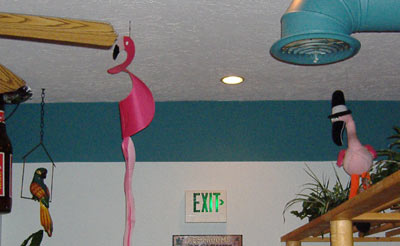 The flamingo on the right looks kind of mean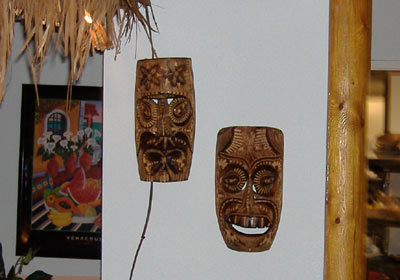 Boo!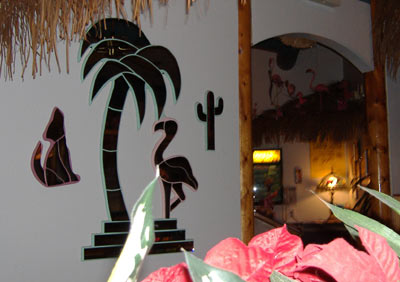 Looks almost Arabic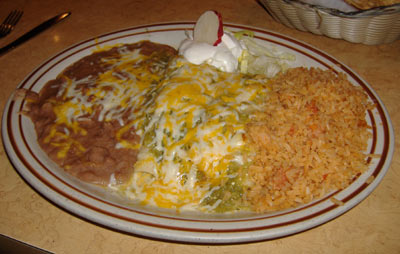 Enchiladas Vallarta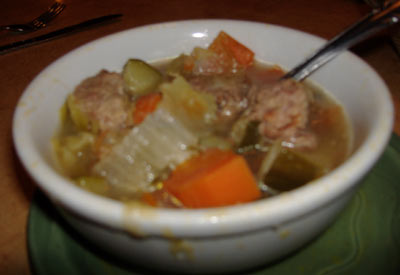 Albondigas Soup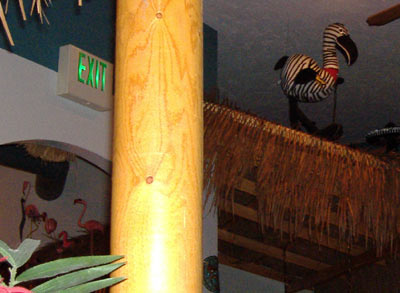 Ever seen a cross between a flamingo and a zebra?
I'll give Flamingo's a three and a half Speedy Gonzales rating:




---
As a followup to my previous entry on Infrequently Asked Questions, I just noticed that a while back, Kirk from mmm-yoso
interviewed
Reid from
'Ono Kine Grindz
and a lot of Reid's answers were very similar to how I think in my approach to this blog. Interesting.