El Torito Grill
27741 Crown Valley Pkwy Suite 601
Mission Viejo, CA 92691
Listing on Yahoo! Local
Listing on Ask.com's Citysearch
Official Site
Appetizer
: Handmade tortillas with two types of salsa and honey butter
Entree
:
Quesadilla de Filete al Mesquite
Drink
: agua
Dessert
: Flan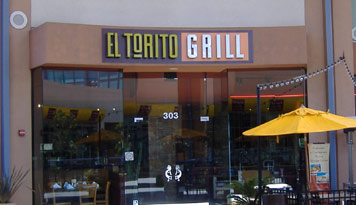 UPDATE: This location has closed.
Fancier than El Torito (expansive fifty year old chain), not as fancy as Las Brisas (which is a lone restaurant under the El Torito umbrella), El Torito Grill, according to themselves, is "dedicated to bringing you the sensory experience that is a fusion of the contemporary and native foods of Mexico." El Torito Grill has four locations in Orange County. I've been to at least three other locations before including the now extinct Costa Mesa location. Many of the basic items on their menu overlap with the menu for the standard El Torito restaurants.
My brother and I stumbled on this location after we went looking for the Ladera Ranch location of Taco Mesa for breakfast and couldn't find it. The address for Taco Mesa is 27702 Crown Valley Parkway and we found two gas stations next to each other on Crown Valley, one of which was 27682 and the other one was 27742 but with no Taco Mesa in between them. Does anybody have any information on this? Anyways, we ended up going to El Torito Grill for an early lunch. It is on the 3rd level of the Kaleidoscope shopping center right where Crown Valley Parkway and the 5 freeway meet.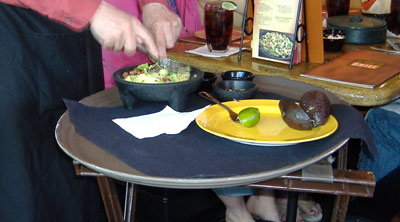 Guacamole made tableside
Instead of chips and salsa El Torito Grill brings you warm handmade tortillas with honey butter to spread on them and a mild and a spicy salsa. They also tend to bring you refills on the tortillas without you even having to ask. One of their featured appetizers is guacamole made tableside prepared with two big fresh avocados and to your desired degree of spiciness. I've had it on a previous visit but had to snap it being made at another party's table this time. If you want guacamole any fresher than that make it yourself and eat it while you're making it.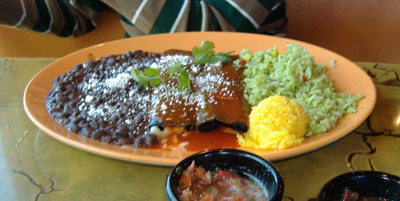 Two Cheese Enchilada Plate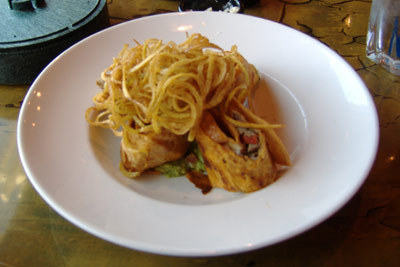 Quesadilla de Filete al Mesquite
Seeing as how I was really hoping for breakfast I didn't go for a full entree but instead ordered an appetizer from their specials menu (their website indicates their specials menu changes daily so you will pretty much get a surprise every time you go). My item was a
Quesadilla de Filete al Mesquite
described on the menu as: "Grilled filet mignon, Jack cheese, shallots, goat cheese and sun-dried tomatoes in a smoked chipotle tortilla. Served with fresh avocado relish." Turned out to be the fanciest quesadilla I've ever had (not the fanciest quesadilla I've heard of though, which was a Brie and Grape Quesadilla served with sweet pea guacamole I saw on the menu at the
Hali'imaile General Store
when I was on the island of Maui last June and which I might actually order when I go back). It was more like a big taquito, quartered with each segment lying in a bed of guacamole and facing up, all topped with a mop of shallots. If I ever see it on their menu again and somebody in my party wanted to share it as an appetizer I'd definitely order it again.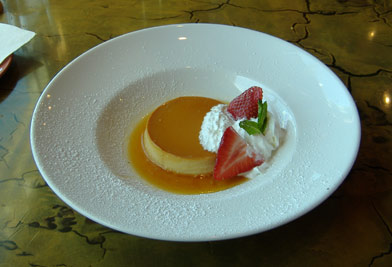 El Torito Grill's Flan
For dessert I ordered their flan. My brother came really close to ordering the peanut tostada then flaked out. The flan is presented in a more artsy way than most places but less artsy than Taco Rosa's. It came with whipped cream and strawberry slices, a sprig of mint, and powdered sugar dusted all around the oversized bowl.
Overall, El Torito Grill earns a four and a half Speedy Gonzales rating. I would maybe even kick them up to a five Speedy rating except that they don't have anything creative in the way of non-alcoholic beverages. Still, every visit to El Torito Grill is a positive adventure.





Other El Torito Grill entries: