So, I made these salsas for a little informal church gathering. Due to the circumstances I wasn't able to give them all the TLC I wanted to and the photos are a little blurry but everybody still seemed to like them and it gives an idea of the versatility of Mexican food. I've made traditional salsa and papaya salsa before but this was the first time I'd made Honeydew-Garbanzo Bean salsa. It was modeled after a salsa served at a Mexican fast food place that I used to go to in the food court at the Ala Moana Shopping Center in Hawaii (
Señor Pepe
). I don't even know if I remembered correctly what was in that salsa but people seemed to like my concoction.
Papaya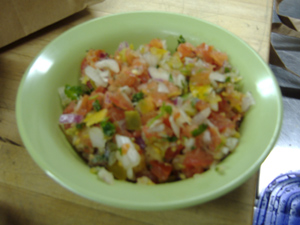 Traditional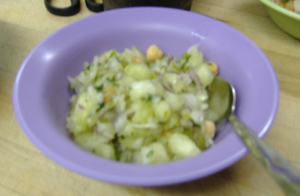 Honeydew-Garbanzo Bean
UPDATE (August 22, 2006):
Made some watermelon-raspberry salsa last night using yellow watermelon obtained from
Gelson's
. The first picture shows the ingredients before they became salsa. The pictures turned out much better than the ones above.
Also see my entry on
Making Salsa
.