Date of Visit:
January 20, 2007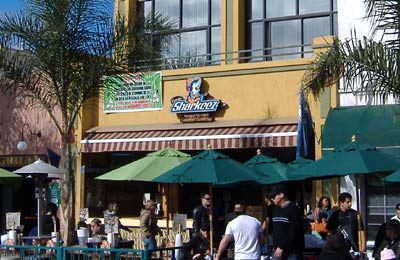 Mesquite-Mex Coastal Cantina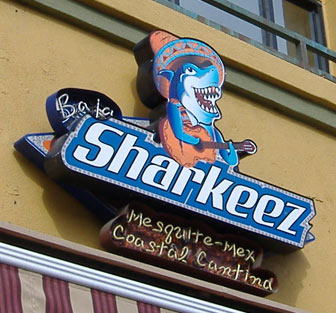 Nestled next to the historic Sugar Shack on Huntington Beach's Main St. and steps away from the beach, Baja Sharkeez (
not
to be confused with the Sharky's Woodfired Mexican Grill fast food chain;
CLICK HERE
for info on that chain) caters to the surf crowd at almost any time of day. Sharkeez is known for being a bar but I was invited by the owners to come and try some food from their very extensive menu of Mexican food. After viewing their menu online I was especially looking forward to trying out their breakfast.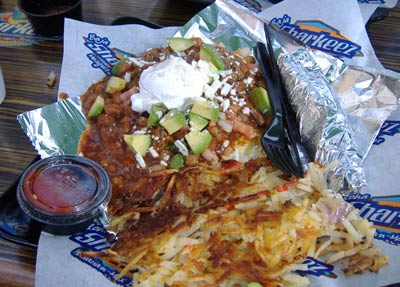 Towering Huevos Rancheros
My Towering Huevos Rancheros lived up to their name. Made up of "Grilled corn tortillas layered with tri-tip chili, shredded cheese, ranch beans, and 3 fried eggs, topped w/ avocado, salsa and sour cream," topped with Gringo Bandito and with my eggs cooked to order (I don't like eggs in my huevos rancheros to be too runny) this breakfast filled me up without weighing me down.
My brother ordered the Smoked Bacon & Egg Burrito, with ranch beans and salsa verde on the side: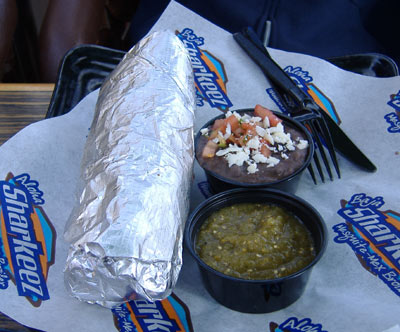 This was when I realized that most burritos look exactly the same from the outside, especially when they're wrapped in foil.
Their breakfast menu also has somewhat of a tropical/Hawaiian side to it, featuring entrees such as Banana Macadamia Nut Pancakes and Hawaiian Bread French Toast. All breakfast entrees are served with your choice of jalapeño cheddar potatoes or ranch beans and corn tortillas or King's Hawaiian brand sweet rolls.
Sharkeez also has 50 TV screens set up throughout their place, inside and out, so you can catch every sporting event going on at any given moment around the world: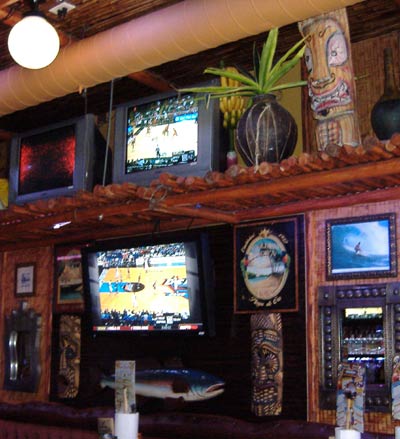 Extreme closeup reveals Gringo Bandito Hot Sauce on the table. It might be there when you go too: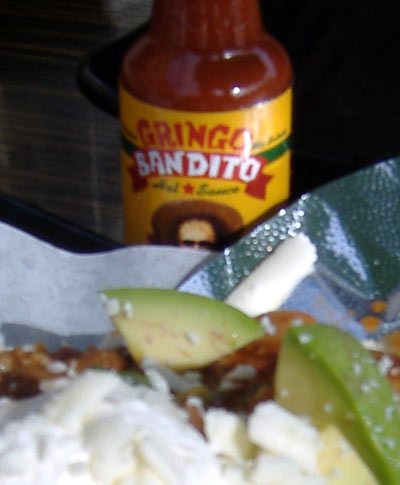 Baja Sharkeez earns a 3¾ Speedy Gonzales rating:




Here's some more shots of the interior: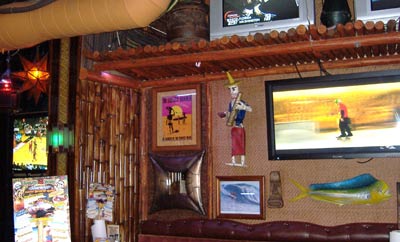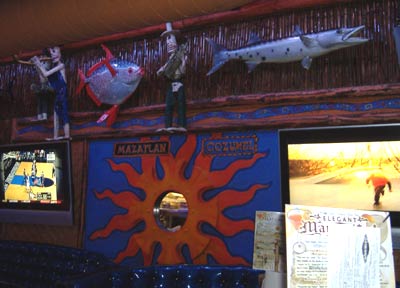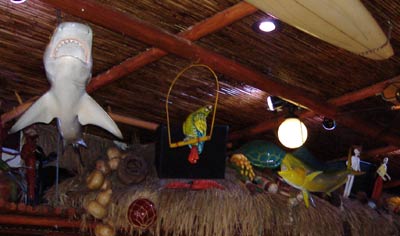 And some more of their food:
Chicken Tacos
Shrimp Tacos
Macho Combo Grande