Date of Visit:
January 27, 2007
UPDATE: This location has closed.
Appetizer
: Fresh-made tortillas with honey butter and two salsas
Appetizer #2
: Tableside Guacamole w/ tri-color chips
Entree
: Grilled Chicken Breast
Drink
: Agua
Dessert
: Peanut Tostada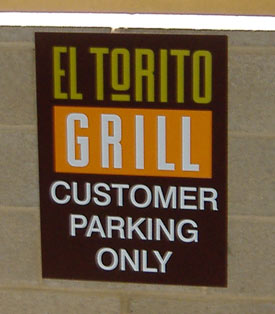 Occupying a spot that used to be part of the regular El Torito chain, this brand new El Torito Grill is part of the Stadium Lofts structure in the new up and coming Platinum Triangle area of Anaheim near Angels Stadium.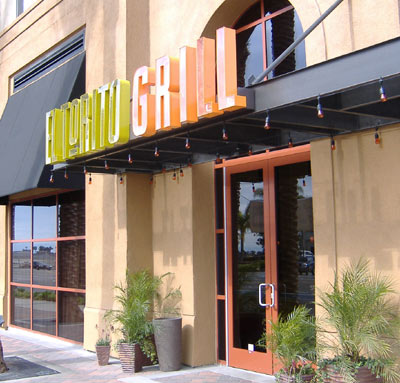 As with my visit to El Torito Grill's Irvine location I went this time on a Saturday afternoon with friends Chris and Kristanna.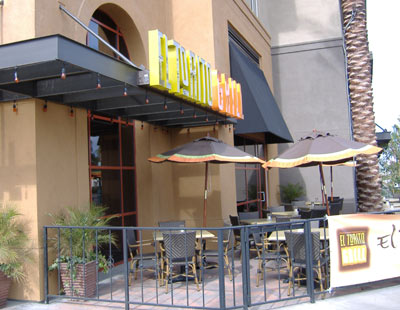 We started out with complementary hand-made tortillas prepared fresh on the premises with sides of honey butter and two types of salsa: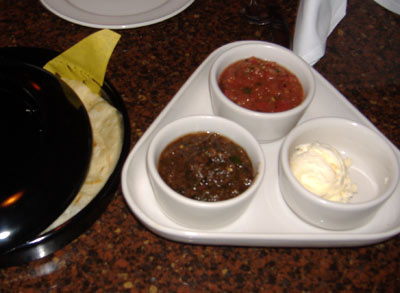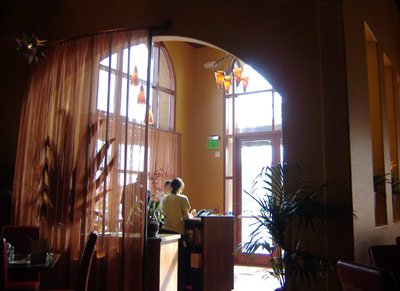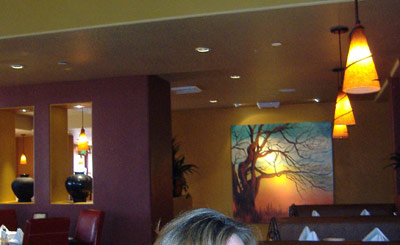 The guacamole was prepared tableside and was some of the best guacamole I've had in a long time. Fresh avocados mashed (but not too much) right in front of us with diced red onion added to it, fresh squeezed lime juice, brought to a medium degree of spiciness (as voted on by the dining party), and topped with a sprinkling of cotija cheese. I like my guacamole chunky and this was definitely chunky.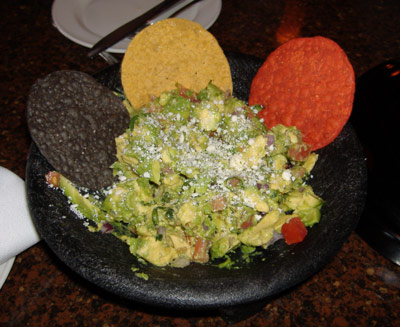 Kristanna ordered her entree from the appetizer menu, the Mexican platter comprised of "Chicken and shrimp taquitos, steak nachos, cheese quesadilla, tamarind barbecue ribs, tomatillo-avocado sauce and red pepper dip:"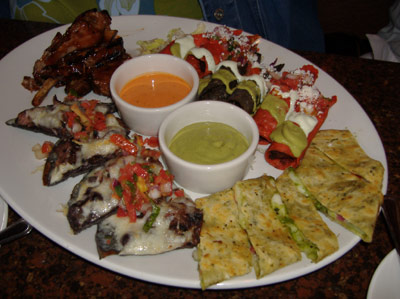 Mexican Platter
When our entrees arrived Kristanna and I promptly dug into our respective dishes then noticed a few moments later that Chris was just sitting there looking at his food, El Torito Grill's signature Santa Fe Torte. Kristanna asked him what the deal was and he said, "It looks so nice I feel guilty eating it." Well, he did eventually eat it and found the eating to be as pleasurable as the looking.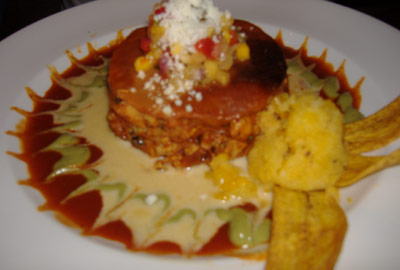 Santa Fe Torte
I ordered the Grilled Breast of Chicken, "Tender, grilled breast of chicken served over grilled vegetables with orange-achiote sauce, chef's potatoes, crispy plantains, and sweet corn cake:"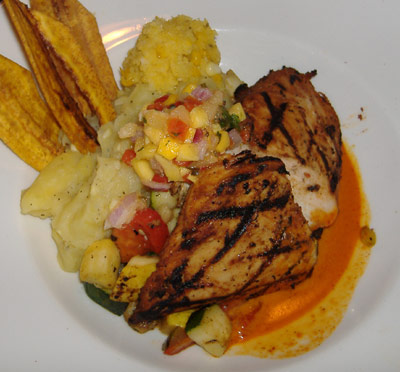 Chris and Kristanna shared the Creme Brulee Cheesecake from the specials menu: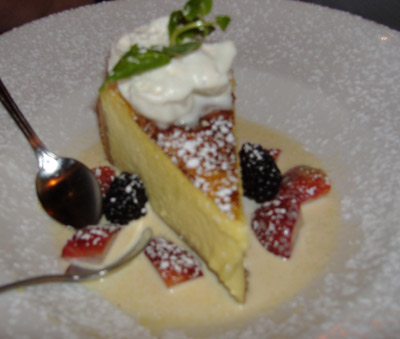 Creme Brulee Cheesecake
I ordered the Peanut Tostada with
dulce de leche
ice cream in place of the cappucino ice cream: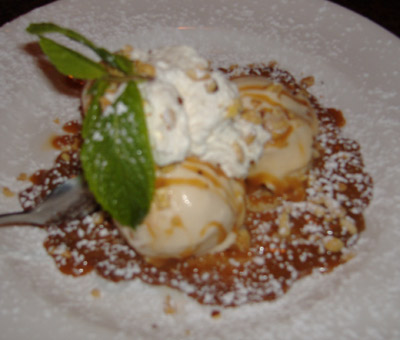 Peanut Tostada
The service during this visit was excellent with every employee willing to help with any of our needs and to answer any questions we had. All of my experiences at El Torito Grill have been of a consistently high quality. Their version of upscale Mexican dining at prices that don't make you choke on your creme brulee cheesecake earns them a solid four and a half Speedy Gonzales rating:
Other El Torito Grill entries: