Date of Visits:
April 24 and 26, 2007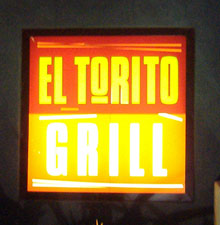 UPDATE: This location has closed.
I mentioned before that I was going to go to last month's Newport Beach Film Festival but what I didn't know is that every NBFF movie I would end up going to would be at the Edwards Island Theater in Fashion Island so I was near the El Torito Grill there quite often that week. So I made two visits for dinner there that week, one after getting out of seeing John Wayne's The Sands of Iwo Jima and one before catching the screening of the documentary about the Orange County painter known as "Shag."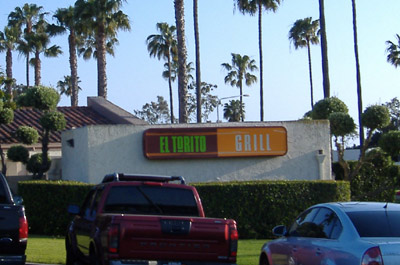 I was still trying to keep away from Mexican restaurants I'd never been to before but I've been to this one before without having reviewed it. And I'm always game to see what special items El Torito Grill might have so I popped in and tried out two excellent dishes from their specials menu that I've never had before: the Salmon a la Parilla and the Chocolate Crepes.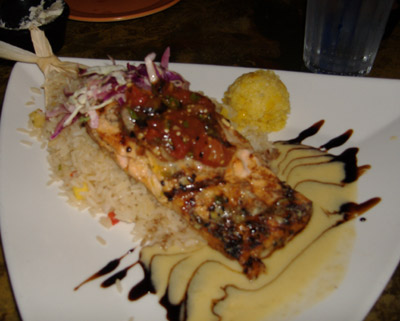 Salmon a la Parilla
"Mesquite-grilled fresh salmon with tropical white rice, pineapple-mango salsa, jalapeño-butter sauce, chipotle balsamic reduction and sweet corn cake."
On my second visit I kept things pretty basic by ordering the Combo #5 with a mesquite-grilled steak taco, grilled chicken roasted corn enchilada, steak pecos chimi, and sweet corn cake: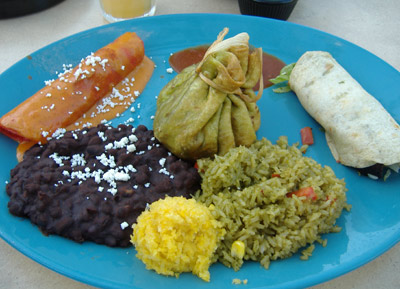 I got the chocolate crepes on each visit, but the picture turned out better the second time: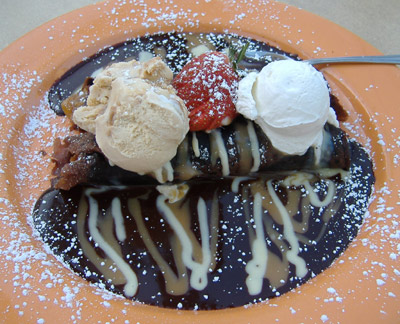 "Chocolate crepes filled with sauteed plantains and dulce de leche filling. Topped with dulce de leche ice cream, chipotle chocolate and vanilla sauce, cajeta, a fresh strawberry and a dollop of fresh cream and chopped nuts."
Sure it's corporate, but it's corporate done right. El Torito Grill earns a solid four and a half Speedy Gonzales rating:
El Torito Grill now has its own website separate from the website for the regular El Torito chain (see top of this entry for the link). This newly redesigned website now even allows you to check what specials are available before you head over.
UPDATE: Here's additional photos from subsequent visits:
Read our other El Torito Grill entries: