Disneyland Churro Price/Cost:
$3.50
(with some variation; scroll down for more information)
Disneyland Churro Addicts Anonymous Facebook Group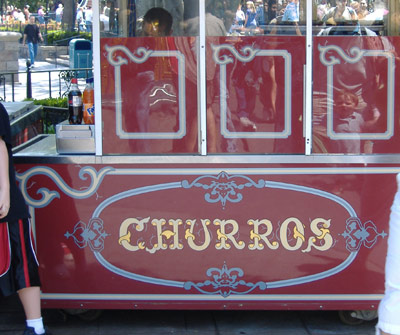 Near the Haunted Mansion
Any patron of Disneyland knows that the food there is as much a part of the fun as the rides and the churros at Disneyland have been around as long as I can personally remember. If my information is correct, the land that Disneyland sits on was purchased by Walt Disney from a Mexican family, the Dominguez family, so it makes sense that Mexican food would be offered here. I've already covered the three Mexican restaurants found at the Disneyland resort (click the "disneyland" label at the bottom of this entry to read all our coverage of Mexican food at Disneyland) so it was time to move on to the churro carts that are hard to miss while enjoying your time at the park.

The churros are kept in a heater in their cart but with their popularity chances are any time you order one it'll be very fresh or pretty darn close to it. Upon ordering, your churro is rolled in cinnamon and sugar. Having not had one in years I was bracing myself for a greasy experience but my churro last week was surprisingly light. I ate and enjoyed most of it and had to feed the small amount remaining to a nearby waste receptacle, not because the churro was so greasy, but because it was so long, perhaps 2 feet long. This makes the perfect snack between meals or if you are an annual passholder making a quick stop.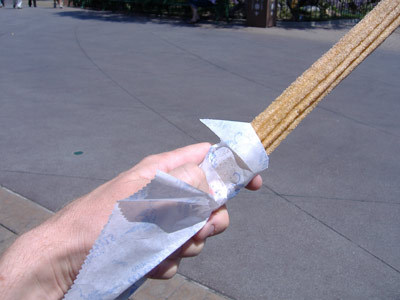 Introducing the churro lightsaber
The carts I encountered offered cups of chocolate or caramel dipping sauce for an additional 50 cents (the churros are $3.50 without sauce). Information I've found online from a few years ago indicated that there used to be different flavors of churros at Disneyland but I was only able to find the one kind. If anybody knows any differently please leave a comment.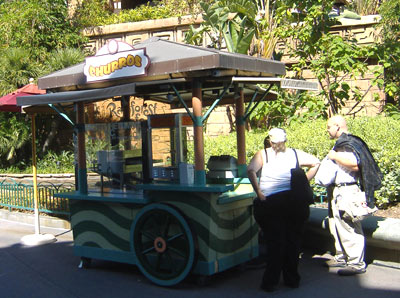 Downtown Disney near the Rainforest Cafe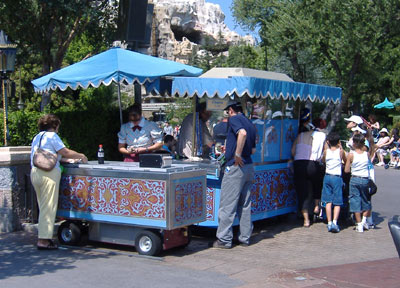 In front of Sleeping Beauty Castle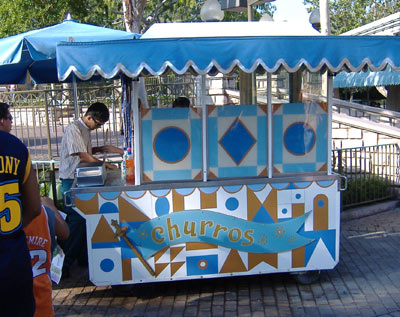 Near "It's a Small World"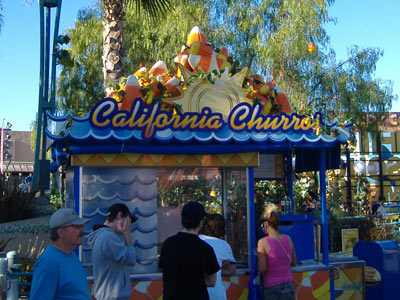 Near the pavilion at the front of DCA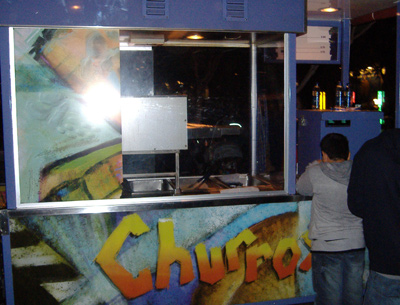 Outside the Hyperion Theater at DCA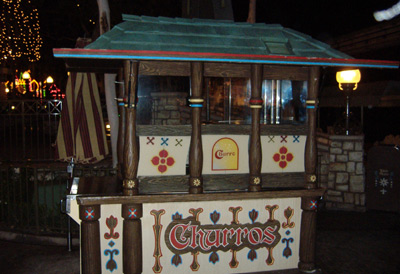 Near "It's a Small World"
Near entrance to the Mark Twain Riverboat
Near "Pinocchio's Daring Journey"
Near "Toy Story Mania"
In the "Bug's Life" area at DCA
In the Brother Bear area
Near Matterhorn?
Stuffed Churro Update - September 11, 2008
Just found out today that stuffed churros are back - at least at Downtown Disney (see picture of the cart above). The guy running the cart said they might show up inside the two theme parks later. You can get them filled with strawberry, bavarian creme or caramel. Price: $3.75. Or you can get a king-sized twisted churro (w/o filling) for $3.25.
UPDATE (February 23, 2009):
The churro cart seen immediately above has been removed and replaced with this one that is closer to the Lego Store, and it's called the "Downtown Churro Co.:"
Here's a closer look at their menu board:
UPDATE (October 28, 2013):
Spotted a new churro cart today at Downtown Disney which might have replaced the one seen just above and it has quite a few different flavors and amazingly still at $3.75, the price Disneyland hiked their regular churros up to a couple years ago. I never bought a regular one since then (respectfully, Disneyland, I know people buy a lot of food there but how do you not realize those prices also deter a lot of sales?) but I guess a flavored one at that price is a little more understandable. Hard to not go to the Happiest Place on Earth without also feeling like you're being a little taken.
The Disney Food Blog also wrote up this new cart (kiosk?) after I tipped them to it and sent the photo.
UPDATE (January 12, 2015):
The aforementioned churro cart at Downtown Disney now also has churro ice cream sandwiches and Oreo churros: