Coming out of my roughly one-month break from actively seeking out new Mexican restaurants to review. Was able to get caught up on a number of things related to the blog as well as going back to several places I've reviewed before but hadn't been back to yet. So, all the Mexican restaurants I've been to for non-review purposes since the last roundup entry include:
Taco Rosa
, El Pollo Loco,
Carnitas la Villa
, Las Fajitas,
Taleo
(where I've gone a few times and have been trying out some of their non-Mexican items such as their Taleo cheeseburger and their barbecue chicken sandwich),
Anita's
(no new review, but there are some updated pictures in the original entry), Charo Chicken,
Taqueria el Granjenal
,
Taco Mesa
, Taco Bell, the chimichanga cart at Disneyland near Big Thunder Mountain Railroad (this might actually get a review later),
Rubio's
,
La Salsa
, Del Taco,
Rancho del Zocalo
,
Sharky's Woodfired Mexican Grill
,
Taco Factory
,
Durango Mexican Grill
,
Javier's at the Irvine Spectrum
,
Azteca's
,
Jalapeno's
,
Super Mex
, and
Baja Fresh
(tried their new Nacho Burrito). Also, made one trip to
Gabbi's
, where I got their flatiron steak and my friend got mahi mahi tacos, both special items that day: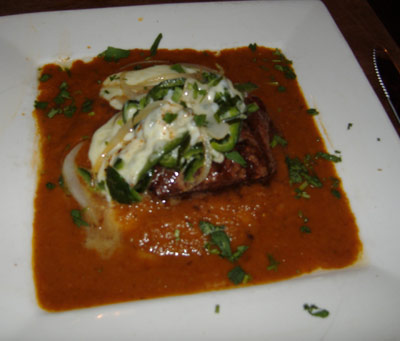 Gabbi's Flat Iron Steak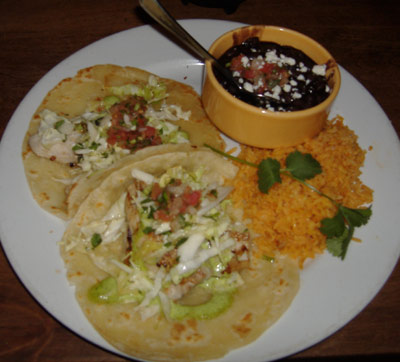 Gabbi's Mahi Mahi Tacos
I also made a weekend trip up to Utah where I went to Taco Time again and got pretty much the same food as I ordered the one other time I've been there and tried out Cafe Rio for the first time (might be posting pictures soon).
Non-Mexican eateries I've visited since the last roundup entry include:
Daphne's Greek Cafe
,
Kabuki
, Crepes de Paris (at the Irvine Spectrum but not even listed on the Spectrum's website),
Taste of India
, Green Parrot Cafe (which I wrote a review for at
OC Food Blogs
), Sugar Shack, Claim Jumper,
Nordstrom Cafe
, J&J's House of Subs,
no ka oi
, Royal St. Veranda, Cafe Orleans,
Crab Cooker
(which I also wrote a review for at
OC Food Blogs
),
King's Hawaiian
, Rumbi's Island Grill,
The Cravery
,
Disney Soda Fountain and Studio Store
,
IKEA
,
Market Broiler
, Merhaba (might be putting up some pictures from this East African restaurant at
OC Food Blogs
soon), Kappo Honda, Ruby's, and the DreamWorks campus cafeteria.