600 S Harbor Blvd
Fullerton, CA 92832
Listing on Yahoo! Local
No known official website.
Appetizer:
Chips and Salsa
Entree:
Blue Corn Chicken Enchiladas
Beverage:
Orange Bang!
Dessert:
Sopaipillas
UPDATE: Anita's has closed down.
This place was suggested to me by a good friend after he found out I had started posting reviews of Mexican restaurants recently. It's definitely a hole-in-the-wall, but it's a very respectable hole-in-the-wall. The outside appears rather generic but the inside is decorated with a number of native American artifacts that add the appropriate ambiance. They also have an outside walk up order window for those on the go. Not being very cultured at all I would've assumed at first that it was a Tex-Mex restaurant but it is actually Mexican food with a New Mexican flair. I suppose you could call it "New Mex-Mex." Or, to be less redundant, maybe just "New/Mex." Does anybody else know a better term?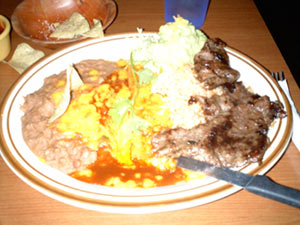 Anita's specialty is their
sopaipillas
(I thought it was spelled "sopapillas" but their menu says "sopaipilla," so for this review I will follow their convention), puffy pastries that you can stuff with food from your plate, or eat plain, or drizzle some honey onto (they bring you a big squeeze bottle of honey with any sopaipilla order).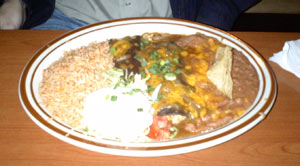 We got plenty of chips and salsa (I think I ate too many - I need to train myself to not eat too many chips before the main entree arrives). My friend ordered the "stuffy dinner" (so called because it comes with two big sopaipillas to stuff fixin's from your plate into), his wife ordered the carne asada plate, and I ordered the blue corn enchiladas. And I took advantage of the fact that they had Orange Bang on the menu to drink (whoever invented Orange Bang is a genius).
For dessert we ordered, guess what?, more sopaipillas. This time it was a basket of seven smaller ones from the dessert menu and they came with a cup of chocolate dipping sauce in addition to the honey. Very tasty and one serving was enough for the three of us to share. I think on my next visit I'm going to try their apple cinnamon burrito.
Overall Anita's earns a four Speedy Gonzales rating:




UPDATE (April 11, 2007):
Here's some better pictures taken during my visit to Anita's yesterday: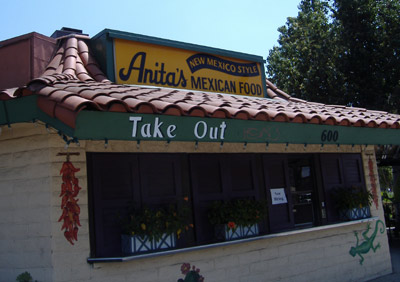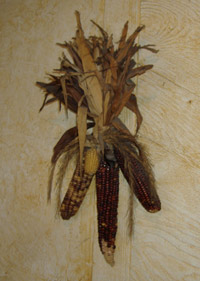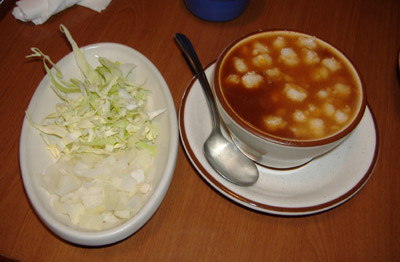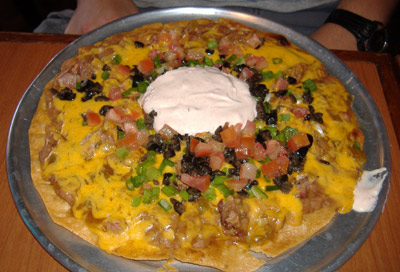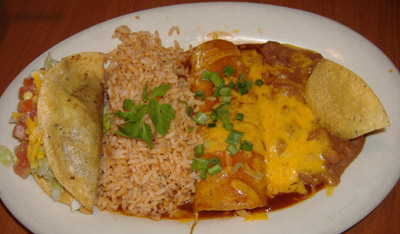 And then some pictures taken about three weeks later: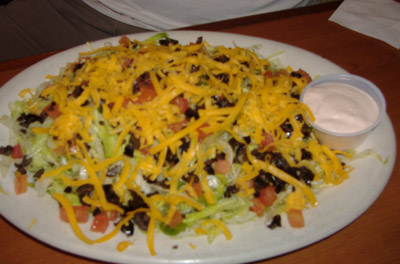 Indian Taco
"Stuffy"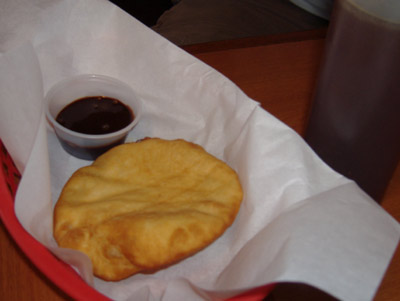 Sopaipilla with chocolate and honey
Their hours appear on their high tech marquee