Date of Visits
: Dec. 31, 2005, and January 2, 2006
18033 Magnolia St
Fountain Valley, CA 92708
Listing on Yahoo! Local
No known official website.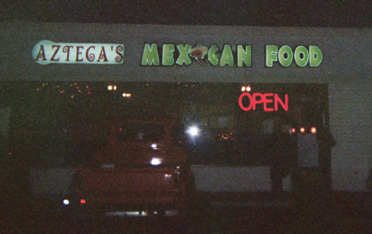 I made two visits to Azteca's over the New Year's holiday weekend. It is situated near my parents' house in Fountain Valley so I've had numerous opportunities to visit in the 4 or 5 years they've been open. It is a small family-run business that has one other location at Beach and Slater in Huntington Beach (which is more like a fast food restaurant where you order your food at the counter but the menu is the same).
One thing I like about this place is that they have Jarritos brand sodas from Mexico. They always seem to have a different two or three flavors on hand so I've been able to sample flavors such as strawberry (fresa), grapefruit, hibiscus (jamaica), mandarin, lime, guava (guayaba), tamarind, and pineapple (piña), and more.
On visit #1 I ordered their special of the day, a chile verde plate, chunks of tender pork in a chile verde sauce and served with rice, beans, and warm corn tortillas. On visit #2 I ordered their mole enchiladas. At first the chocolate mole sauce seemed a little too bitter but I completely forgot about that after the first few bites. I wouldn't mind if they sprinkled a lot more sesame seeds on it and put a little less beans and a little more rice on the plate but those are minor concerns.
All the dishes seem to be in the $5 to $10 range. A small handful might cost a bit more. They have a full breakfast menu and I have even ordered their huevos rancheros a number of times for dinner. I remember when this restaurant opened for business and I wasn't sure they would last considering their humble position in a sleepy little suburban corner shopping center but they have kept a steady business going through positive word of mouth spread by numerous local patrons. They also have a take-out window and offer catering services and advertise tamales for Christmastime.
I wish they would bring back one of my favorites dishes. It was the #44, a chile relleno and two potato taquitos. Their current menu completely skips over #44 now but maybe I can convince them to make it for me on my next visit.
Overall the experience warrants a four Speedy Gonzales rating and will very likely be reviewed here more in the future.




UPDATE: Here's some chilaquiles I got on July 7, 2009: