361 Cliff Drive
Laguna Beach, CA 92651
Listing on Yahoo! Local
Official Site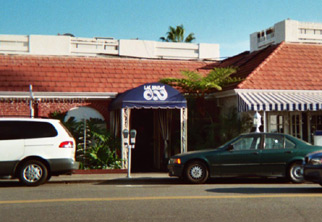 Free Appetizer
: Bread Basket (included jalapeño corn bread muffins)
Ordered Appetizer
:
Picadillo de Atun
Entree
:
El Topolobampo
I'm not even entirely sure this counts as a Mexican restaurant since it is owned and operated by an Arabic family and all the waiters and waitresses appeared to be Caucasian and instead of chips and salsa as an appetizer you get a bread basket, but it is part of the El Torito chain and serves predominantly Mexican-oriented dishes so I guess it qualifies for a review here.
The restaurant is situated on the cliffs overlooking the beach at Laguna which makes for an ideal locale. Parking in the area is tight with metered spots winding up Cliff Drive and away from the restaurant. The first quarter I put in my meter never registered so be aware that the same thing could happen again. All of my subsequent quarters did work however. And parking
is
enforced so if your meter runs out while you are in the restaurant there is a good chance you will be ticketed so don't let that happen to you. I believe they also have valet parking behind the restaurant. Or maybe you have a friend who lives in one of the nearby houses and you can use their driveway.
While I was making sure that everything was kosher with our parking situation my guest placed our reservation and was told it would be about a thirty minute wait. Four minutes later his buzzer rang and he was seated before I even got back. Our waiter was very polite and we ordered the
Picadillo de Atun
from the Comienzos section of the menu. This appetizer consisted of "Chopped rare ahi, roasted pepitas, papaya-cucumber slaw, lime chile arbol dip and tostaditas." It was the first time I'd had raw fish in a while so I didn't have too much of the ahi but used all the fixings available from that dish and from my main entree to make nice little glorified nachos.
Being under a little bit of a time constraint my guest and I kept things simple with him ordering a very basic salad and me ordering the fresh fish of the day. It was yellowtail and was served with a seafood enchilada (stuffed with shrimp, crab, mushrooms), some broccoli, and a scoop of Mexican-style rice. The presentation was effective and the food, while not spectacular, warrants some further exploration during a future visit, especially with a fine variety of items on their dessert menu.
Their official site is very outdated. On one hand I want to tell them to update it; on the other hand it's a little nostlagic to view it and see what all websites looked like back in 1996. The menus on the site seem to be mostly accurate though except that when you arrive at the restaurant you'll find that the prices have gone up a tad. For example, my dish (
El Topolobampo
) is listed at the site as costing $12.95 but was $13.50 on the menu at the restaurant proper. Not a big difference but they may want to look into at least updating the prices at the site.
Overall the experience merits a four Speedy Gonzales rating:




UPDATE: Here's photos taken at a visit a couple years after this original review:
Created with
Admarket's
flickrSLiDR
. |
Click here
if you can't see the slideshow above.