745 W 19th St
Costa Mesa, CA 92627
Listing on Yahoo! Local
No known official website.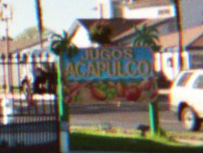 I was making my way down the quiet western end of 19th Street in Costa Mesa all set to reacquaint myself with an establishment I hadn't been to in several years but used to go to all the time when a particularly colorful place caught my eye so my initial plan was averted. Don't worry, though, as I'll still be covering Taqueria el Granjenal in the future. Jugos Acapulco is so bright and colorful you could almost confuse it for Disney's Enchanted Tiki Room. As its name would imply this restaurant specializes in
jugos
(Spanish for "
juices
") and they have plenty that you can get in fresh juice or milkshake form.
Nobody that worked here seemed to know English (not a complaint since that's usually a good indicator you're at an authentic Mexican restaurant) but the guy taking my order seemed to be suggesting that I get the Carne Asada combo . . . so I did. Maybe he suggests it to every gringo. It took a while to prepare but I didn't mind as I was soaking up the colorful atmosphere of the surroundings. I took a couple pictures since this place really has character and wanted to take more but was a little self-conscious about it.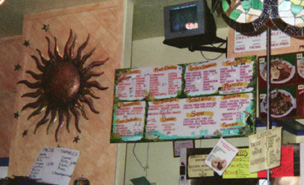 The papaya juice came to the table right in the blender it had been blended in along with a styrofoam cup I could pour it into to drink from. I'm pretty sure the juice was nothing but a papaya blended with a little water. Talk about natural.
The main dish finally came served on a paper plate with a large carne asada steak, some salad fixin's, and rice & beans (surprise!), as well as a half-dozen warm corn tortillas. After making myself six tacos I was full enough to have to call it quits yet there was still food on my plate.
I'm looking forward to returning and taking more pictures and trying more menu items. Plus, I spotted some other spots along 19th Street that I'm eager to review.
Overall the experience at Jugos Acapulco merits a four Speedy Gonzales rating:




Here's some much better quality pictures taken by Shelly B. in September 2007: