Date of Visit:
January 21, 2006
Current Location:
12151 Harbor Blvd
Garden Grove, CA 92840
UPDATE - August 17, 2006: See end of this entry for information on their new location.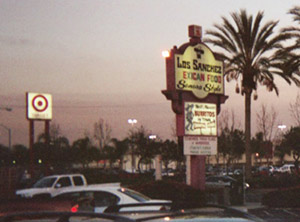 They serve 'Exican' food here
Appetizer:
Nachos (free . . . apparently)
Entree:
Chicken Picado
Beverage:
Jamaica Ole!
This place was hopping busy and when I first took my place at the end of the line I was outside the door. They have a very extensive menu with a huge section of seafood items with dishes that include tilapia, catfish, octopus, oysters, shrimp, mussels, etc. Their walls have pictures of just about all their main dishes, which is helpful except for the fact that they have all faded so much they almost all look the same.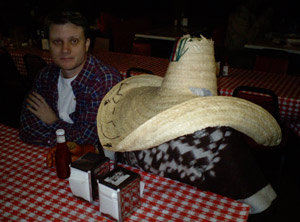 Who's the dummy?
When I finally got to the front of the line I ordered chicken picado and a bowl of albondigas soup that was so big it was its own meal. I ended up asking for two extra bowls and splitting the soup between me and my friend and my brother. When I had ordered at the counter they also handed me a plate of nachos with beans, cheese, and guacamole on them. I asked if it was free with every order and they said yes but my friend and my brother weren't given any. Then again, they may have realized we had come in together even though we ordered separately and they really just give one plate of free nachos per party.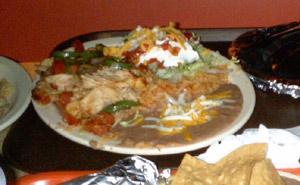 Looks like Mexican food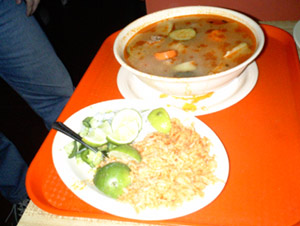 Albondigas Soup
I was so full afterwards I didn't even bother with dessert but waited about an hour then went to Dairy Queen.
After years at their current location Los Sanchez will, in the not-too-distant future, move to a new location near Harbor and Garden Grove Blvd. Their current digs are very authentic and there is a lot of history and character to it but hopefully their new location will be a little bit cleaner.
Overall, Los Sanchez earns a solid three Speedy Gonzales rating and they will definitely be reviewed again when they move to their new location.



---
Construction Update
May 29, 2006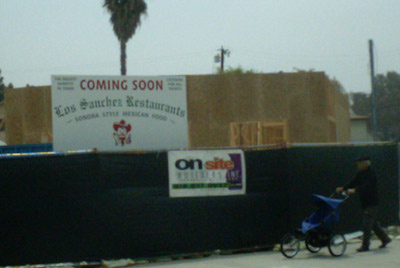 This picture was taken by my friend Chris on May 11. It shows the construction site for the new Los Sanchez on Garden Grove Blvd. between West and Rockinghorse (a little west of Harbor Blvd.). When I was there last Friday night (May 25) the sign in this picture was no longer there but there was a new sign that said: "Los Sanchez - Coming Summer 2006 - Thank You For Your Patronage." We will post another update here when we find out the actual opening date.
August 4, 2006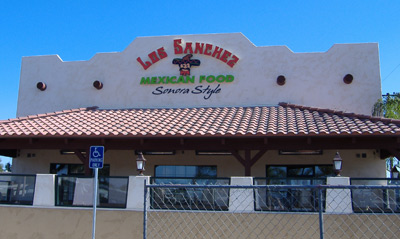 Here's a very recent photo of the Los Sanchez construction site. It appears that it could possibly open any day now but there is no sign out front giving an exact opening date yet.
August 13, 2006
Stopped by the construction site last night with a friend who found somebody on the lot and asked when they were going to open up. The guy told him they would be open for sure on Friday the 18th with a small possibility they would be open on Thursday the 17th. If they opened on Thursday everything would be free that day. There was also an even slimmer possibility that they would be open on Wednesday the 16th but if they are we weren't told if food would be free that day or not. I am going to try to make it there one of those days.
August 17, 2006
FINAL UPDATE: The new location has opened.
See Report