Date of Visit:
January 11, 2006
18517 Brookhurst St
Fountain Valley, CA 92708
Listing on Yahoo! Local
Official Site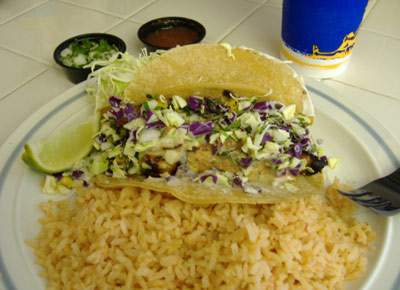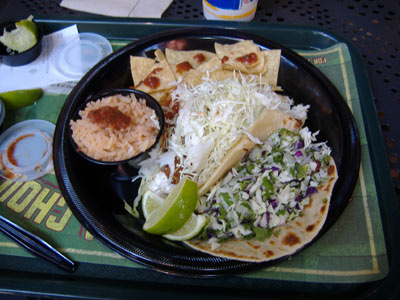 I really, sincerely did not want to follow up a review of El Pollo Loco with a review of Rubio's and I wanted to wait a while before hitting another Fountain Valley restaurant but my father (a Fountain Valley resident) passed away early in the morning and as I was driving my mother around later in the day to take care of some business she suggested going to Rubio's and I just didn't feel like I was in a position to say no.
This chain was originally known as Rubio's Fish Taco, then it became Rubio's Baja Grill, and now it is known as Rubio's Fresh Mexican Grill. I wonder what their next name will be? Rubio's Fresh Baja Fish Taco Grill? Maybe they can merge with Baja Fresh, La Salsa, and Sharky's and create the ultimate fresh Mex conglomerate chain. They also used to be more surfer hip, and while they have retained some of that surfer hipness I have also observed them becoming more corporate over time. They also used to sell t-shirts and if you went in and ordered some food while wearing one of their t-shirts you would get a 10% discount. One time about ten, eleven years ago I went to the one at Harbor and Fairview and told the cute girl ringing up my order that I had a t-shirt at home (honestly, I did have one at home) and she said, "Okay!" and punched the ten percent off button on her keyboard. So she gets her very own five Speedy Gonzales rating:





Now, I know I go off about beverages available at these Mexican restaurants so now is my chance to sound off about the fact that the Rubio's chain got rid of their Ocean Spray drinks. I used to always order their Ocean Spray Mango Mango drink (don't ask me why "Mango" is mentioned twice in the name of the drink - I always knew it took two to tango, but it wasn't until I saw this mass-produced fruit beverage that I realized it took two to mango), squeeze a little lime into it, and it blended perfectly with their food but now it's gone and they just have beer and soda now. I think I e-mail them once a year asking them to bring it back and they probably get my e-mails and think, "Yeah, yeah, it's that same guy spouting off about the Ocean Spray drinks again." They do get a plus for having Vanilla Coke at their soda fountain (the only fast food chain I'm aware of that does) and every once in a while when I am daydreaming about the glory days of Rubio's I'll even squeeze a little lime into that. There you go,
Vanilla
Lime
Coke
. It's probably gross and most people grimace when I even tell them of my concoction but what else am I supposed to do? And I don't feel so bad now that a couple of days ago while driving up to Los Angeles I noticed a billboard advertising Black Cherry Vanilla Coca-Cola.
I also admire the fact that every location (as far as I know) still has an aquarium in the dining room but the one I saw during last night's visit was the least lively and the least colorful. Hopefully this was just an exception and maybe they just need to make a trip to the nearest tropical fish store (add some seahorses while you're at it, folks). But the whole aquarium aspect does make a nice touch.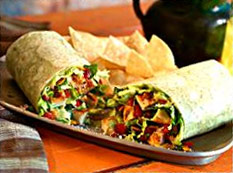 I haven't even talked about food yet. My mother ordered a steak and a carnitas street taco and a water and I ordered the chicken taco meal deal (chicken taco, rice, beans, chips, small drink). The girl ringing up my order this time said, "You know that only comes with one taco, right?" So I added a carnitas street taco and the total for me and dear old mom came to $7.53. Not bad. Not bad at all. And it was all very fresh tasting too. On my next Rubio's review, whenever that might be, I'll get even more in-depth into the food characteristics.
This experience is hard to rate since there are definitely some things that irk me about the whole Rubio's chain, but, then again, there have been some positive aspects to outweigh the negative ones. I'm tempted to give this a two and a half Speedy Gonzales rating, but since I haven't Photoshopped a half Speedy Gonzales yet then Rubio's earns a three Speedy Gonzales rating: