Date of Visit:
: January 27, 2006
6620 Irvine Center Dr.
Irvine, CA 92618
No listing found on Yahoo! Local
Official Site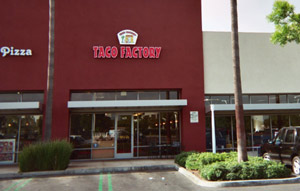 (UPDATE: This location is no longer a Taco Factory, but is now part of the Tacos & Co. chain.)
Taco Factory is what I refer to as a "rat race place." It sits in a fairly sterile strip mall in a very sterile business complex area of Irvine but if this is where you work then you don't have that many places to choose from for lunch so you go to what's close. The word "Factory" in their name doesn't help to downplay the mechanical nature of the overall Irvine business complex theme but maybe it's better than a name that ends with "Fresh Mexican Grill." For being in a sterile strip mall, though, the decor inside is more authentic than one would expect. They've got a fountain against a wall with a lions head that is constantly spitting out a flume of water and, not one, but two paintings of Frida. I don't even know who Frida is except that Salma Hayek played her in a movie biopic a couple years ago and she has the ultimate unibrow and lived about 75-100 years ago. She might've been an actor or a dancer or maybe even a deep sea diver for all I know.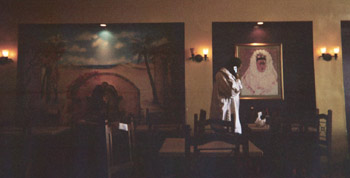 Frida's in here somewhere
The food is prepared to order by Mexican cooks who appear concerned with making up each plate just right. I suppose they are sticking to their corporate slogan of "authenticity you can taste" and they do a commendable job of it. I've been to Taco Factory a couple times for lunch prior to this visit and had noticed that they had a breakfast menu and always wanted to try it. So I did. I ordered the
huevos a la Mexicana
platter, a scrambled eggs and salsa dish with beans and warm corn tortillas. It filled me up just right and when I got back to work my tummy wasn't all grumbly.
Overall the experience was just above average so it warrants a three Speedy Gonzales rating:



Went back a few months later and took a better quality picture of their cool lion fountain: