Date of Visit
: January 12, 2006
3988 Barranca Parkway #B
Irvine, CA 92606
Official Site
Apparently this Irvine location is so new that it is not even listed on the Locations page at their official site. There also doesn't appear to be any listing yet on Yahoo! Local or Google Local (that could all change almost instantly, though, given the nature of the Internet). It is almost tailor-made for all the Orange County suburbanites running the rat race (such as myself) who need to take a quick lunch break during work but who would rather not get pretzels or Doritos from the vending machine in the break room for the fifth time in a row.
I noticed that a slogan painted on one of the walls inside read, "Eat More Fish," and I couldn't help but be reminded of the
Crab Cooker's
slogan: "Eat Lots A Fish." Does that count as plagiarism? If I had a litigious mindset I might think so.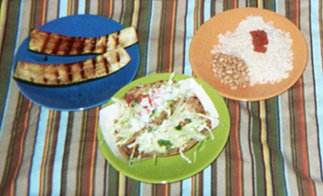 Who's taking the pictures here, anyway?
I ordered the fish taco meal deal they were advertising on their little chalkboard stand and added a side of grilled zucchini. The beans that came with it were like pork 'n beans minus the pork; the rice was the kind that's perfect . . . with seafood, so in this case it needed to be pepped up a little with some salsa from their condiment bar (the salsa actually needed its own pepping up); the fish tacos were like a cross between those served at Rubio's and those from Del Taco; and, I should've checked to see if they had any parmesan cheese packets for sprinkling on to the zucchini, but sometimes you find it helps to have packets from Round Table Pizza sitting around in your junk drawer.
This meal may have easily qualified as the most un-Mexican Mexican meal I have ever partaken of (except for maybe the time I had tacos with ketchup on them in Ireland, but that's a different story) but it still made for a decent lunch.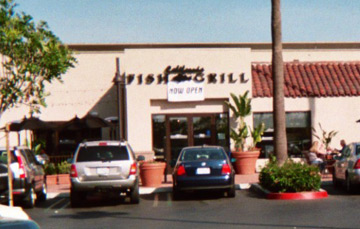 Welcome to Irvine!
As "elmomonster" mentioned at his
Monster Munching Blog
, the credit card machines weren't working but they acted as though I was the only one they never worked for. Fortunately I had the $7.80 cash on me to cover the meal. Then they handed me my number placard attached to one of those trinkets that holds the placard in place at your table; only problem is I was ordering my food to go so I felt a little foolish walking around with the thing while waiting and I had nowhere to put it (it was especially awkward when I was getting my drink at the soda fountain). Another wrinkle they may need to smooth over is the fact there's no logical spot in their counter space over which to hand customers takeout orders. They had to hand me mine over a whole bunch of clutter.
They are definitely going through some growing pains. Everyone there was learning and it showed but who can blame them? Given that they are really not very Mexican at all I'm not sure it's even appropriate to rate them on the "Speedy"-ometer but they still earn a solid three Speedy Gonzales rating: