Date of Visit: May 4, 2007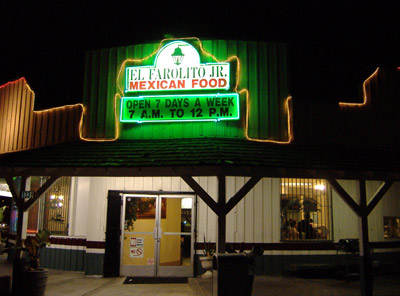 I don't get much mail. Actually, what I should say is that this site doesn't get as much e-mail as its traffic would suggest. So when I recently got two or three requests e-mailed to me to reassess El Farolito, and I didn't get any requests to reassess any other restaurant, then I took those requests seriously. One of those people who e-mailed me told me that there is even an El Farolito Jr. so I tried that one out just to mix things up a little, knowing that the menu was likely to be the same.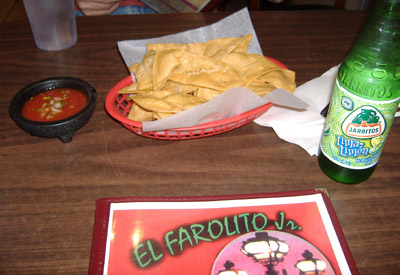 When I arrived at El Farolito Jr. in Anaheim my first thought was that it couldn't be any smaller than the original one in Placentia, and maybe it was even a little bigger. It looks a little like an old Western cowboy saloon from out front. And they score some extra points for their big sign that shows they are open to midnight. That's good for people like me who often eat dinner when most restaurants are closing for the night.
One of the other e-mails to me on this subject recommended that I try El Farolito's carnitas and to ask for them "crispy." I decided that I would stick with the recommendation so I didn't even need to look at the menu but I did anyways and found lots of other items to try on future visits. I must admit that the crispy carnitas were a taste treat, not too greasy and not too fatty, tender yet crunchy in just the right way. Beans and rice and salsa were all pretty standard.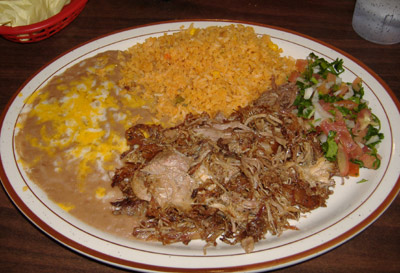 My friend James ordered the chile relleno burrito and I told him that's what I had at El Farolito in Placentia a little over a year ago and he asked, "Is there a chile stem in it?" I had to tell him the story about how mine had three stems in it. He still ordered it anyways and didn't report finding any stems. His burrito is not pictured because my experience has shown me that all burritos look pretty much the same on the outside.
I can't even remember what I gave El Farolito a year ago. I guess I must've given it a three Speedy Gonzales rating because the e-mails complained that I had rated it to low. If I had had a half Speedy image back then I would've given it a three and half Speedy rating. Now after going to El Farolito Jr. and trying their crispy carnitas I'm moving them up to a 3¾ Speedy Gonzales rating: