Date of Visit:
September 9, 2006
Guerilla Photography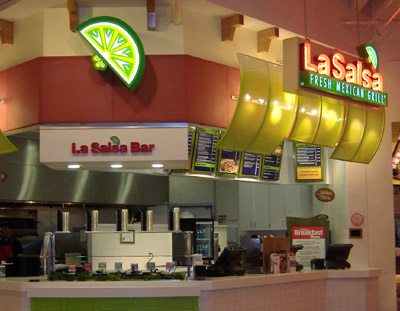 (UPDATE: According to the
Fast Food Maven
this La Salsa location has closed.) So today we get to look at another one of those chain Mexican restaurants that's a step up from Taco Bell and Del Taco: La Salsa. For those of you who don't habla Español, La Salsa is Spanish for . . . "The Salsa," if we follow Chris Farley's Spanish lesson:
I was trying to take pictures of this Fashion Island food court La Salsa when the shift supervisor saw me and told me that unless I worked for CKE I wouldn't be allowed to take pictures. I was afraid mall security (I like to call them the "Fashion Police") would haul me away so I promised not to take anymore. After that he told me that they didn't want competition coming and stealing their secrets. I was flattered that La Salsa would consider me competition but I revealed my true purpose as a humble amateur food blogger whose sole purpose is to call attention to great Mexican food in Orange County. Once he found that out he really lightened up and we had a great conversation.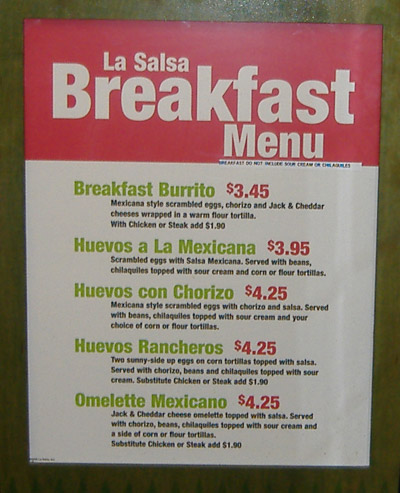 He also confirmed my suspicion that they are the only La Salsa location in Orange County that serves breakfast (but also added that most of the locations in Los Angeles do). You can eat a nice quiet breakfast here before all the mall rats invade the place. I ordered the Omelette Mexicano, a "Jack and Cheddar cheese omelette topped with salsa. Served with chorizo, beans, and chilaquiles topped with sour cream and a side of corn or flour tortillas." It made a great breakfast. The chorizo inside wasn't exactly to my liking but you can substitute chicken or steak for $1.90 more. My friend running the cash register told me that the most popular breakfast item is the breakfast burrito but I'm still wanting to try their Huevos Rancheros sometime.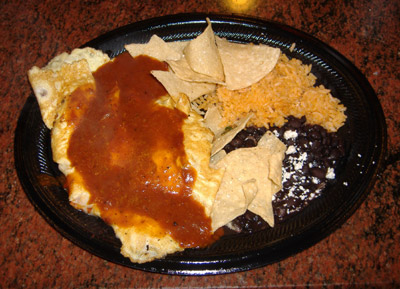 Omelette Mexicano with Chorizo
---
Mas Salsa
While I was at the Fashion Island location the employee brought up to me out of the blue that there was a brand new location in Huntington Beach and he raved about its new design. I found out later that it is at the new Bella Terra shopping center (the former Huntington Center) and I went Monday night and took some pictures. The manager told us that they had then been open only eight days. It is immediately across the street from the entrance to the Cheesecake Factory.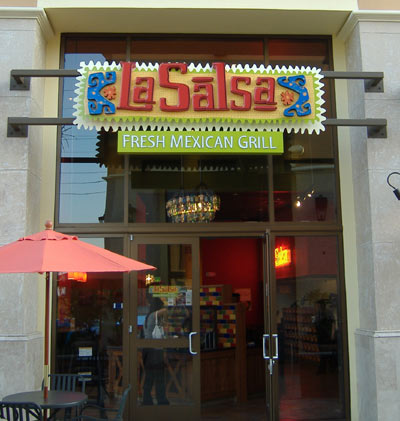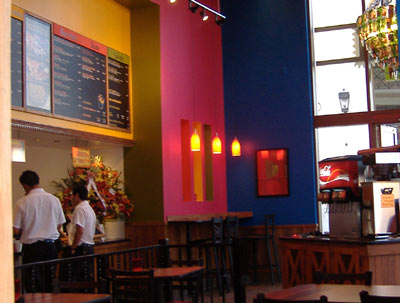 Mosaic Map of Mexico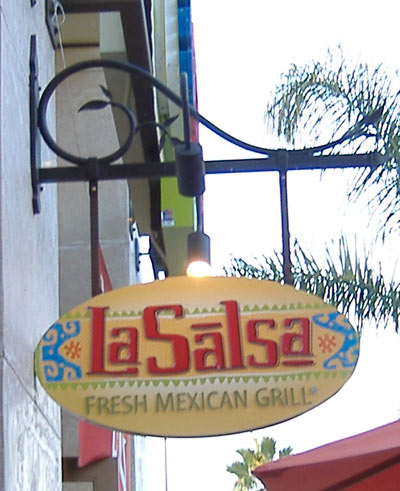 Hanging Sign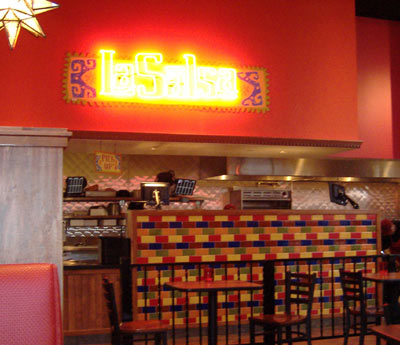 Lots of colored tile
One of the things I've always admired about La Salsa is that they are one of the very few places (I can only think of one other such place) that has mango salsa in their salsa bar: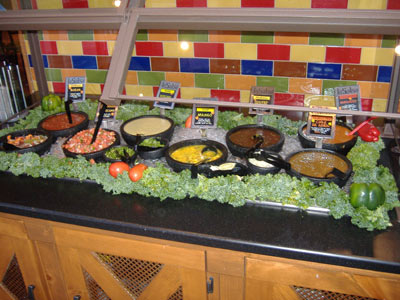 La Salsa earns a three and a half Speedy Gonzales rating:
Also, check out our review of La Salsa's Chipotle Shrimp Salad in our
Salad Wars
entry.