Date of Visit:
September 10, 2006
Appetizer
: Chips and two types of salsa
Entree
: Chipotle Red Snapper
Drink
: Horchata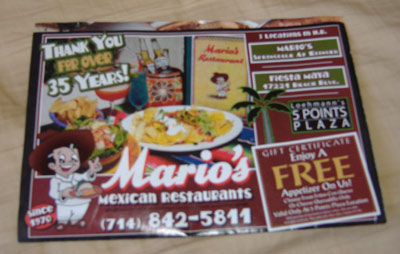 Coupons!
UPDATE: Mario's Fiesta Maya has closed.
In the Orange County Register's recent 13th Annual Best of Orange County newsmag Mario's in Huntington Beach was mentioned as the hidden gem amongst Orange County Mexican restaurants. They mentioned the location on Springdale and Edinger that opened in 1969 and the location on Main St. in the Five Points Shopping Center that opened in 1975. But they failed to mention Mario's Fiesta Maya near Warner and Beach Blvd. that opened, I am told, in 1994. So I like to think of Mario's Fiesta Maya as the "hidden gem's hidden gem."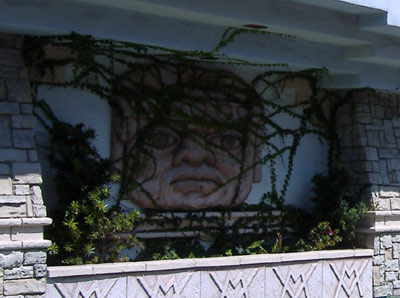 You have to give him the password to gain entrance
When I arrived they asked if I wanted to sit inside or outside. I asked for outside seating so I could take some pictures of their nice open air patio, but they seated me at a table right next to the only other people out there, a young couple in love who looked like they wanted some privacy, so I took a couple pictures then moved to a table inside.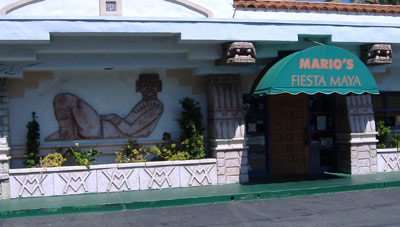 Built in the ruins of an ancient Mayan temple
In addition to their heavy Mayan theme clearly evident inside and outside the premises, Mario's Fiesta Maya has a decidely more seafood-oriented menu than the two standard Mario's. I pikced the red snapper chipotle dish, a fish filet smothered in chipotle sauce, red and green peppers, mostly tender and flaky but crisp around the edges, selecting Mexican mashed potatoes and mixed vegetables as sides in place of the typical rice and beans.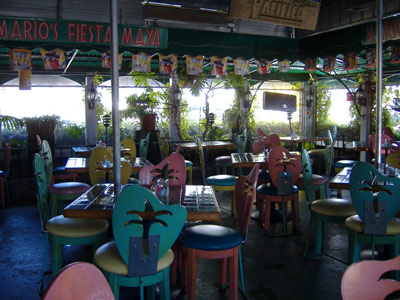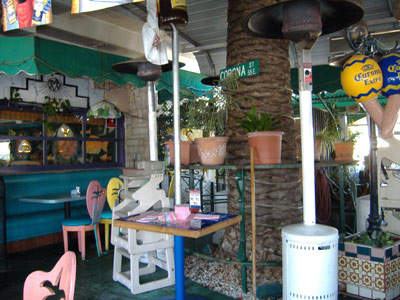 Mario's Fiesta Maya has an extensive menu (check it out at their Yahoo! Local listing linked to above; it's slightly outdated but not very much) with plenty of appetizers, children's menu items, hamburgers if you're in a non-Mexican mood, breakfast selections, etc.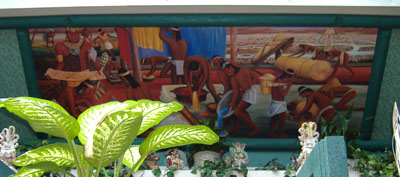 The presentation was a little on the sloppy side but I'm thinking it was a fluke since everyone around me was getting very nicely presented dishes (and it all goes down the same):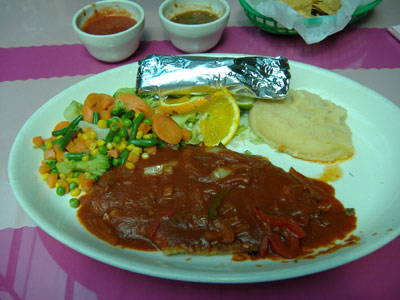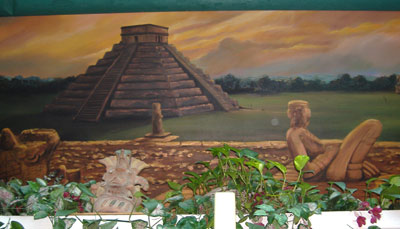 As I finished up my own meal I ordered a traditional tostada as takeout to drop off at my mom's place. She raved and raved about it, especially pointing out that it was the best rice and beans she ever had. Now I'll have to get the rice and beans the next time I go.
Mario's Fiesta Maya earns a four Speedy Gonzales rating:
UPDATE (September 23, 2006):
Went back two weeks later and took a few more pictures: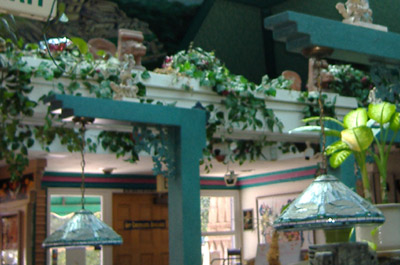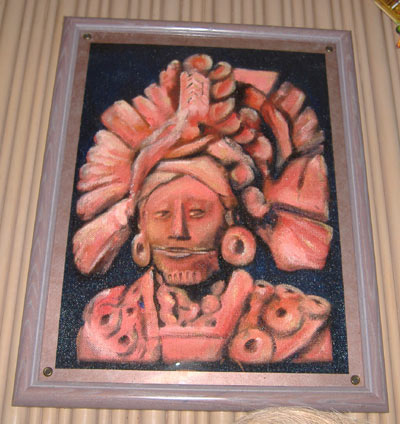 Actual hi-res photo of the owner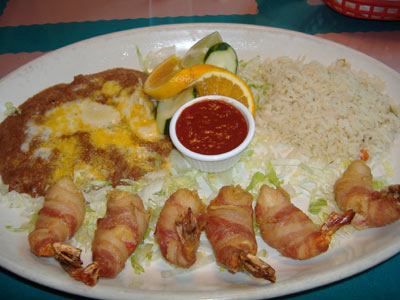 Camarones de la Sinaloa