In searching out the best Mexican food in Orange County sometimes I encounter things that may be of interest to readers of this blog that would not fit into one of the traditional restaurant review entries here so every once in a while I'll do a roundup entry such as this.
Restaurant Roundup:
Mexican restaurants I've visited since the last roundup that I already have reviews up for include
Taco Rosa
,
Azteca's
,
Taco Factory
,
Javier's
, and
Taleo Mexican Grill
. Each one of these may still get a review here again but sometimes I have to go to a place and just eat and not review.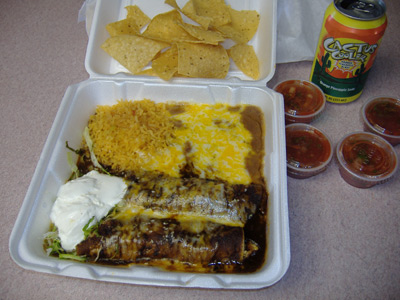 Azteca's Takeout - Chicken Mole Enchiladas
Non-Mexican restaurants I've been to since the last roundup include, but are not limited to,
Kabuki
(yes, Kabuki . . . again),
Lee's Sandwiches
,
Cento & Fanti
,
Ruby Palace
,
Lotus Chinese Eatery
,
Crescent City Beignets
,
Wasabi
,
Pei Wei Asian Diner
,
King's Hawaiian
(da Local Place dis time), Club 33, and
Lucca Cafe
.
Updated entries:
I've updated the
Salsa Extravaganza
and
Salad Wars
entries.
Speedy Gonzalez:
I recently found out there is a place in Texas called
Speedy Gonzalez Mexican Food
. Does anybody know more about this? Do they use the actual Warner Bros. character in their brand identity? There's also a
Taco Cart in NYC
with Speedy on the sombrero. Speaking of Speedy Gonzales, there is also a site that imagines a
Grudge Match
between him and the Taco Bell chihuahua. Is there any doubt who would win?
Miscellany:
Look who hangs out at my work: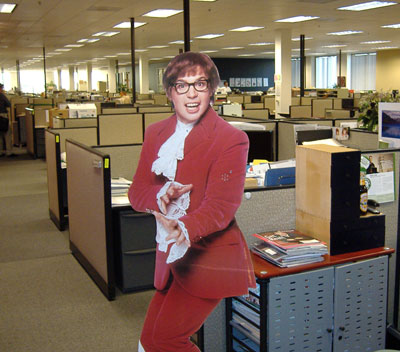 Here's some chocolate bread pudding I made recently: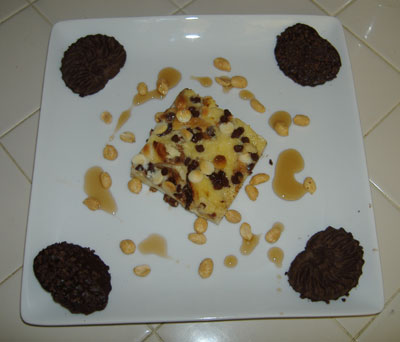 Eating a candy bar in the way George Costanza from Seinfeld does: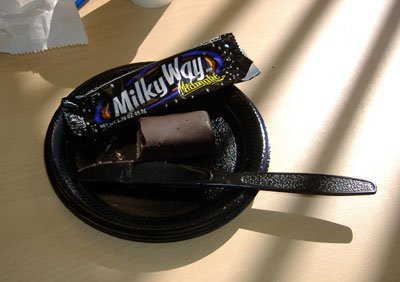 Shave ice from Nalu's Island Grill: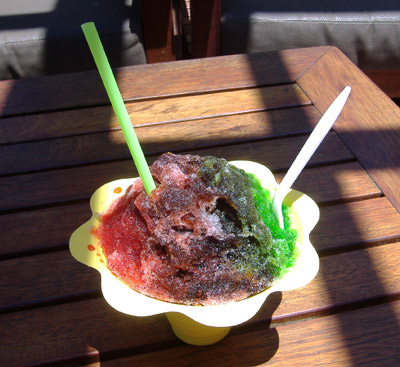 The spread at a picnic I went on recently with a date at Huntington Beach Central Park:
People from Disney and DreamWorks send me stuff all the time and a lot of it collects on my desk at work: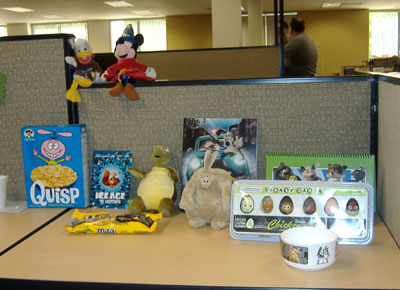 Here's a Pirates of the Caribbean Ice Cream Sundae I got recently from the Disney Soda Fountain and Studio Store on Hollywood Blvd.: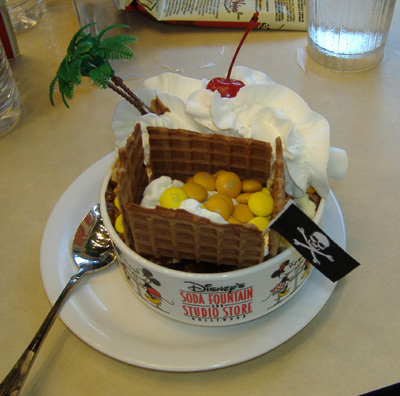 Taco Rosa Desserts:
One of my favorite Mexican restaurants in Orange County is Taco Rosa and they have been reviewed several times here but I've had a hard time getting pictures from there whose quality I am satisfied with. Lately though I've been getting some good quality pictures from there over several visits and they will all show up in a later review. For now I have pictures of a couple of their dessert items: