Date of Visit:
November 13, 2006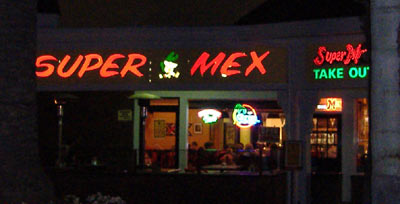 Here's the review that proves that doing a restaurant review requires plenty of concentration, psyching yourself up to focus on and pay attention to the task at hand, and forcing your social life to take a backseat to your amateur food blogging endeavors. I did none of those things on this visit. There was so much going on with the crowd that concentration flew out the window and focus on food dissipated into and mingled with the cold night fog. I could hardly even pay attention to the menu to figure out what to order and ended up just ordering a large bowl of albondigas soup while playing Hangman with the kid next to me on the back of her kids menu with the crayons provided (those crayons break way too easily). In addition to myself, Marissa, Avalon, Kobe, Cashel, Holly, Kim, Mike (the self-proclaimed "wannabe Mexican gearhead"), David Martin, Andrea, Ian, and a few others were there. We utilized the outside seating and put five tables together in an 'L' shape. We were even visited by a kid dressed as Batman (not joking, he was just too elusive for my camera) who was not part of our group. When I checked the photos on my camera the next night I saw how random they really were.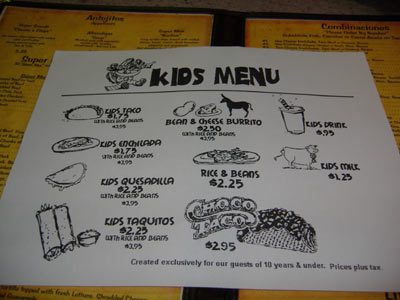 One of the signatures of Super Mex is the fact that you make your own chips by "chipping" off segments from a deep-fried whole corn tortilla. In fact, this is how tortilla chips originally came about. They weren't always molded by machines into neat triangles, circles, or rectangles . . . or bowls for that matter.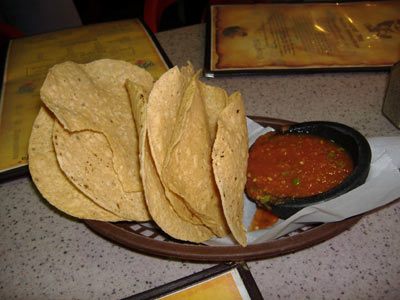 Super Mex does score some points for having Orange Bang! to drink.
Here's the remaining shots in thumbnail size:






I'm going to withhold rating Super Mex until I can do a proper review. Another angle on Super Mex can be read at the
New Diner
blog.