Date of Visit:
November 24, 2006
NOTE (November 15, 2007):
Rose Canyon Cantina and Grill was not damaged in the wildfires of October 2007. They are still standing and open for business. We will have a new review of them here in about a week with pictures taken after the fires. UPDATE:
Click here for the second review
. Or get a
2008
update by
CLICKING HERE
.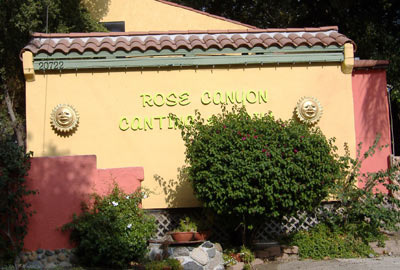 So, on the lazy day after Thanksgiving (not Black Friday for me) I called up my friends, married couple extraordinaire Chris and Kristanna, and asked if they would like to go with me to try out a Mexican restaurant in Trabuco Canyon. They said, "We were just about to go offroading in that area! We'll come pick you up."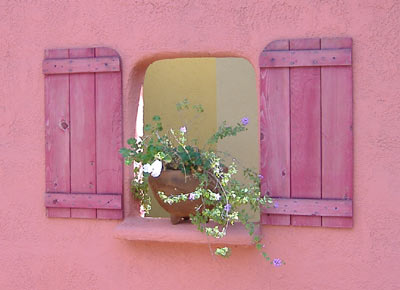 So, we headed on out there winding through the 5, the 133, the 241, and more roads I can't even recall until we found ourselves deep in the country in an area that doesn't at all fit the typical Orange County suburban image. A handpainted sign indicated that Rose Canyon Cantina and Grill was just down the road and a right turn away. We knew we were about to find the spot. Unfortunately, once we found the restaurant another sign indicated that it was CLOSED: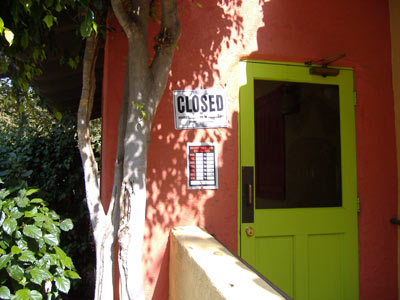 Turns out that on Saturdays and Sundays they open at 11am but on every other day they open at 4pm. It didn't matter that the day
felt
like a Saturday to us, we were still there three hours too early. We felt like Dorothy and her traveling companions finally arriving in the Land of Oz and being told by the guard at the gate that Oz was closed. Fortunately, none of the trees on our way had been throwing apples at us.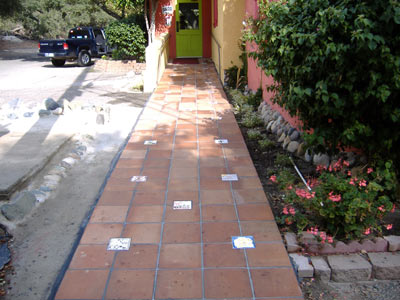 Of course, the fact that they were closed allowed me to take many pictures of the exterior of the restaurant and the charming locale it inhabits.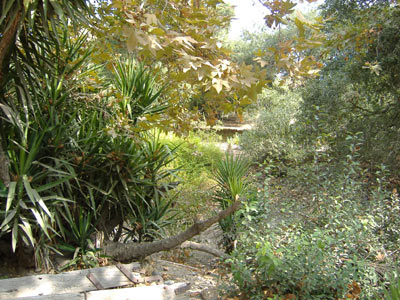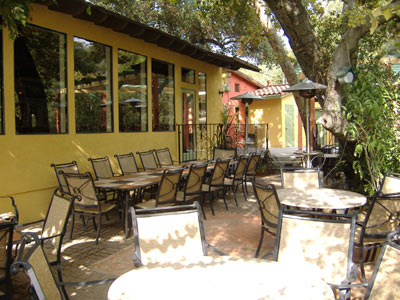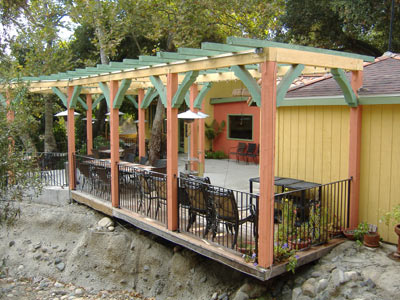 The fact that we found the cantina closed also allowed us to go offroading in Cleveland National Forest for a few hours in Chris' Dodge Dakota. We found ourselves above the cloudline, saw mountaintops peaking out from the clouds, and even saw deer a couple times that, like Batman at Super Mex, were too elusive for my camera. That's why you have to go exploring yourselves.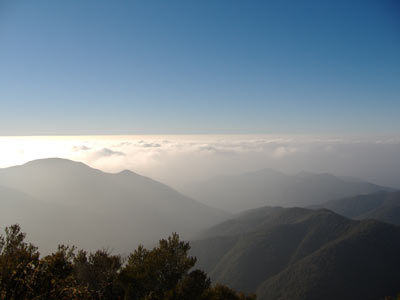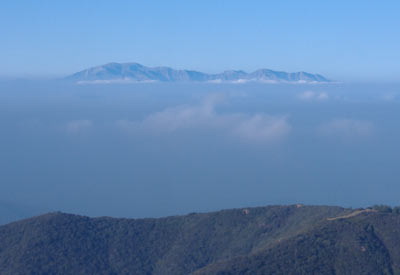 When we headed back to the cantina via a different route we found a completely different sign pointing the way: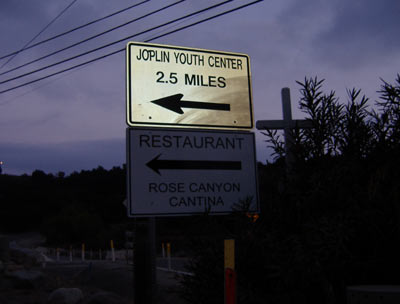 And the sun faces on the wall outside were now not just happy but bright and happy: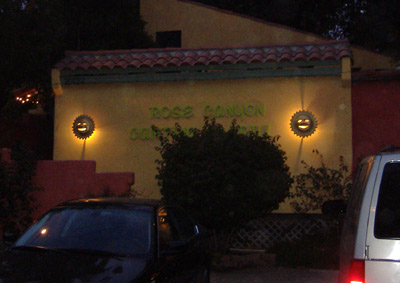 The autumn decorations were out in full force as we stepped inside before making our way through the restaurant to the heated outdoor patio seating: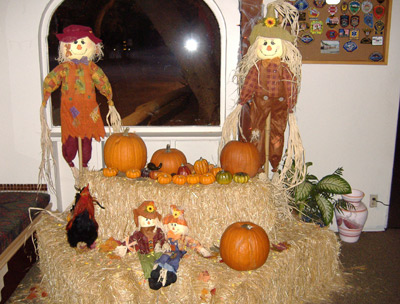 The requisite chips and salsa were served: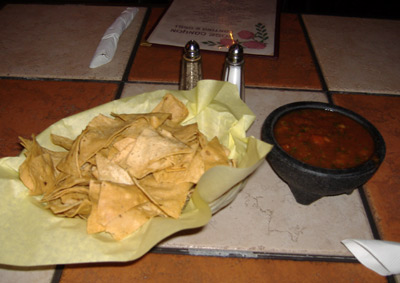 The chips seemed like a peculiar combination between storebought and homemade, almost but not quite too greasy for my tastes. The salsa was unlike any I've had before, with a pungent, perhaps vinegary, component to it.
I ordered the salmon platter, with salmon that was very tender and flaky. It was served with mango salsa with my choice of black beans (over refried beans) and Mexican rice (over Spanish rice). I was tempted to try the halibut with pineapple salsa but that will have to wait until a future visit.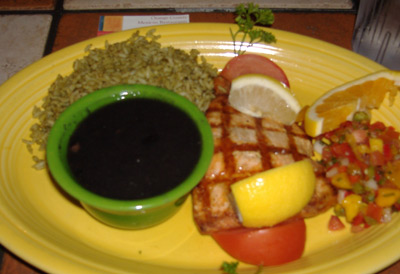 Kristanna made her own three item combo consisting of a flauta, a burrito, and a soft taco: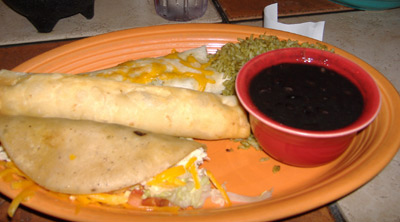 While Chris, the carnitas king of Orange County, once again ordered the carnitas platter, which he loved: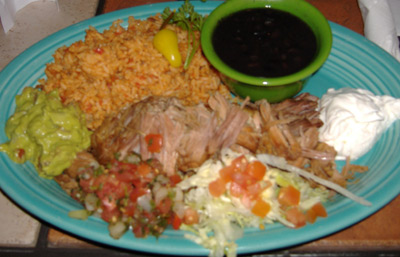 For dessert Chris and Kristanna shared the deep-fried ice cream. I couldn't touch it due to its coconut content but that didn't stop the other two from thoroughly enjoying it.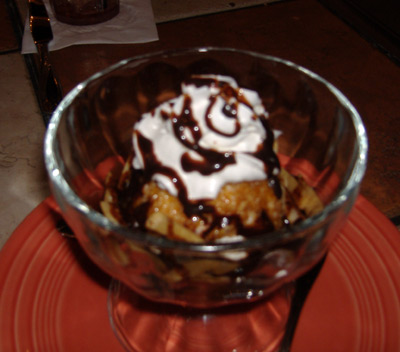 I ordered the flan which was cut like a slice of pie from a huge flan. As far as flans go this was the lightest and fluffiest I have ever tried.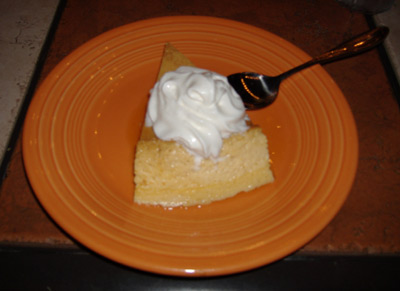 With quality and overall intrigue of their food a little above average combined with an excellent, soul-purifying locale, Rose Canyon Cantina and Grill earns a very solid four Speedy Gonzales rating:
Continue the journey by
clicking here
.