Date of Visit:
November 4, 2006
STOP!!
If you are looking for information on
Chronic Tacos
then
.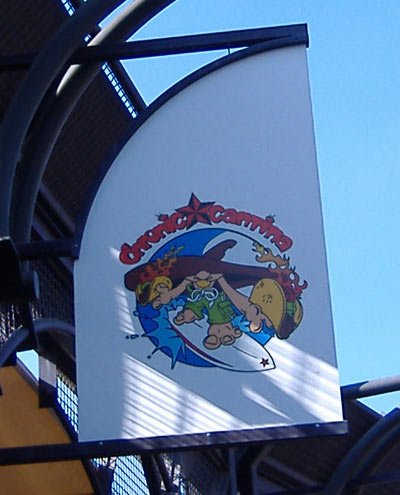 Chronic Cantina is to Chronic Taco what Taco Rosa is to Taco Mesa: the more elite flagship restaurant of a small, laid back Orange County Mexican food chain. Except that Chronic Cantina has way more big screen TVs than Taco Rosa, possibly even more big screens than all the Mexican restaurants I've been to combined. I think it's impossible to sit anywhere in Chronic Cantina's large open air seating area and not be able to see one of their big screen TVs broadcasting all the sporting events you could hope for. I didn't count them but I think someone estimated there could be 40 there.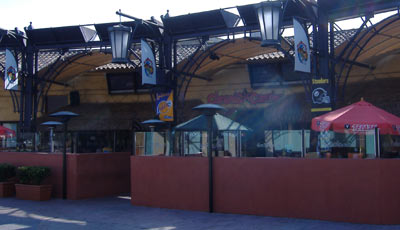 You can find Chronic Cantina on the upper level of Triangle Square (never realized until now what an odd name that is for a shopping center - it's a triangle
and
a square?) on Harbor and 19th in Costa Mesa. This center was all the rage when it opened in '93 or '94 but slowly died down as merchants like Nike Town and Virgin Records and some sort of virtual reality laser tag game moved away. Chronic Cantina seems to be infusing some of the life back into the place. I'm pretty sure the chronically scantily clad waitresses help bring in a lot of male customers.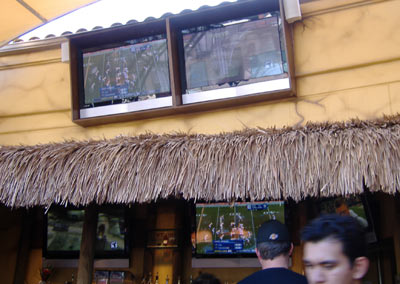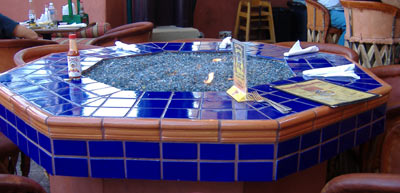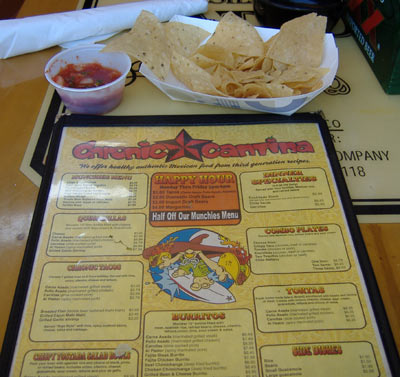 Chronic Cantina is not just about watching sports. Did I mention they also have Mexican food? The menu mentions that they use third generation recipes for their food. I ordered a grilled garlic shrimp taco and a carnitas torta
a la carte
and together they made a great lunch. The taco was stuffed so full I had to eat a lot of the filling out with my fork before I could attempt to pick the rest up and eat in a proper taco eating manner.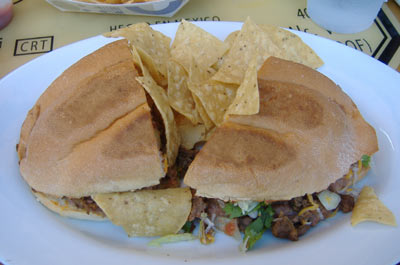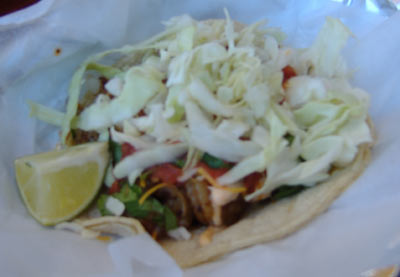 They also seem to have a
MySpace Profile
, although I'm not sure if it's official. They might also be the only Mexican food chain that was spun off from a
clothing brand
, but, hey, that's the county we live in and that's where I'm stayin'.
The service from my waitress (Danielle?) was excellent and I had a nice chat with the owner, Mike Biello, who was quite affable. Chronic Cantina earns a four Speedy Gonzales rating: