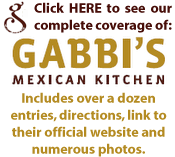 Went on Saturday to a small Mexican restaurant for lunch (review coming in about a week) and on the way back I was driving by Gabbi's so I stopped for dessert. Tried their new version of flan that comes with caramelized pineapple chunks and guava sauce and toasted coconut (I had to have it
sans
coconut):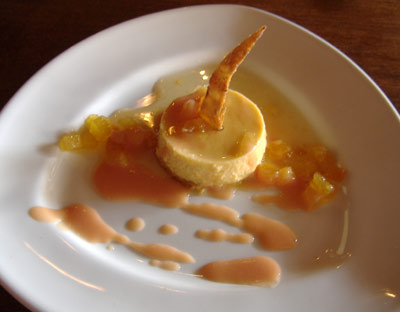 I was recently contacted by Oscar from
Ciudad
magazine to offer my opinion on what places in OC have the best guacamole and the best margaritas. Since I don't drink alcohol I asked for a virgin strawberry margarita at Gabbi's. When Gabbi herself found out why I had ordered it she said, "We also have really good guacamole here," and I realized that in my dozen or so visits there I don't think I ever tried their guacamole, at least not as a separate item for judging purposes. Oh well, I'll be back there again for sure.
Anyways, if any readers have opinions to offer on good guacamole and margaritas in the county please leave a comment.