Date of Visit:
February 8, 2007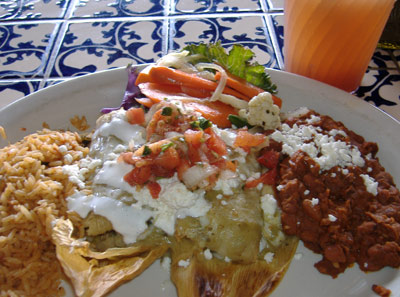 After hearing approximately eighteen months ago how good the grape
aguas frescas
at Taco Rosa is and hoping I would catch it there on one of my many visits (they offer two freshly made flavors every day and you never know what kind they might have until you arrive) my quest was finally fulfilled yesterday. Grape is one of my favorite fruit flavors (even artificial grape) and I can ingest Welch's grape popsicles like breathing in air so it was no surprise that I found this beverage extra refreshing. I
was
surprised, however, to see that it was more like grapefruit juice in color than the purple I was expecting. If the drink itself wasn't good enough I topped off my lunch with one of their two specials of the day, the Tamales de Pollo a la Canasta.
Read our extensive coverage of Taco Rosa, with plenty of accompanying photos, by clicking on the following label: