Date of Visits:
September 10, October 4 and 14, 2006
My menu selections from my first visit:
Appetizer
: Fresh-made tortillas with honey butter and two salsas
Entree
: Mesquite-grilled Halibut
Drink
: IBC Root Beer
Dessert
: "Fresh Fruit Indulgence"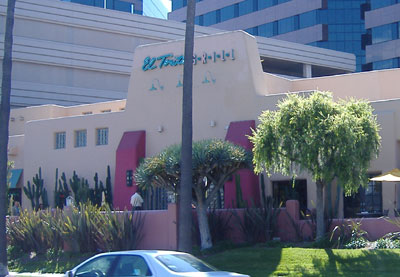 I was trying to hold off on reviewing El Torito Grill in Irvine for a while but felt like I better do it soon once I realized it is very easy for people to confuse it with the El Torito that is just around the corner. (Read our review of
El Torito in Irvine
.)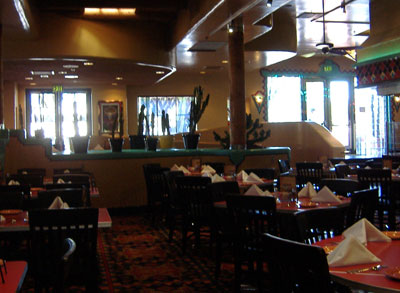 To further confuse the matter, this location doesn't appear to show up in the Yahoo! Local or Citysearch listings and appears incorrectly in the
Google Maps listings
as "El Torito Mexican Grill."
So, just to clarify matters: El Torito is on Macarthur (across the street from John Wayne Airport), while El Torito
Grill
is on Main St.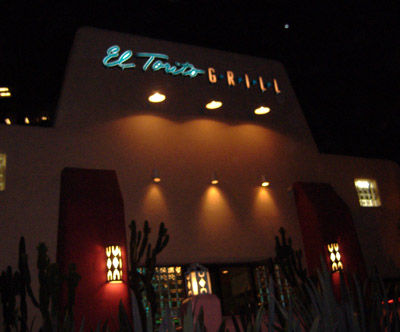 To park to eat at this El Torito Grill you will probably have to use the adjacent parking structure. On weekdays you can have your car valet parked or you can self-park and get your ticket validated inside the restaurant. On weekends you can self-park for free. You will see the following sign painted on the wall of the parking structure as you are headed towards the restaurant: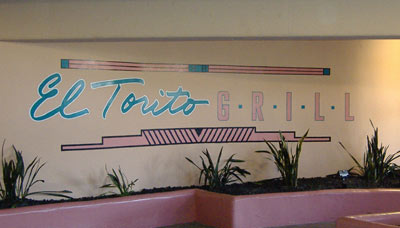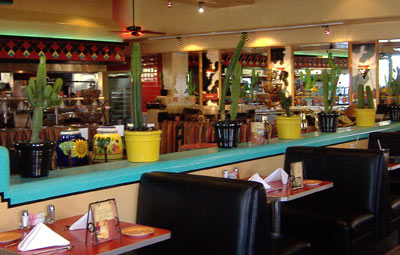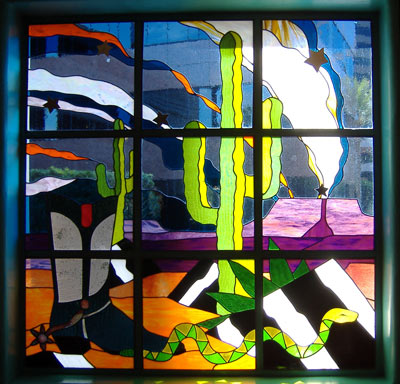 At El Torito Grill, rather than getting the standard chips and salsa you get some freshly made tortillas with honey butter to spread on them and a mild salsa and a spicier salsa. It is easy to eat four or five of these before your entree comes.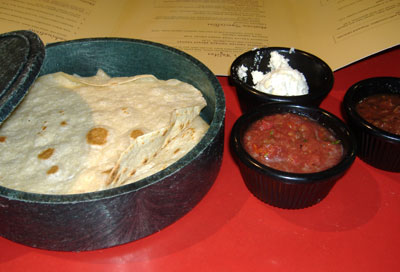 There are also intriguing appetizers such as the Chicken and Shrimp Taquitos: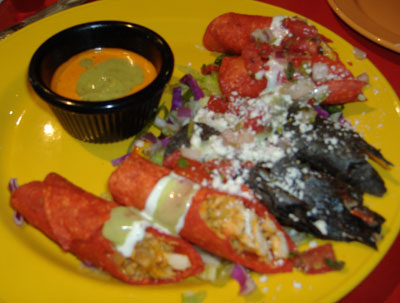 The Romaine Salad comes with pumpkin seeds and Cilantro-Pepita Dressing™ (yes, they have actually trademarked the term "Cilantro-Pepita Dressing™") and is chopped tableside for you by your server: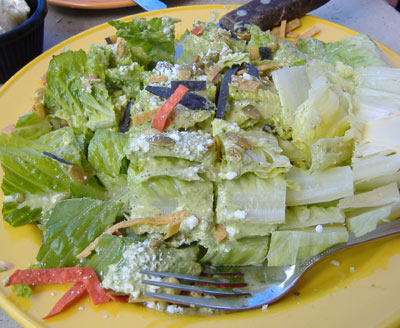 The Carne Asada Tostada comes with "Grilled marinated steak, romaine, beans, jicama, tomatoes, crispy tortilla strips, cheese, salsa quemada and ranch dressing served on a crispy red chile tortilla," which just so happens to be the same shape as the triangular plate it's served on: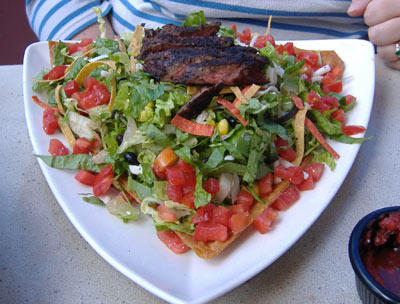 You can order the same item with barbecue chicken in place of the carne asada.
The tortilla soup, according to their menu, is made of "Tender chicken and vegetables in a savory broth with crispy tortilla strips and jack cheese." When it says "vegetables" I think it really means "zucchini" because there was a lot of zucchini in it.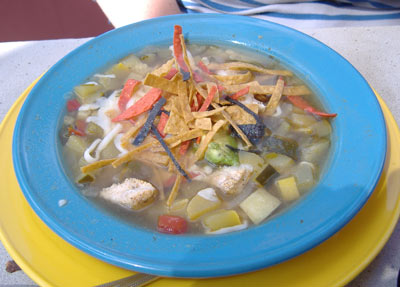 One of the things I like about El Torito Grill is that their specials menu changes more often than the specials menu at the regular El Torito does. I was told by a waiter at El Torito Grill that it changes roughly every two to three weeks. On the first of my three visits for this review I ordered the Mesquite-grilled fresh halibut with "mixed vegetables, tomato-jalapeño salsa and orange-cucumber relish."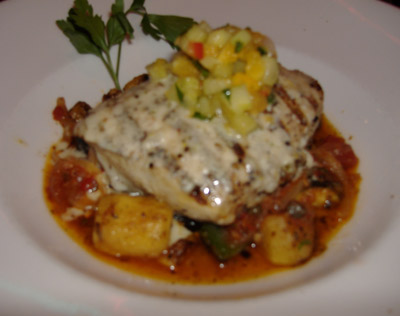 Mesquite-grilled Halibut
My friend Chris is a carnitas junkie so he of course ordered their Carnitas Yucatan, "Roasted marinated pork topped with red onions marinated with habañero chiles and lime juice. Served with red and black beans, rice, avocado relish and sweet corn cake."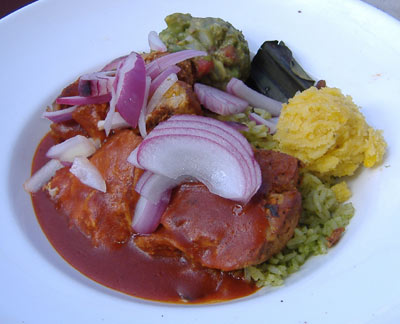 When my roommate went with me on my second visit he got wild and ordered the fajitas: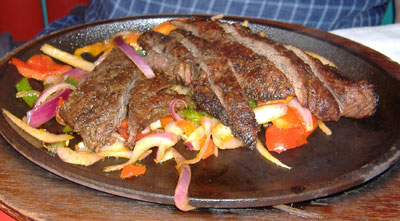 A popular entree item at El Torito Grill is the Santa Fe Torte, "Chicken, cheese, and chiles in corn crepes with jalapeño butter and red chile sauces. Served with red and black beans, pineapple-mango salsa, sweet corn cake and crispy plantains."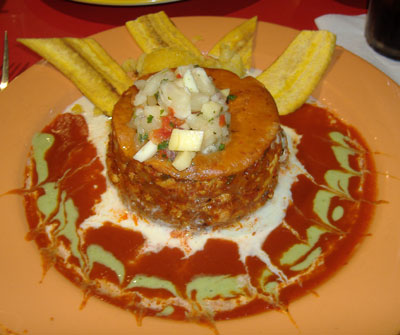 When I went by myself on the first visit for this review I ordered a dessert from their specials menu called the "Fresh Fruit Indulgence." The official description of this dessert is: "Fresh berries and mangos tossed in Grand Marnier, creamy custard, fresh cream and a peanut tostada crisp. Served with chocolate and cajeta sauces."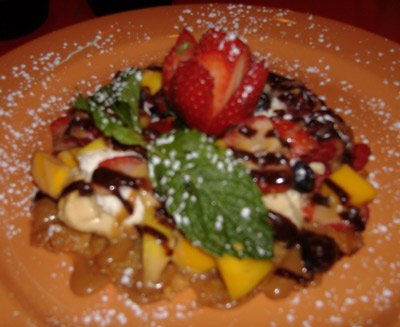 Fresh Fruit Indulgence
Since the picture turned out a little blurry I ordered it again on the second visit and this time, instead of coming on a plate, it came in a glass: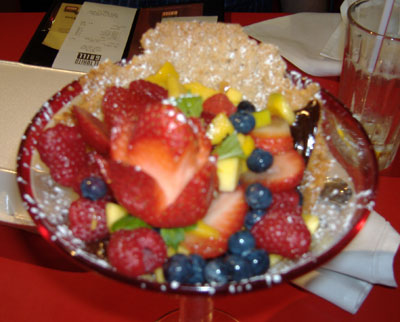 I was told by one of the servers that this dessert item was so popular that it will be added to their regular menu soon but I can't say whether it will be flat on a plate or cone-shaped in a glass when you order it.
El Torito Grill earns a four and a half Speedy Gonzales rating:
Here's some photos from subsequent visits:
Cheese Quesadilla
Roasted Vegetable Platter
Coconut Flan
Other El Torito Grill entries: