While I'm prepping the next reviews to be posted here I thought I'd mention a non-food-related blog that recently linked to this blog:
OC FlipTrack - Orange County Housing Bubble Blog
. We get many visits from them and the people they refer stay here for a long time and read many different entries. Not only that but OC FlipTrack lists us as being "More Important" than the real estate sites they link to. For all that OC FlipTrack gets a five Speedy Gonzales rating:
If they can help bring about conditions that will allow me to afford a house in the county I grew up in on my salary that would've been sufficient for home ownership if housing prices hadn't started skyrocketing six or seven years ago then they'll earn an unprecedented six Speedy Gonzales rating.
Another blog that recently linked to this blog is
goood morrrrningggg ichiiiigooo!
, but I'm not entirely sure what its focus is.
Here's a teaser image from the next review to be posted here: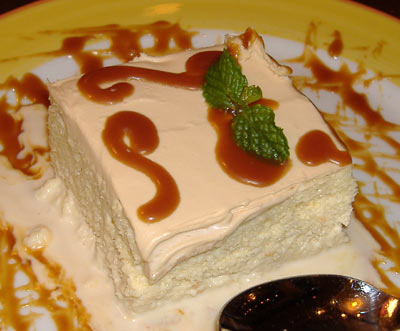 And here's the pipeline for upcoming reviews: a review of another Mexican restaurant at the Disneyland Resort, a guest review of a Mexican restaurant in Orange, then a review of a Mexican restaurant in Huntington Beach, then even more reviews. There will also be a report soon on a new hot sauce coming out from a famous local musician (think gringo punk guy who uses Spanish in his songs and album titles from time to time and you might guess who it is). In short, I
really
have my work cut out for me.
Non-Mexican restaurants I've been to since the last roundup include, but are not limited to: Old Spaghetti Factory,
Ashoka Cuisine of India
, Kabuki, 50 Forks (twice -
see updated entry
),
Funashin
(twice),
Romano's Macaroni Grill
, and
Crab Cooker
.
Mexican restaurants I've already reviewed (and may still review again) that I've visited since the last roundup entry include
Javier's
,
Taleo
,
Azteca's
, Taco Rosa (see updated
"Guided Tour"
entry), and
Gabbi's
.