Date of Visit:
October 6, 2006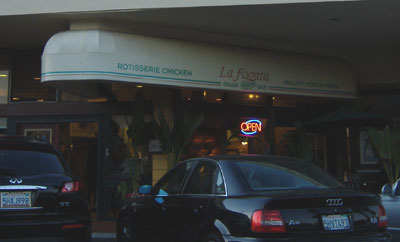 You can find out about good Mexican restaurants in the darnedest places. La Fogata was recommended to me by a nice couple I struck up a conversation with while at lunch at Taco Rosa. They noticed me taking pictures of my food so I explained what I do. I asked them what their favorite Mexican restaurant was and they quickly answered, "La Fogata in Corona del Mar." I told them I would try to make it there soon and asked them what I should try. Again a quick answer: "The California Grande Burrito."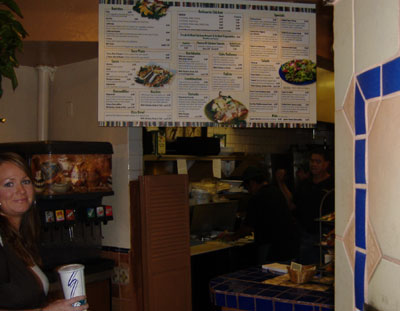 Almost two months later I finally made it to La Fogata. I went with a date, Marissa, who, like me, has fairly periodic hankerings for good Mexican food. La Fogata is located in the Albertson's shopping center off of PCH between Iris and Jasmine. Parking is tight down that way, but what else is new? They are famous for their rotisserie chicken (in fact, I believe their full name is "La Fogata Healthy Mexican Grill and Rotisserie Chicken") and you can see a big rotisserie spinning over a huge flame as you walk up to their entrance.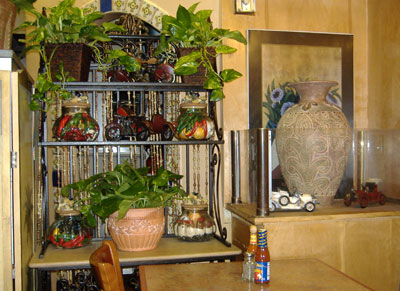 Usually I can spend forever and a day perusing a restaurant's menu and then, and only then, finally make a choice out of desperation so as not to hold up everyone else in the party. This time, however, I knew I'd be ordering the California Grande Burrito. This is a huge flour tortilla with rotisserie chicken, fresh onions, fresh zucchini, shredded lettuce, cheese, rice, black or pinto beans, guacamole, sour cream, and your choice of an extra meat (steak or fish). I don't know if fish blends well with chicken or steak so I went with the chicken/steak combo. It ends up being an enormous burrito, the likes of which I am sure only Andre the Giant could get his mouth around. It's served with half-slices of orange and tomato and a huge dollop of sour cream.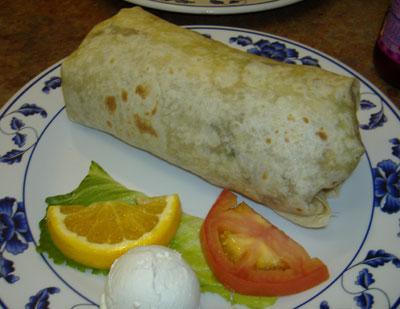 Marissa ordered a taco combo plate, with one chicken and one steak taco. It turned out to be a less messy version of what I had ordered. Each taco came in one blue and one white corn tortilla. She called attention to the fact that they actually use jasmine rice here; I guess that's a little Indian fusion going on.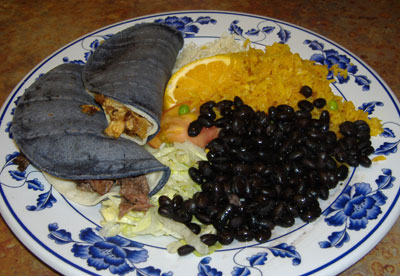 I have to add that La Fogata has the highest quality takeout menus I have ever seen. Even after they told me I could take one I still felt a little guilty about it. For filling us up without weighing us down, La Fogata earns a four Speedy Gonzales rating: