IMPORTANT INFO:
If you are looking for information on Taco Rosa's new Irvine location in the
Tustin
Marketplace then
.
The entry you are looking at now is about their Newport Beach location.
Date of Visits:
August 9, 11, 18, and 31; September 1, 11, 21, 26 and 28, 2006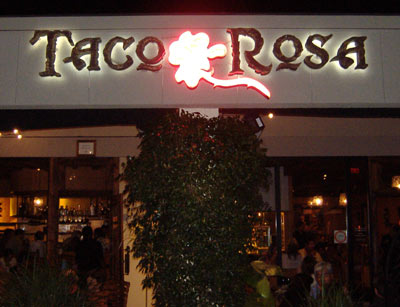 Okay, here I am with my sixth review (depending on how you count them all) of Taco Rosa in Newport Beach. Every place I've covered in this blog has something good to offer but Taco Rosa is easily my favorite Mexican restaurant in the county overall. They are so good that I constantly tell people about it or get people to go there with me and everyone seems to love it and many go back and bring other people along with them who then start going on their own. Why am I giving them tons of free marketing? I don't know. I guess I'm just
loco
enough to do something like that.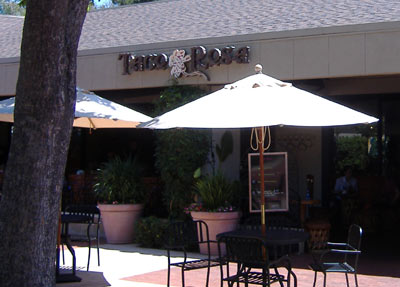 On your way in make sure to check out the area where one chef makes nothing but appetizers and desserts and the nearby chocolate fountain.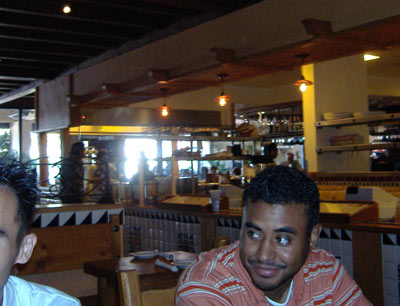 One shot from inside
Taco Rosa is tucked away in the corner of the
Newport Hills Center
which is dominated by a Pavilions supermarket. There's also an Ace Hardware and some other shops. This shopping center can be a little hard to find. When you are driving on Bonita Canyon Drive, which itself is a continuation of Culver then eventually becomes Ford, and you come up on the LDS temple (it has the big angel statue on top) turn south onto Prairie and keep going straight until you head into the parking lot. You won't be able to see the shopping center when you first make the turn, you'll feel more like you are heading into a residential area, but just trust that you are going the correct way. Right before you head into the shopping center's parking lot you'll actually need to be in the far left lane to go straight across the street. It's a little weird because the far left lane allows you to turn left or go straight, but the other two lanes only allow you to turn right, so be warned. Simple rule: just do whatever it takes to go straight once you turn on to Prairie. At least that's the way I go from where I live. If you are heading to it from the Fashion Island area just make a right into the last shopping center on San Miguel before hitting Bonita Canyon Drive.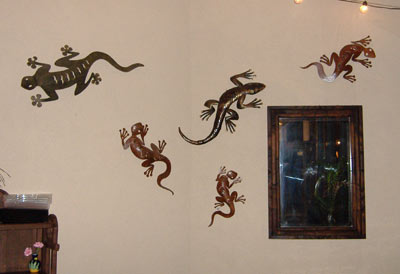 Geckos!
The problem is I haven't taken very good photos of their food before compared to pictures I've taken at other establishments. So a couple months ago I decided to go on a big Taco Rosa photo-taking binge amassing pictures taken over numerous visits. I took so many I think they started to think I was doing it to help out competition or something. Sorry, I'm not competition, just your friendly neighborhood food blogger.
Don't walk past the specials board and ignore it. Pay attention to it. It'll tell you the specials of the day (usually a soup or two and one, two, or three special entrees) as well as the two aguas frescas flavors for the day. A new flavor of
aguas frescas
I have seen them offering recently that I hadn't seen before is coconut. Other flavors include strawberry (
fresa
), cantalope, watermelon (
sandia
), honeydew (excellent!), mango,
jamaica
(hibiscus; go ahead, give it a try), tamarind, horchata, and I believe papaya and raspberry. There is also the elusive grape flavor that I have heard so much about but I have yet to stumble upon a day that it is being offered.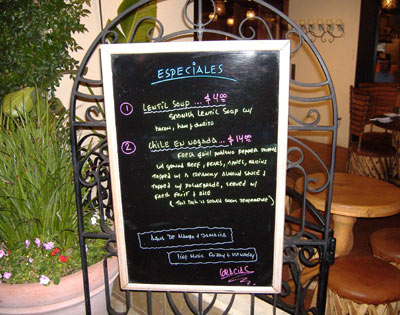 Appetizers
For appetizers each party gets a complementary "botanas tray" with one item for each member in their party. These are usually mini-tostadas but could also be chimichangas or sopes. Each tray also comes with a helping of
escabeche
, a mixture of pickled carrots, cauliflower and jalapeños. They do serve chips and salsa upon request for when you are in the mood to be a little more Americanized.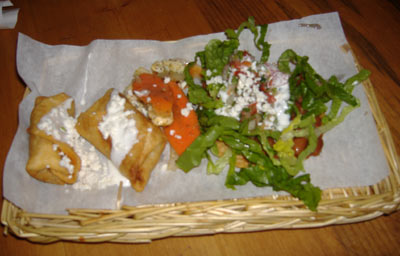 Botanas Tray
There's also an appetizer sampler platter (
Platon de Botanas
, the first item on the menu) which features, "steak nachos, zucchini with blossoms quesadilla, taquitos de pollo a la plancha & stuffed shrimp jalapeños. Served with fresh guacamole, escabeche, pico de gallo, sweet corn tamalitos and real sour cream."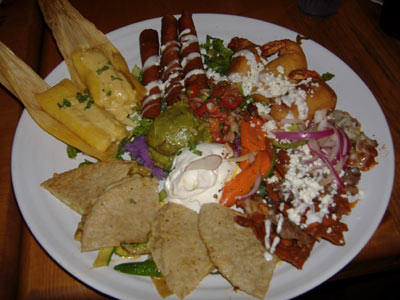 Platon de Botanas
Soups
The lobster bisque is their house soup served ever day. Other kinds of soup I've seen there include Caldo Tlalpeña, or chicken and lime, or seafood pozole: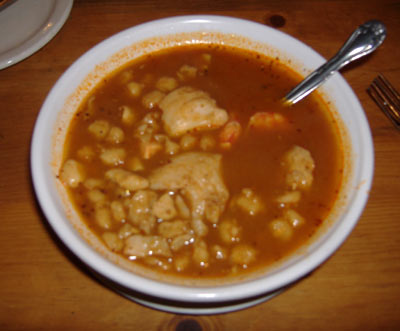 Following are photos of assorted entrees from Taco Rosa:
Regular Items
These are items that can be found on Taco Rosa's regular menu: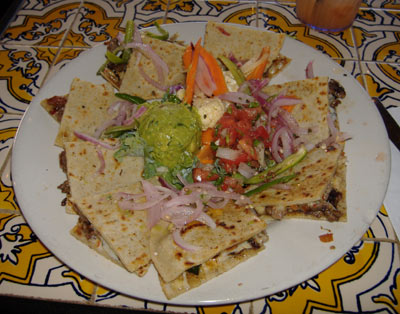 Alambre Quesadilla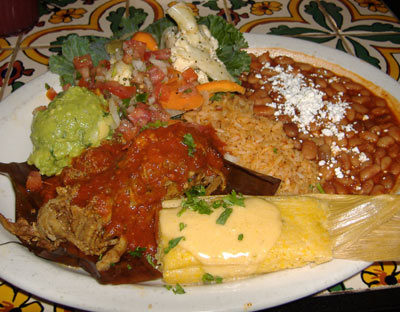 Carnitas Pibil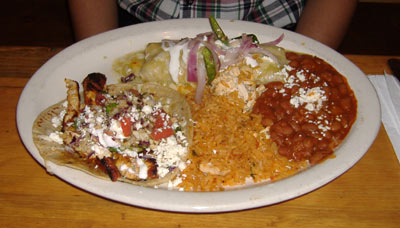 Blackened Chicken Taco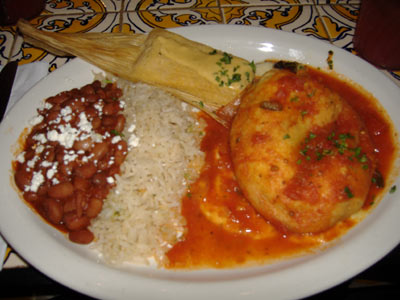 Chile Relleno en Caldillo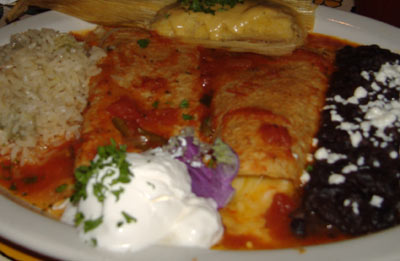 Enchiladas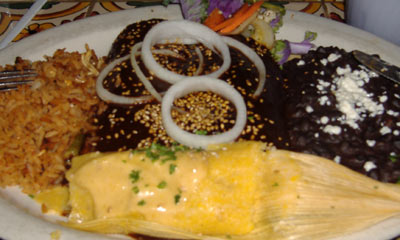 Enchiladas Oaxaca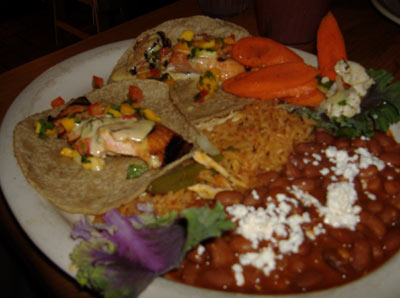 Salmon Tacos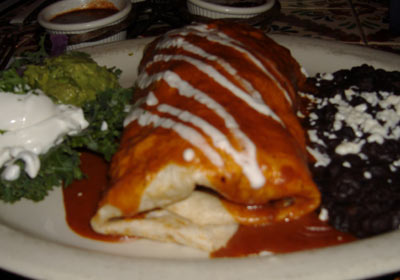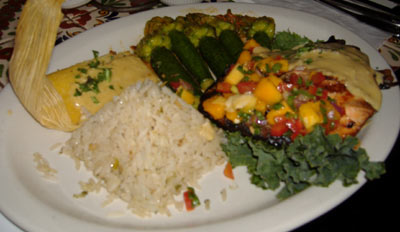 Salmon Tropical
Special Items
The following are items found on the specials board at various times. Any of them could be featured again: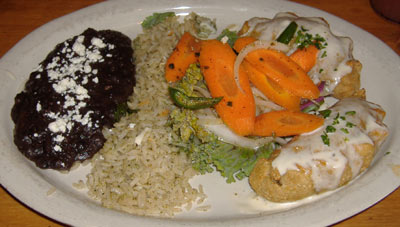 Empanadas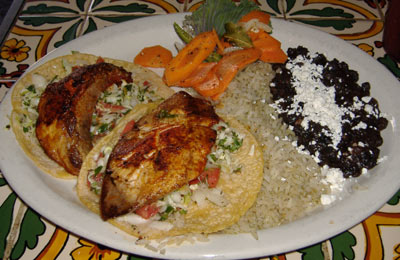 Yellowtail Tacos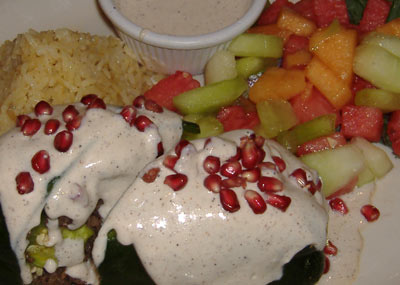 Chile en Nogado
Lunch Specials
The following are items only available during lunch hours (11am-4pm):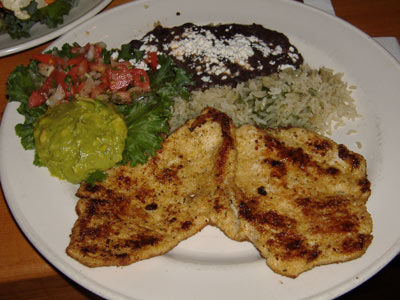 Milanesa de Pollo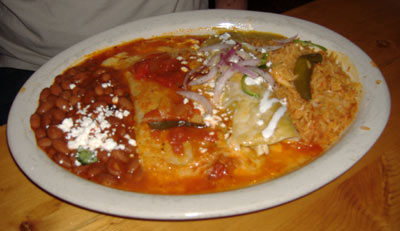 Enchilada Platter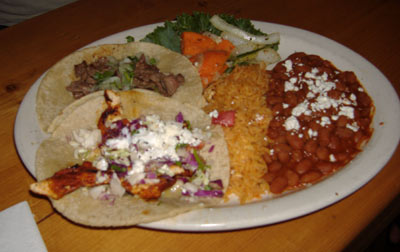 Steak and Chicken Tacos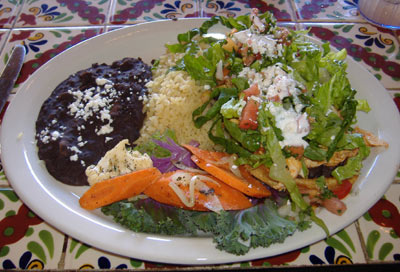 Sopes Rosa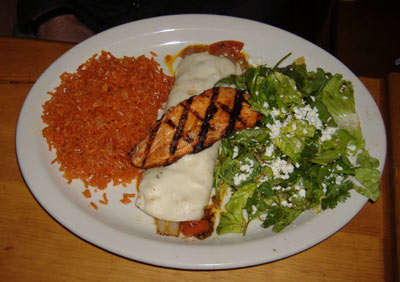 Salmon Enchilada
Desserts
Taco Rosa offers four kinds of desserts (
postres
):
Churros
Baked Cream Cheese Flan
Chocolate-covered Strawberries
Fried Sopapillas
When you're done with your meal help yourself to some
postres
. Make sure you save some room for them.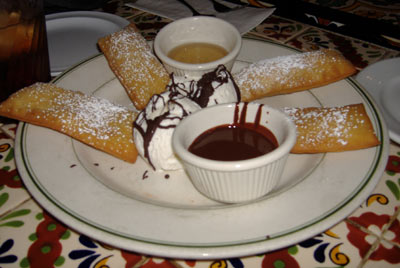 Fried Sopapillas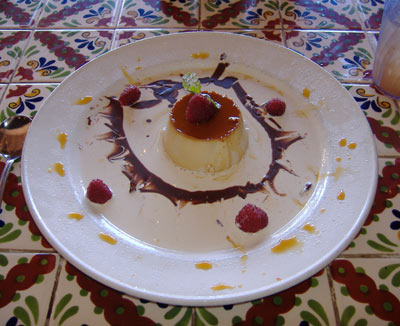 Baked Cream Cheese Flan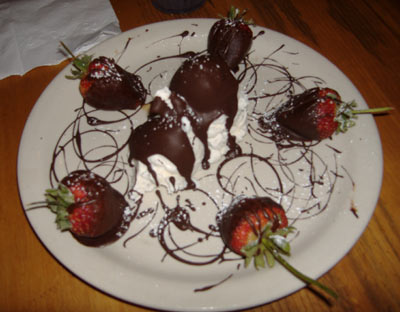 Chocolate-covered Strawberries
The dessert sampler platter comes with flan, churros, and chocolate-covered strawberries: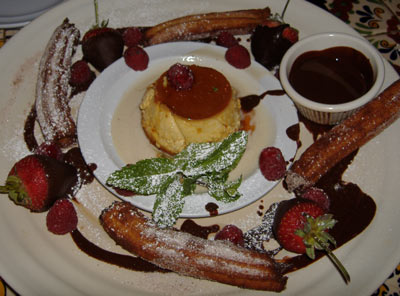 Taco Rosa now has a
MySpace Profile
. I'm guessing it is not official but thought I'd point it out (UPDATE: found out later that MySpace page is not official but run by a Taco Rosa fan who no longer lives in California).
My most recent visit to Taco Rosa was with Joy and Carter, Omar from
SqueezeOC
, "Chubby Panda" from the
Epicurious Wanderer
blog, and "Elmo" from the
Monster Munching
blog. Read
Omar's report
on the experience. Reports from Elmo and Chubby Panda are pending.
Taco Rosa still maintains its five Speedy Gonzales rating:
UPDATE (October 18, 2006):
Went back recently and got an Ensaladas de Frutas (fruit salad) to go. It has vanilla cream dipping sauce: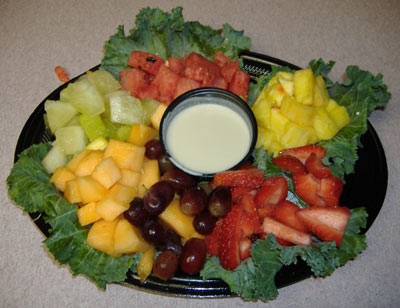 UPDATE #2 (October 30, 2006):
Went last Saturday for an impromptu lunch and got a pork pozole soup and huevos rancheros, neither of which I had ever seen before at Taco Rosa: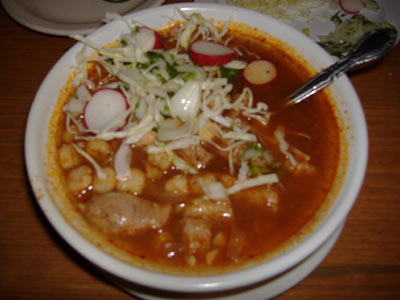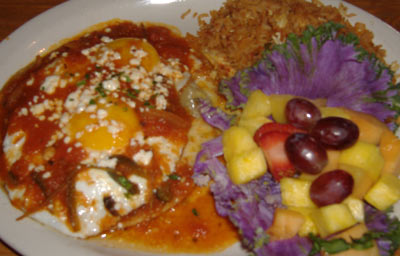 Important note: When people use Google to search on "taco rosa tustin" it is, for some reason, sending them to this entry (Taco Rosa - Review #6) which is about Taco Rosa's Newport Beach location and NOT about their Tustin location. To read about the Tustin location
CLICK HERE
.