Date of Visits:
August 12 and October 18, 2006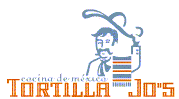 IMPORTANT NOTE:
We have covered literally
every
Mexican place there is at Disneyland (including Tortilla Jo's Taqueria and some you don't know about). You can find all that coverage at once by
CLICKING HERE
. Many people do not find the information they are looking for simply because they do not click that link. Don't be one of those people.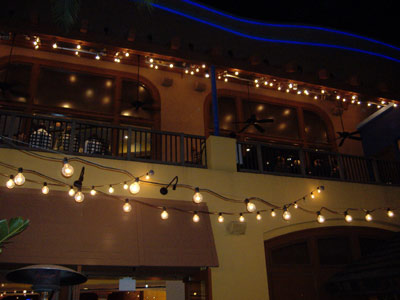 Back in early 2000 I had just graduated from college in Hawaii (it's a hard life, I know) and made a trip to Disneyland. In the lobby of the theater where you can see the audioanimatronic Abraham Lincoln deliver the Gettysburg Address were concept art paintings of a coming nightlife district being built adjacent to Disneyland to be called "Downtown Disney." The paintings made it look like the Sunset Strip, or the Vegas Strip (pick your "Strip"), and the only detail I specifically remember was a Hard Rock Cafe. Well, by the time Downtown Disney opened in January 2001 the Hard Rock Cafe had become the House of Blues and just across the walkway from it was a two-story dance club called Arriba! Arriba!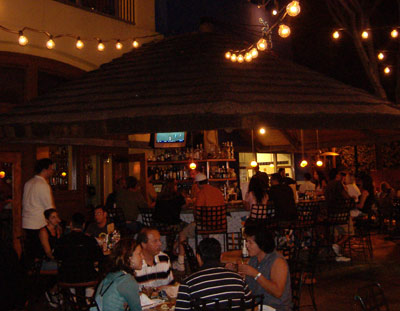 I'm guessing the public couldn't quite get used to the idea of a hipster night club operating at Disneyland but for one reason or another Arriba! Arriba! eventually went out of business and from its ashes arose a Mexican-themed restaurant: Tortilla Jo's.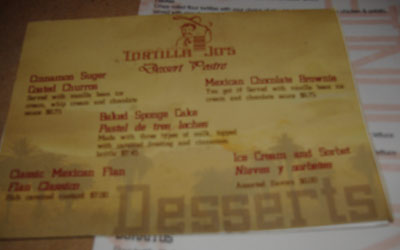 It's not as "Disney-fied" as you might think, though. It's certainly less Disney-oriented than the Mexican restaurant in Disneyland proper (review coming sometime in the not too distant future) and the one in Disney's California Adventure. All three Mexican restaurants found in the Disneyland resort are completely separate from each other with their own very distinct identities. In fact, Tortilla Jo's is run by the
Patina Group
which also runs the high end Mediterranean restaurant Catal and Naples Ristorante e Pizzeria, both also at Downtown Disney, all of which are headed by celebrity chef Joachim Splichal.
In addition to their inside seating and their patio seating (which share the same menu) they also have a takeout window ("Tortilla Jo's Taqueria") with a somewhat different menu. I believe they have frozen fruit bars as a dessert item at their takeout window. (UPDATE: See new review on
Tortilla Jo's Taqueria
.)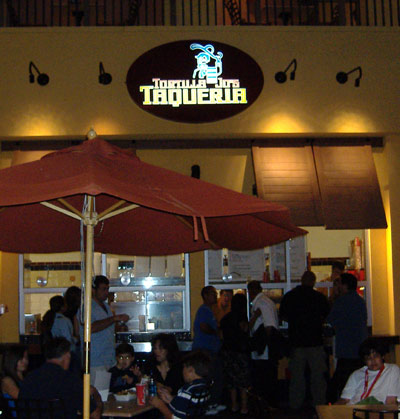 On the first visit my friend Chris ordered the flautas appetizer as an entree: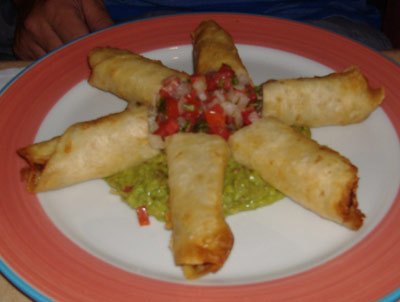 And I ordered the Mango Chicken Torta, a chicken breast sandwich with mango salsa and fried plantain strips on the side: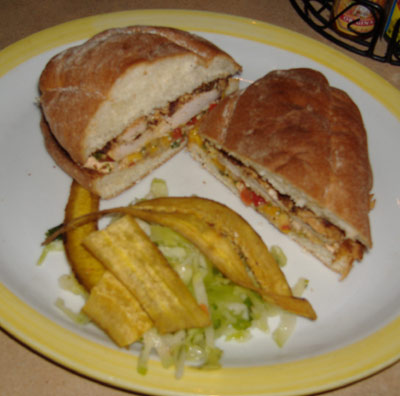 When you order flan you actually get two little flans: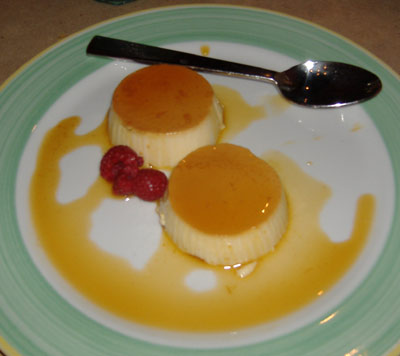 Chris ordered the chocolate ice cream brownie: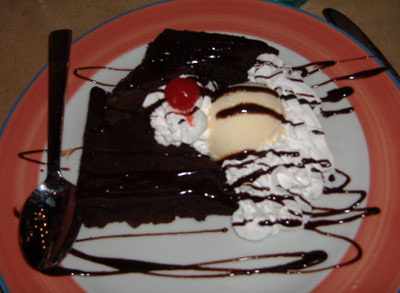 He still had food to take back home so he was given this fancy takeout bag: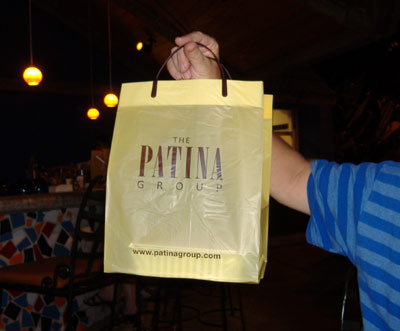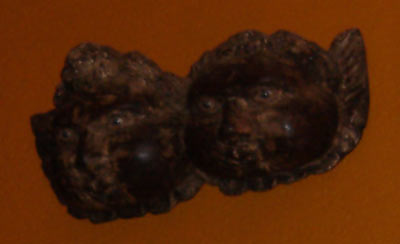 On the next visit, two months later, I ordered the chile relleno/chicken and potato combo with sauteed vegetables in place of the beans and they really loaded the plate up with the vegetables: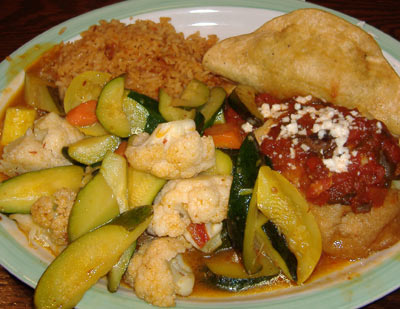 Chris ordered the carnitas platter (he's the carnitas guy) and reported that it was excellent: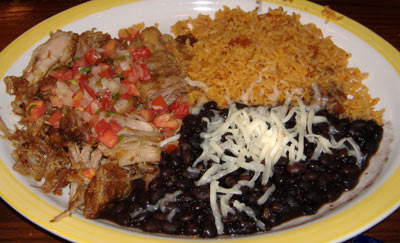 Service was excellent and personalized each time I went. On the second visit my friend was late meeting up with me and one of the waitresses let me use her cell phone to call him (yeah, I'm part of the dying breed of the cell phone-challenged).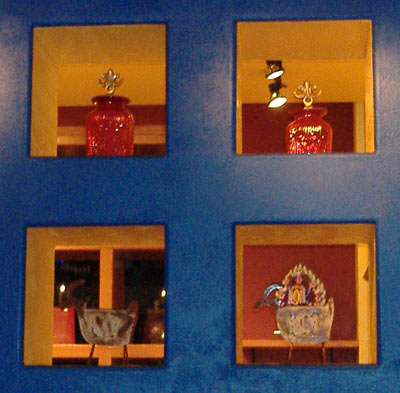 On the second visit I ordered the Pastel de Tres Leches, which the waitress on the first visit kept trying to get me to order. When I finally tasted it, I knew why she had been recommending it. This is a baked sponge cake soaking in three types of milk and topped with caramel frosting. It is so rich that it can easily be shared by two people.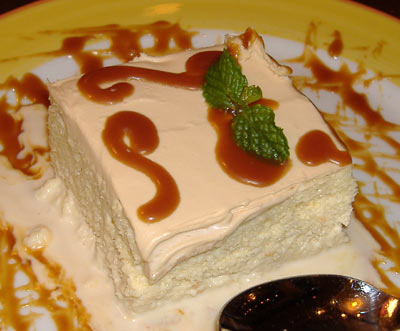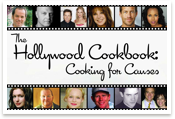 For those who like to experiment with making their own food, Tortilla Jo's also offers
cooking classes
held every quarter. And their chef, Joachim Splichal, is a featured chef in the
Hollywood Cookbook
, although I'm not sure whether or not any of his recipes in it are for Mexican food.
Tortilla Jo's earns a four Speedy Gonzales rating:
Update
"ChubbyPanda" from the
Epicurious Wanderer
blog has pointed out that Speedy Gonzales is a Warner Bros. character, not a Disney character, and that that might create a conflict of interest. So in the interest of not creating a conflict of interest, and jumping at the chance to utilize one of my favorite Disney characters, I now state that Tortilla Jo's at Downtown Disney earns a four "Panchito" rating:




Contest
Four
Speedy Gonzaleses
Panchitos go to the first person who can identify what Disney movie Panchito is from, but five Panchitos go to the first person who can give his full name.
UPDATE:
Four Panchitos go to Nick who correctly pointed out in the comments that Panchito is a character from the old Disney movie The Three Caballeros.




However, we are still waiting to see if somebody can give Panchito's full name. "Panchito Pistoles" is a nickname. His full proper name begins with "Panchito," has five middle names, and then the last name.
UPDATE (November 26, 2006):
"Anonymous" has correctly given Panchito's full name as Panchito Romero Miguel Junipero Francisco Quintero Gonzales, so s/he earns the prize of five Panchitos:





Read more about Panchito at
Toonopedia
Read more of our Tortilla Jo's coverage (we have two more reviews and more pictures) or all our Disneyland Mexican food coverage by clicking the appropriate label below: