Date of Visit:
October 3, 2006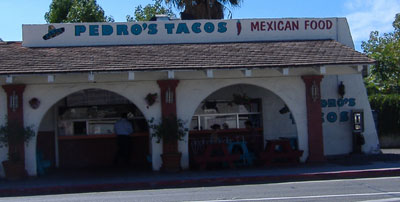 (UPDATE: Pedro's has closed and has been taken over by a place called Mission Grill.) Starting to make my way down towards the South County restaurants. First stop: Pedro's Tacos in San Juan Capistrano. Pedro's is directly across the street from the famous San Juan Capistrano Mission founded in the 1700's by Father Junipero Serra. Legend has it that he ate at Pedro's Tacos every day after he got off work feeding the swallows. I know all this because when I was in 4th grade everyone had to pick an old Californian mission to report on and mine was the San Juan Capistrano Mission. I even made a model of it out of sugar cubes dyed brown.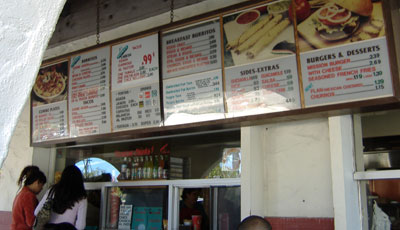 The recommendation to try out Pedro's Tacos was made to me while on my trip to Utah last June by a Huntington Beach resident who happened to be in Utah at the same time as me. Finally, four months later I'm following up on the recommendation.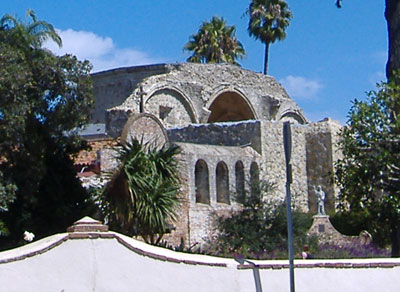 Just to the east of Pedro's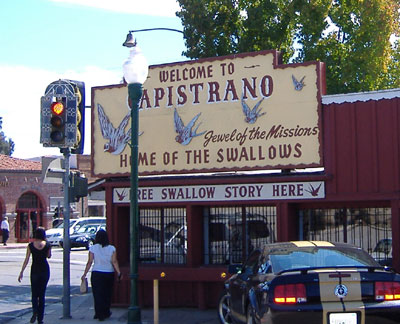 Just to the south of Pedro's
Pedro's is simply a walk-up window take-out restaurant with a few tables for outside seating. They have a fairly extensive menu with a little gringo section at the end featuring hamburgers and French fries. They also have an extensive selection of Jarritos brand soda, and they had a bottle of each flavor all lined up in one of their windows so you knew just what you could order.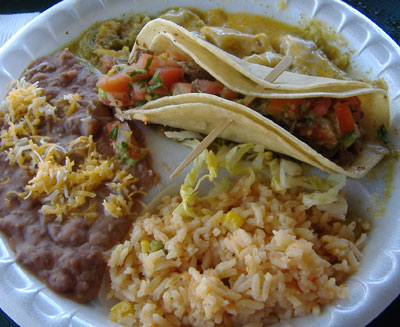 Being a sucker for chile rellenos but knowing Pedro's is famous for its tacos I ordered a chile relleno/beef taco combo that's not even on the menu. They accommodated my request with a small but tasty chile relleno covered in salsa verde and a shredded beef taco wrapped in two corn tortillas filled with salsa and guacamole. The standard rice and beans filled the remainder of the styrofoam plate. Everything went down well and it's easy to see why there's a constant stream of customers walking up to that little window to order some real authentic Mexican food.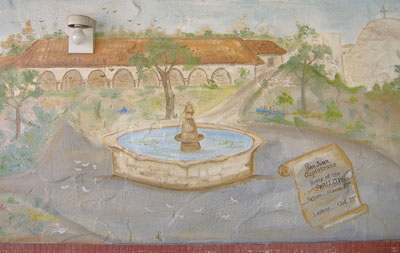 When you leave and you're trying to turn from Camino Capistrano back on to Ortega Highway the left turn signal either doesn't work or is incredibly hard to see. I sat through a cycle of lights and made my turn at what seemed like a logical moment but it could very well be that others saw me running a red. So be aware of the dubious traffic signal.
Pedro's Tacos earns a four Speedy Gonzales rating: