(This is only our initial review on Gabbi's. Since this first visit I have covered them many more times . . . and with better photographs. You can choose to read only this review but, if so, you will only be getting a small amount of the information we have on this great restaurant, the tip of the iceberg, so to speak.)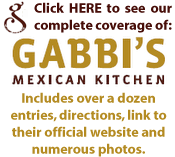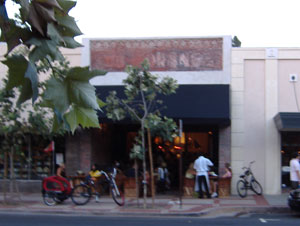 (They don't have an official sign out front yet but they're working on it . . . or they may never have one.)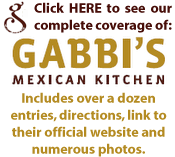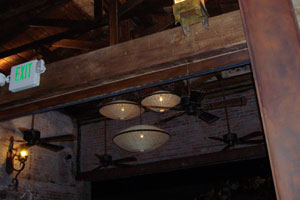 I've been e-mailed several recommendations lately of Mexican restaurants to try out. I intend to get to every one of them in whatever order time and circumstance will allow. Of the most recent batch of recommendations Gabbi's Mexican Kitchen was the restaurant I was able to make it to first. Thank you to "El Serracho" for the recommendation.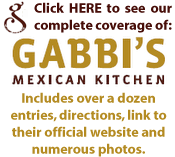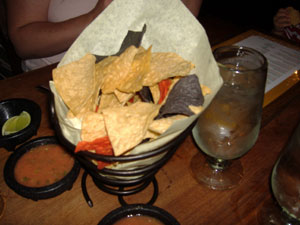 Chips!
Gabbi's is brand-spankin' new, meaning it opened just over a week ago on July 11. Gabbi is the owner and this is her first restaurant after having managed two of her parents' restaurants before and starting up her own catering service. Her new restaurant's menu was influenced by her upbringing and extensive travels throughout Mexico searching out culinary inspiration from the various states.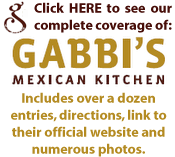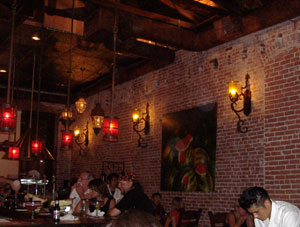 Open Air Seating
The building the restaurant is in is part of Historic Old Towne Orange and features some wonderful open air seating. If you happen to come up on it while walking down the street you'll feel pulled in by the warm and inviting atmosphere. There are a couple tables right out on the sidewalk. The menu can be described as "nuevo Mex" with plenty of soups, salads, appetizers, and entrees to choose from. Our party shared a tropical quesadilla as an appetizer; it was filled with cheese, pineapple, mango, and plantains, and was well liked by everyone. For entrees we ordered a chile relleno, a zucchini enchilada, a Tacos Dorado plate, and the carnitas platter. My friend and his wife took advantage of the childrens menu when ordering for their son. They also have horchata and tamarind
aguas frescas
.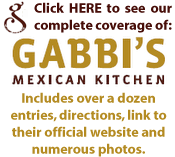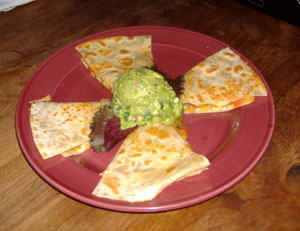 Quesadilla Tropicale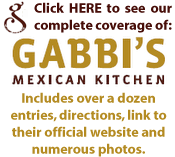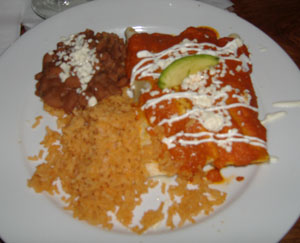 Enchilada Flor de Calabaza
Their chile rellenos have different stuffings each day. My friend's mother ordered one stuffed with chicken and cheese: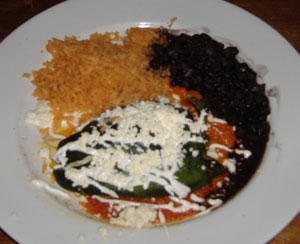 Chile relleno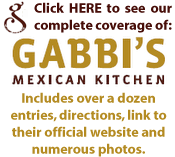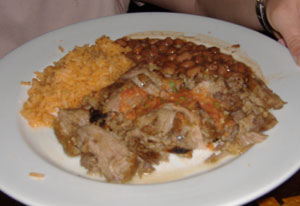 Carnitas platter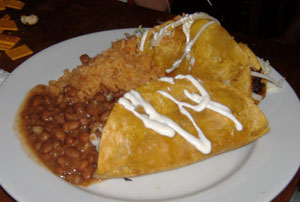 Tacos Dorado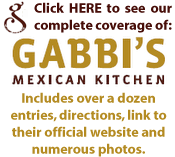 Desserts for now include an ice cream-topped brownie that I believe they call a "Chilly Brownie" (I could be wrong on that though) and flan topped with raspberry puree. They are working on developing a more complete dessert menu which will also include the chocolate flan currently only available through Gabbi's catering service. Looking forward to trying that. When you go you are likely to see Gabbi and her husband Ed out and about mingling amongst the customers making sure that everyone's needs and wants are tended to. Let them know you found out about them from the OC Mexican Restaurant blog.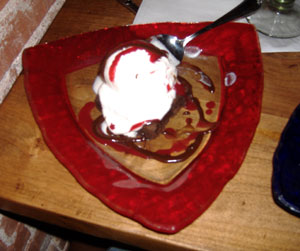 Ice Cream Brownie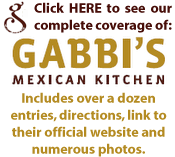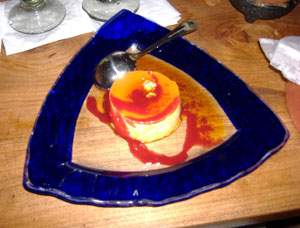 Flan
I'm definitely going back to sample some more menu items and take some more photos but I think Gabbi's Mexican Kitchen will be only the second restaurant reviewed here to earn a five Speedy Gonzales rating:
This is only our initial review on Gabbi's. Since this first visit I have covered them many more times . . . and with better photographs. You can choose to read only this review but, if so, you will only be getting a small amount of the information we have on this great restaurant.