Date of Visit:
July 20, 2006
1221 E 1st St.
Santa Ana, CA 92701
Listing on Yahoo! Local
Listing on Ask.com's Citysearch
No known official website.
Appetizer
: Chips, Beans and Mole
Entree
:
Gordonices con Salsa Verde
Drink
: Cantaloupe
aguas frescas
The view from outside
The Real OC
The last time I went to Nancy Puebla's I met up with Omar from
SqueezeOC
. This time I met up with him again plus Gustavo Arellano from the
OC Weekly
. I suppose any future visits will have to be us three plus people from the
Register
, then
Orange Coast
magazine,
OC Metro
, cast and crew from The OC, cast and crew from The Real OC, the brand new
OC Post
, and maybe some other Orange County-based bloggers, etc. And Mark Maguire can come too if he wants.
Omar has already done quite the writeup of our lunch at his
OC in the OC blog
. We found out that this particular restaurant has outlasted prior restaurants in the same spot by far. The fact that they make their own cheese might help. Make sure you brush up on your "restaurant Spanish" before you go.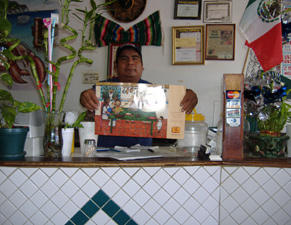 The owner, Severiano, holding a picture from a Latino Health Access event at which he provided the
aguas frescas
.
YouTube!
What kind of blogger (coughcoughhackhack . . . I hate that term) would I be without mentioning YouTube at some point in time? Gustavo can be seen here in a
hilarious segment
on Stephen Colbert's The Colbert Report on Comedy Central.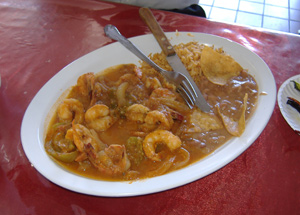 Garlic Shrimp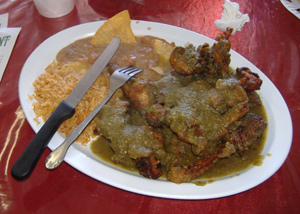 Gordonices
(Cornish game hen)
Since I had the quail (
guilotas
) last time I tried the Cornish game hen this time, on Gustavo's recommendation. Good stuff; smoky flavored and drowning in salsa verde, crunchy in just the right spots and tender in the rest. I had a cantaloupe
aguas frescas
this time but hope to make it back and try their strawberry/watermelon
aguas frescas
sometime. Then kiwi.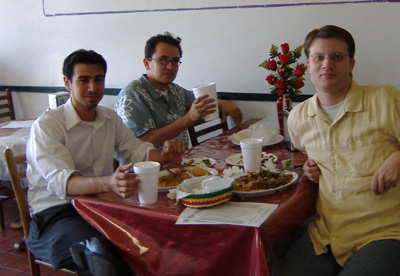 L to R: Omar, Gustavo, and Christian
It got three and a half last time and now I'm upgrading Nancy Puebla to a four Speedy Gonzales rating:
Other Nancy Puebla entries: