IMPORTANT UPDATE (January 11, 2008)
Kantina has closed down.
CLICK HERE
for more information.
Disambiguation
Just wanted to clarify that "Kantina" and "Chronic Cantina" are two different places. "Kantina" is on the harbor in Newport Beach and is an independent restaurant serving upperscale Mexican food and has a nightclub upstairs. "Chronic Cantina" (part of the Chronic Taco chain) is a midscale eatery/sports bar on the upper level of Triangle Square in Costa Mesa.
Chronic Cantina Review
Front Entrance
We finally have some pictures of Kantina in Newport Beach taken during two separate visits (there was a prior visit when no photos were taken). Kantina occupies the spot once filled by a Hooters and specializes in modern Mexican cuisine. Right on the water there are several slips outside to pull your boat or yacht into and walk up the ramp into the restaurant, which only takes reservations from patrons arriving by water, not by land. Their official website is very simplistic right now, including only address and contact information and a message that the site is under construction. The e-mail address given there is currently non-functional.
Parking immediately in front of the restaurant is valet-only for a $3.50 charge. Metered parking is available in the near vicinity but it's not necessary to feed the meters any coins after 6pm.
A friend, Jonathon Stone, who I had known in Hawaii and bumped into recently in California went along with me for the first visit. Joy and Carter accompanied me on the second visit, while Tricia C. (of
Munroe Finishing School
) went with me on a lunch date for the third visit. Here is what Jonathon had to say:
If you have ever traveled to Mexico and had Lobster Burritos by the beach, you will be able to appreciate the menu at Kantina. While on the pricier side of restaurants, the cost benefit reward is worth every penny. With a night club atmosphere and upstairs bar, it's a great place for a flashy date where you can either stand in line to club it up or you can take a table and enjoy watching the atmosphere spin around you. I chose the latter. My order began with an appetizer of Lobster Quesadillas followed by a main course of Filet Mignon Burritos. Every bite was heavenly! Memories of Rosarita, Mexico, flashed through my mind. For those with an open line of credit and a desire to eat not just a Mexican meal, at Kantina you get a flavorful bang for your buck and if on a date, a great first impression. Thanks, Christian, for an outstanding recommendation. My father got a taste of the leftovers and has decided he would also like to eat at Kantina sometime, his treat! Can't turn that offer down. Also, if you wish to take home your meal, they provide you with high quality Tupperware. Now that's class! I highly recommend this restaurant.
UPDATE: Joy has written in with her primarily positive take:
Carter thought the food was overpriced for the quality, although the presentation and the atmosphere was very nice. I can vouch for the fact that his ceviche was practically flavorless: very dull. He had the flautas, which were more like egg rolls than Mexican food, especially the wrappers. The bite I had was fine, although the flavors were somewhat muddied together and indistinct. He said the steak in the flautas was fatty and chewy. I had better luck with my meal. I really liked the Kantina (lobster) quesadillas. They had a strong, meaty lobster flavor which mixed well with and wasn't overpowered by the other ingredients in the dish. I would have liked more corn sprinkled on top and less of the sauce, but that's just my preference: it was fine the way it was. But huge! I put half of my appetizer aside as take-away so that I'd have room left to eat my entree. The chile relleno had only a passing resemblance to any even vaguely authentic chile relleno, so it shouldn't be judged that way. What it was, though, was good. I could taste lots of flavorful Anaheim chile, which I like: not drowned out by mounds of cheese, as is more common. The pork could have been cooked a little less (or a lot more) as it was slightly dry, but it still had a nice pork flavor to it, and the creamy corn sauce helped balance out the dryness. The feta cheese was an interesting and welcome touch, although I would have liked it to be spread through the dish more evenly. I had the churros for dessert and they were piping hot and delicious! The texture was just right: crunchy on the outside and soft and warm on the inside. The chocolate and cream sauces were good too. It was definitely enough for two people, though.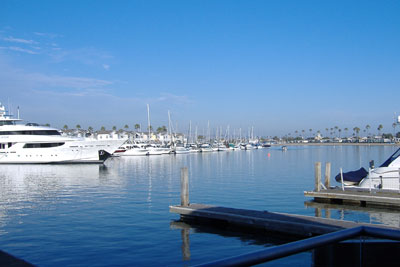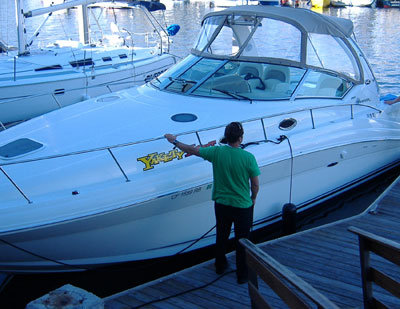 During the second visit, my friend Jimmy Kindred cruised up in his "Yakety Yacht," named after his company
Yakety Yak
. They sell cell phones . . . by the seashore?
Starters: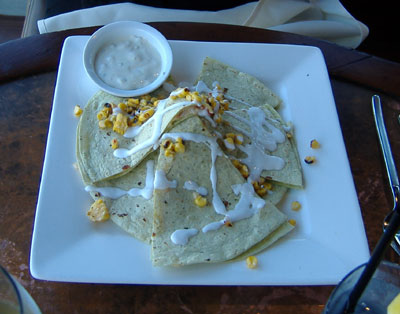 Kantina Quesadilla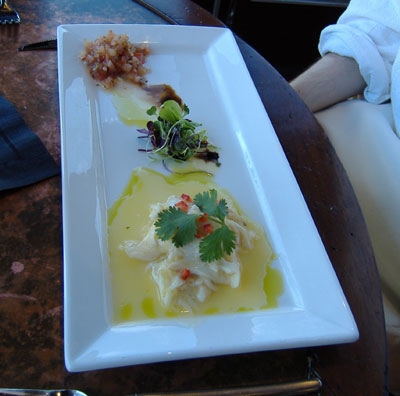 Three Citrus Ceviche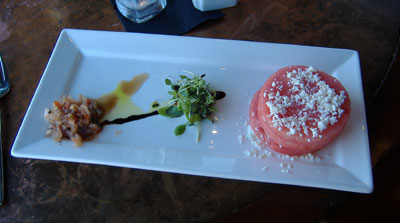 Watermelon & Queso Fresco Stack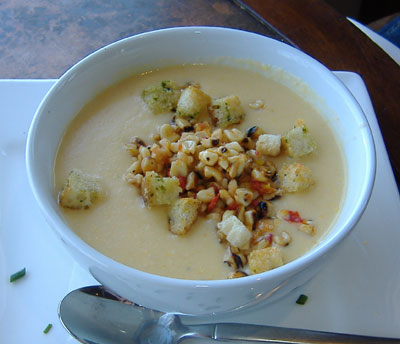 White Corn Chowder
Chorizo & Potato Egg Rolls
Entrees: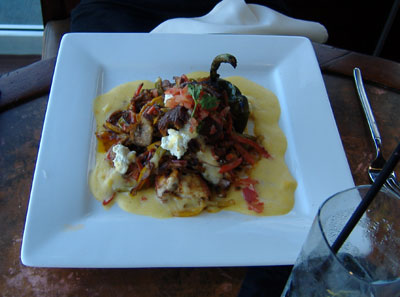 Pork Chile Relleno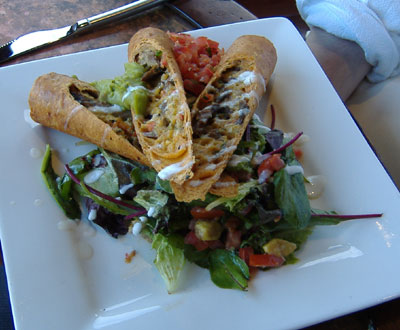 Kantina Flautas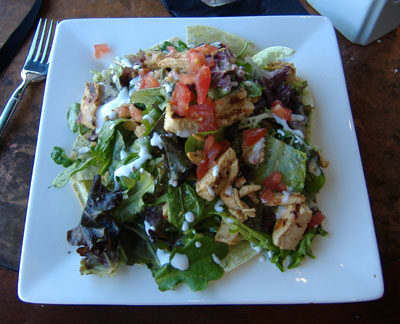 Quesadilla Salad
Dessert:
Kantina offers seven kinds of desserts including flan, fried custard, guava cheesecake, and apple tarts. Pictured here are their churros: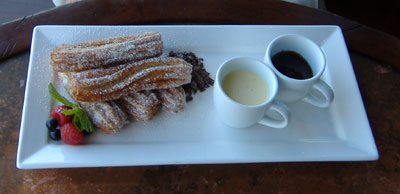 Churros
Menus:
Here are the lunch and dinner menus for Kantina in PDF format. Kantina offered brunch for a while and they are thinking about bringing it back.
Kantina Lunch Menu
Kantina Dinner Menu
A fuller writeup and more pictures are likely to be posted here in the future. For now, Kantina earns a four and a half Speedy Gonzales rating: