(
Click here
for an update on the new Cocina Cucamonga.)
Date of Visit:
July 7, 2006
Cocina Cucamonga
@ Disney's California Adventure
1600 S Disneyland Dr
Anaheim, CA 92802
(714) 781-4565
Official Site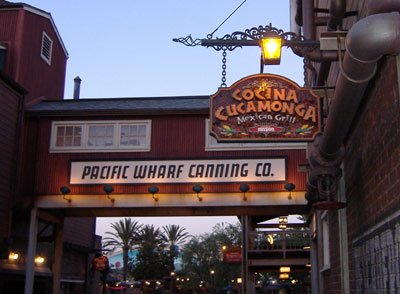 While on a recent trip to Disneyland I hoped to make it to the Mexican restaurant in Disneyland itself or to the one in Downtown Disney but it wasn't until I was there that day that I found out that there is also a Mexican restaurant in Disney's California Adventure and that is the one I ended up at (I'll still get to the other two eventually).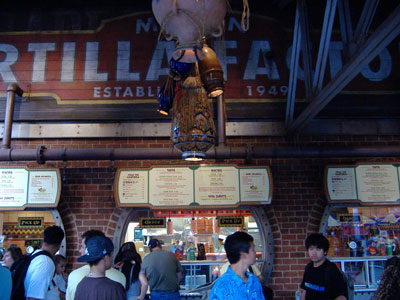 Menu Board
Cocina Cucamonga is next door to and uses tortillas from the
Mission Tortilla Factory
where you can watch tortillas being made. Their
menu
focuses on tacos and, while it doesn't explicitly state such, each platter comes with two tacos and you can mix and match what kinds you get. I ordered the steak taco platter and switched one of them to be a fish taco. The steak taco was average; couldn't complain about it but it didn't inspire. Same with the chips and the beans. However, the fish taco was surprisingly fresh with a hot, crispy, battered fish fillet and tangy chipotle chili sauce, cabbage and a lime wedge. I'm glad I saved it to eat last.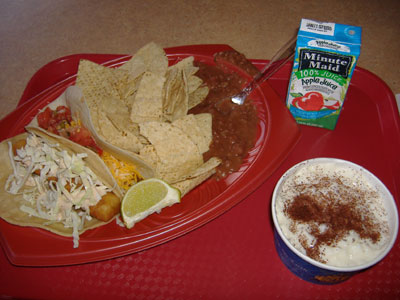 Taco Platter and Dessert
I rounded out my meal with a little carton of Minute Maid apple juice and some Cinnamon Rice Pudding. I used
Disney Dollars
to pay for my meal, little known currency that can be used at just about any official Disney location in the country.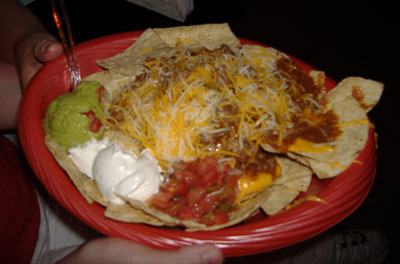 Nachos
After I ate my own meal another person in our party went and bought some nachos and brought them back to our bench where we were waiting for the Electrical Parade to begin.
For being slightly more authentic than I expected Cocina Cucamonga earns a three and a half Speedy Gonzales rating:
UPDATE: Here's some pictures from when I went there for lunch on February 11, 2009, and got the Veggie Tacos:
(
Click here
for an update on the new Cocina Cucamonga.)