Date of Visit:
September 29, 2007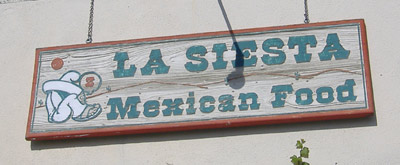 I've said something like this before but I am in the middle of another backlog with numerous entries to write and post. Remember that anyone can help beef up the quality of these reviews by leaving comments on their experience at a particular restaurant. Usually I can only try one dish each at each Mexican restaurant I go to, so if you've been to a restaurant that's been covered here please don't hesitate to comment on your experience. Your comments help future readers.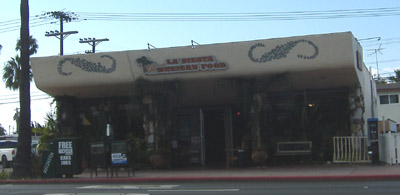 Having said that, I had La Siesta recommended to me about a year ago. Since "la siesta" is Spanish for "the nap" I thought it was a funny name for a restaurant. Then somebody pointed out that it could also mean "the break" and that made a little more sense. When I actually arrived at the restaurant, after having camped for the night at San Onofre State Beach, I saw that the sign showed a cartoon figure of a Mexican man with a sombrero taking a very peaceful nap. So, yes, in this case it does mean "the nap."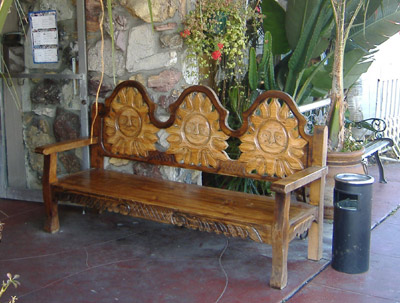 Opened in 1985 by Jose Carmelo Hernandez who had already been in the Mexican food business for 50 years, La Siesta in San Clemente occupies the spot of a homey 1950's-style diner now done up in a Mexican theme with hints of surf culture (including one surfboard hanging from the ceiling which shows the napping Mexican) thrown in for good measure.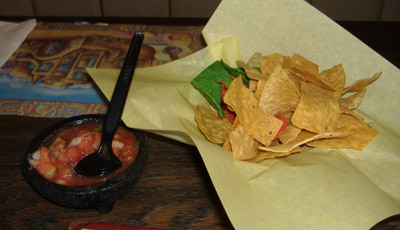 After consulting the menu for way too long (as I tend to do) I narrowed my choice down to two breakfast selections. I mentioned them to the friendly waitress who then steered me towards the
huevos rancheros
and suggested I get them with their chile verde sauce in place of the ranchero sauce that typically comes with this dish and then I added that I'd like my eggs cooked a little bit more than
huevos rancheros
typically calls for. Served with hash-browned potatoes and rice on the side, these are definitely in the running as my favorite
huevos rancheros
(a breakfast dish I get often, and not always just for breakfast - in fact I unsuccessfully tried ordering it at another place for dinner the other night), largely because every component was cooked just how I would've cooked it for myself if I had been in the kitchen and also because they weren't overly runny, a
huevos rancheros
feature I'd always just tolerated in the past.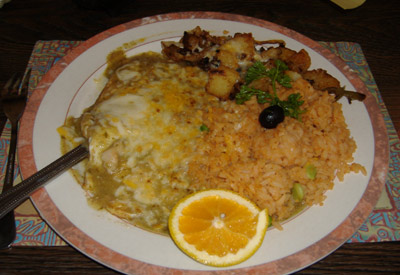 And they had not one but two bottles of
Gringo Bandito
on my table: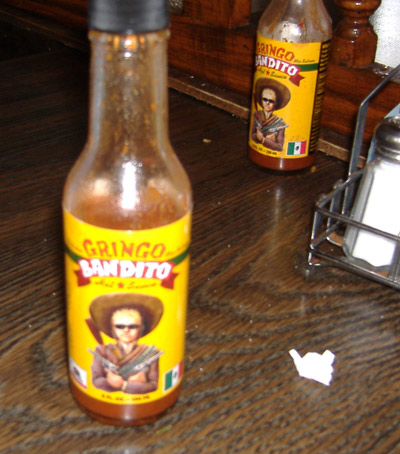 Did they somehow know I was coming?
La Siesta earns a 4.25 Speedy Gonzales rating: